Hot on the heels of the screenshot update I bring you a proper update!
Enjoy everyone.
NEWS ARCHIVE 200-45-112 --Brotherhood Attack on London--
--Day 7--
BREAKING NEWS
BROTHERHOOD FORCES SPOTTED BEHIND G.D.I. DEFENSIVE LINES IN CENTRAL LONDON
Concerned residents are calling in to tell us that fighting has broken out behind G.D.I. defensive lines in the battle for central London. As fighting progresses street by street and building to building we will bring you the most up to date information on flashpoints around the area.
Please stay indoors as G.D.I. forces work to restore peace to the district as rapidly as possible.
FLASHPOINT --- 12.37am
GDI FORCES ENGAGING BROTHERHOOD TANK BATTALION IN SOUTHEAST QUADRANT
All civilians are advised to stay away from windows and rooftops as G.D.I. Forces are conducting joint air and ground operations in the area. It is also recommended that civilians in the quadrant take measures such as taping up windows to reduce flying debris. Advice on securing your
residence can be found in your residents handbook. Non-observance of this advisory could result in injury or death.
FLASHPOINT --- 2.56am
BROTHERHOOD INFANTRY FORCES ADVANCING IN NORTHWEST QUADRANT
All Civilians are advised to seek shelter or leave the area immediately if unable to do so. Failure to comply will likely result in death.
FLASHPOINT --- 4.01am
G.D.I. ION CANNON STRIKE CONFIRMED WITH CITY LIMITS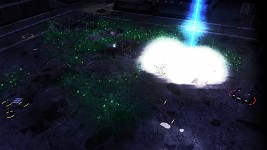 All civilia....
G.D.I. ALERT ------ AREA HAS BECOME OVERRUN WITH BROTHERHOOD FORCES.
G.D.I. ALERT ------ AREA HAS NOW BEEN LISTED AS AN ACTIVE WARZONE.
G.D.I. ALERT ------ ALL CIVILIANS ARE TO PROCEED TO EVACUATION ZONES.
G.D.I. ALERT ------ INDIVIDUALS NOT IN EVACUATION ZONES BY 0900 WILL BE DESIGNATED BROTHERHOOD COMBATANTS.
MESSAGE ENDS.
Hope you enjoyed this update and stay tuned, this battle is far from over.
Yggdrasil out.