Welcome Back, Commanders! Apologise for the wait on this update we've been working very hard behind the scenes on the Tiberium aspects of Tiberian Sun Rising. Now finally Transformation has arrived! Here we present the shape of things to come1 If you like this update please vote for us in Mod of the Year!
Transformation is here!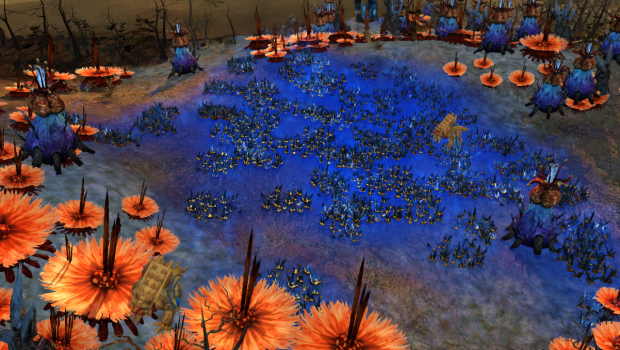 The Blue Tiberium Fiend in its natural habitat is heavily armoured and able to fire explosive blue Tiberium Shards if you thought a pack of Green Tiberium Fiends was deadly just hope you only run into one of these monsters. What makes them truly terrifying to fight while inside a Blue Tiberium field is their crystal shards can trigger Chain Reactions which their armour and Tibeirum's healing effects will mostly protect them from. Blue Tiberium just got that much harder to mine and secure for your forces.
Vote Tiberian Sun Rising for Mod of the Year! 2018!
Tiberium spreads and continues to mutate the environment around it we are seeing the emergence of new Tiberium Flora which purpose in the Tiberium Ecosystem is still being observed. The big terror that has been unleashing lately has been the Vein Hole Monsters. These monstrous creatures emerge from the ground with gigantic tentacles that can attack and thrash anything that gets too close. It then spreads a field of smaller Vein tentacles that act as a defensive mechanism while also storing precious Tiberium Gas which can be mined by the Brotherhoods Waste Facility.
The Drop Pod deployments from the Philadelphia Space Station have proved to be a great success. GDI can now deploy veteran troops anywhere in the world where its needed against either the Brotherhood or the Tiberium menace.
Nod's Mobile Weapons Factory the FIst of Nod has been spotted in the field, Nod already had an edge with its Stealth technology and Stealth Generators. But now they don't even need a base in the area as long as they have the credits and a Fist of Nod. Nod can produce vehicles anywhere on the battlefield. If you thought Nod was sneaky before their movements are harder to predict then ever now.
That's all we have to show this update, Make sure to vote for us for Mod of the Year! The Tiberian Sun is on the RIse!.