It's that time of year again! A time of tradition. The traditional Santa Garg, for example, and of course the traditional Sven Co-op release.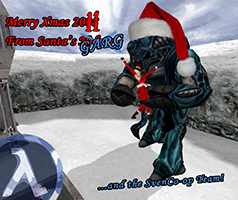 Sven Co-op 4.6 should be released within the next few days, featuring things like:
They Hunger Co-op Episode 2
Half-Life: Uplink co-op
Greatly improved Half-Life and Opposing Force SP campaign support (including the HL tram ride intro!)
A new boss monster
New and improved maps
Powerful new mapping features
Tons of bug fixes
And much, much, much more!
Some possible things to do while you wait:
Buy something for yourself or a friend in the Half-Life Steam sale.
Buy the Humble Indie Bundle 4 for any price and beat Cave Story's secret final boss, so that I can live vicariously through you.
Download Land of Legends for Sven Co-op 4.x! LoL was originally released as a stand-alone mod running on SC3.0 code, but has now been converted to a Sven Co-op map pack. You can play it right now in SC4.5, or wait for the release and play it in 4.6.