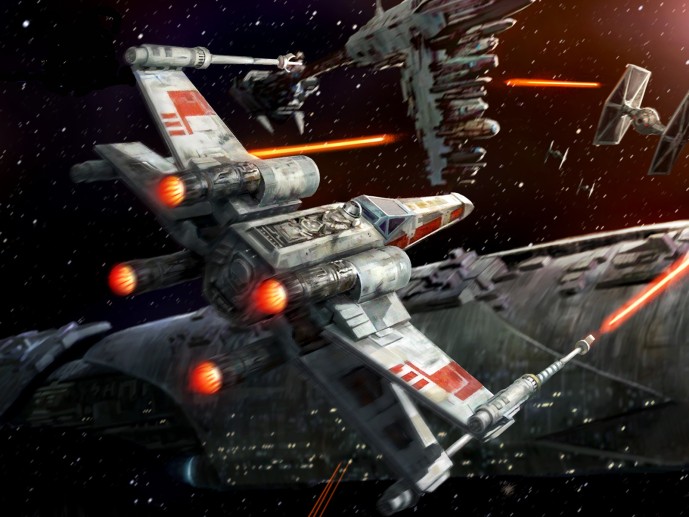 There are just a few short, simple steps that will allow you to play X-Wing Alliance on modern operating systems. The first requirement is simple: You have to own an actual copy of the game. Yes, I know It is probably extremely rare on Ebay and Amazon, not to mention expensive, But it is worth it. For those of you who already own a copy of X-Wing Alliance, congragulations, you have completed step one! :D
Step two is just as simple. You need a program that can burn and mount cd images. The program I use is Daemon Tools Lite. It is free, and doesn't contain any spyware or viruses. You can download that here: Daemon-tools.cc If you already have this program, or one that does the same thing, let's move onto the next requirement.
The installer that comes with X-Wing Alliance cannot recognize modern operating systems, so there is an installer tool that you will need to use along with your copy of X-Wing Alliance. You can find the tool here: Moddb.com After you get this tool, you are all set to install X-Wing Alliance on your system.
The installation tool you just downloaded contains step-by-step instructions on how to install your copy of X-Wing Alliance, But I will walk through all the steps here as well. The first step in the guide says to get the newest version of windows installer, as well as C++ 2005. Chances are you already have both of these things, so we will ignore these for now. If a problem arises, then go get the latest versions of these.
The next thing you will do is create a new folder on your C drive (or whatever your drive is called, C is the default) The default name for this folder is always called: "XWA DISK 1" You can, of coarse, name it whatever you like, but to keep things simple, lets just name the new folder on your C drive "XWA DISK 1" Now, insert Disk 1 of your X-Wing Alliance game. Don't do the autorun or automatic setup, because It doesn't ever work. Instead "open the folder to view files" at the disks location. This is usually the D drive.
The next step is simple, copy the contents of the X-Wing Alliance Disk 1, and put them into the folder you made on the C drive: "XWA DISK 1" After you have done this, use the X-wing Alliance installation tool you downloaded earlier to select the folder you put in the C drive. Now hit install. When It asks if you would like to overwrite, hit yes. If you didn't get the option to overwrite, then check your spelling and make sure you select the folder you made on the C drive. Now your folder that you have on your C drive can be turned into a digital "disk".
Open Daemon Tools Lite, or a similiar program, and press the "Make Disc Image" button (In Daemon Tools Lite it is a disk with a floppy disk in front of it.) There will be a bunch of options here, but the only one you need to worry about is the destination. We want to make a disk image of the folders content, not the folder itself. Name the new disk that will be placed inside the folder: "XWA_DISK__1"
This new virtual disk, which is only used for the installation process, should then be added to the image catalog of Daemon Tools Lite. You can do this by clicking the "Add Image" button (the one with a disk on a piece of paper behind a plus sign) . You should simply locate the folder you made on your C drive, and inside it will be the new virtual "disk" you have made. After you have added the installation disk to the image catalog, you must mount it.
Select the disk image you have added by clicking on it once, then click on the virtual drive you wish to add it to, usually E or F. Finally, you click the mount button (which looks like a play button). The final step is the installation. open your computer files and return once again to the folder you have made on your C drive. Double click on the setup.exe program, which has the lucasarts logo on it, to begin the instalation progress as it is supposed to work. Finish the installation process, and you should now be able to use your disks to play X-wing alliance normally. Keep The installation disk and the folder you made on your C drive so that you won't have to go through this crazy long process when you need to reinstall the game.
Now that X-Wing Alliance is installed, lets make sure we use the right .EXE program to run the game. Head into your lucasarts folder, usually located on C:\Program Files(x86)\Lucasarts, and open your X-Wing Alliance folder. There should be a program called ALLIANCE.EXE, It has a rebel pilot helmet as an icon, and the rebel pilot helmet icon is stored directly beneath it (titled "Alliance"). This is the default program that the game uses to run X-Wing Alliance. Unfortunately, It is also incompatible with Modern operating systems, so it is very important that you ignore it and never try to run the game by using it.
At the very bottom of the X-Wing Alliance folder, above ZONEURL, is a program called "XWINGALLIANCE.EXE". This is the program that will allow X-Wing Alliance to run on Windows 7 Ultimate 64-Bit, as well as Vista. Right click on the program and select "create shortcut", then place this new shortcut on your desktop (Or wherever you keep your favorite game shortcuts), That way you will always use XWINGALLIANCE.EXE, as oppossed to the incompatible ALLIANCE.EXE.
Congratulations! You have successfully installed X-Wing Alliance on a modern operating system! :D