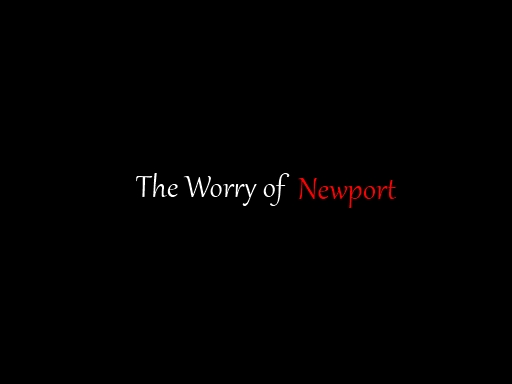 A frustrating scenario for us is about to come to an end, and I apologize personally for the delay. It is tremendously distressing to have to look back at plans and see that X becomes Y, in this case, March becoming June--something that is almost inexcusable on our part, since we just want this patch to be out, Newport to be behind us, and YOU enjoying the best experience possible. We have hit an unbelievable amount of snags along our journey, but its almost over, we promise-promise. We're looking at a window from June 5th to June 15th, depending on how fast we can scrub up some cut scene issues we're having in Part 2.
There, my venting is behind me, complete with the final to-do item. Now we can look forward at what is to come in June, an explosive and final release for our first mod as a studio, Worry of Newport. This last patch, dubbed "Final", will introduce many aspects that we wanted to see inside of Newport but never had the time or resources to accomplish. On the front end, we have new loading screens and a new flash based UI both in thanks to the unbelievably generous Hanger34, who has joined our studio. A demonstration of this new UI is visible below,
As well as rendering this, the final engine is capable of handling saves and loading better, even bringing you "back" into the experience with randomly loaded music each time. On another end we have the new book reading system, which will come with in-game tooltips and handling instructions much like how Amnesia did. This is particularly handy in Part 1, where most of the reading in this mod exists, because all of the writing is entirely redone to be much higher quality. I looked back on my work here as an author and realized that while the dialog was sturdy, the pages read horribly and cryptically, so I characterized every book page and fleshed out the dialog to be more realistic and less "brief", like so many people--rockpapershotgun included--complained of. Its worth noting, however, the writing is unchanged in Part 2, except for the fact that 40% of the books are removed and replaced or merged for the sake of pacing, which ping-ponged like crazy at times due to development constraints (that have been removed.) Example of Part 1's improved writing,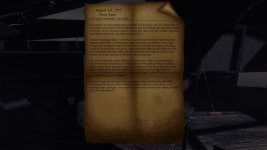 What else could Final be adding? We have a rather substantial changelog below for you to look over, and absorb, which is what the team has been working on since March.
Technical:
Custom loading screens and flash rendered loading bars introduced, credit to Hanger34.
Installation process is now two steps, down from seven.
All artwork removed from Part 2, due to negative opinions.
Loading times and RAM usage lowered by 25% due to optimization.
In-game Mod Menu support.
Expanded Readme
Randomly generated music upon each loaded save.
Graphical:
SSAO and shading added to all vegetation, which was previously 2D sprites.
Almost every (vegetated) natural terrain level redesigned from the group up with new standards set in Triptych. Repainted textures, re-placed vegetation, all with a focus on photorealism, while retaining the same atmosphere.
Distant scenery added, like burning ships, crashing ships, harbors in flames and distant skyboxes/forests.
Audio:
Aoife's narrations remastered
Dynamic Music Generation will randomly shuffle the entire Worry of Newport soundtrack as you play, as well as the music from the Worry of Newport Alpha in November of 2010 (Credit to Yonaton Habte)
Over 120 choice pieces of ambient sound added in. Howls, growls, whispers, cries and more.
Gameplay:
Pacing has been restructured in Part 2. Less ping-ponging effect between environments, with a slower and more consistent pace. This has been achieved through a huge amount of ways, which we'll just call a "director's cut".
Invisible walls are all removed, replaced instead by natural barriers or physical limitations of the island which give it a more geographic, natural feel.
Checkpoint system added for saving redundancy (You can still manually save like before)
Book Reading 2.0 has been added, with in-game tooltips and mouse oriented controls.
Cut content added, such as "The Dream Cave" in Part 1 and Church of Gray in Part 2. ~15 minutes of content
Hamlet has been made a complete questline, including tooltips, comments, and objectives, with a final proper ending.
Creatures in the distance, environmental effects like buildings collapsing, cave ins, and so much more will happen as you play.
Level design is improved drastically, with a fully organic and immersive pacing that no longer roller coasters in Part 2.