Introduction:
Hello everyone, this is yet another update I wanted to showcase. This week we are taking a look at the third map in the game - the Highland Stronghold. I wanted to discuss the state of the map now, its future, and other plans for the mod that I hope will get you guys excited! So, let's get started.
If you missed last week's update you can find it here:
Foreword:
You may have noticed that I generally have been uploading these updates on Thursday nights (Friday mornings for some). This week we are doing it a day early to go along with a new schedule I wanted to discuss with you guys. Below is what the feature schedule will look like: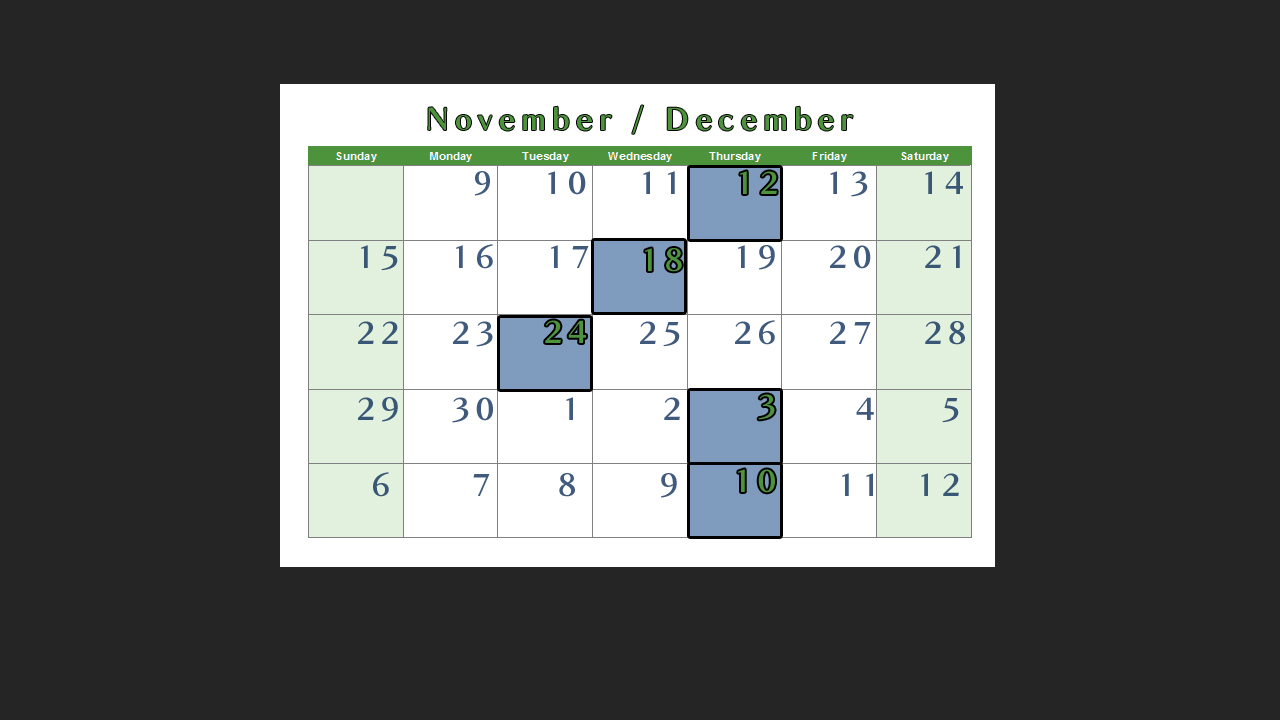 The blue dates are the dates I plan on showing off features. Since Thanksgiving is a holiday and I will not be near my computer for the entire week surrounding Thanksgiving I won't have time to make any real progress after Tuesday the 24th. I also didn't want to skip a week without uploading anything so I tried my best to evenly space out the updates to ensure I don't over-release content.
Now onto the map!
Highland Stronghold
This used to be one of my least favorite maps to work on because I honestly hated its appearance and gameplay. I really struggled to get this one right but the result is something I am exceptionally proud of. Let's talk the present state of the map.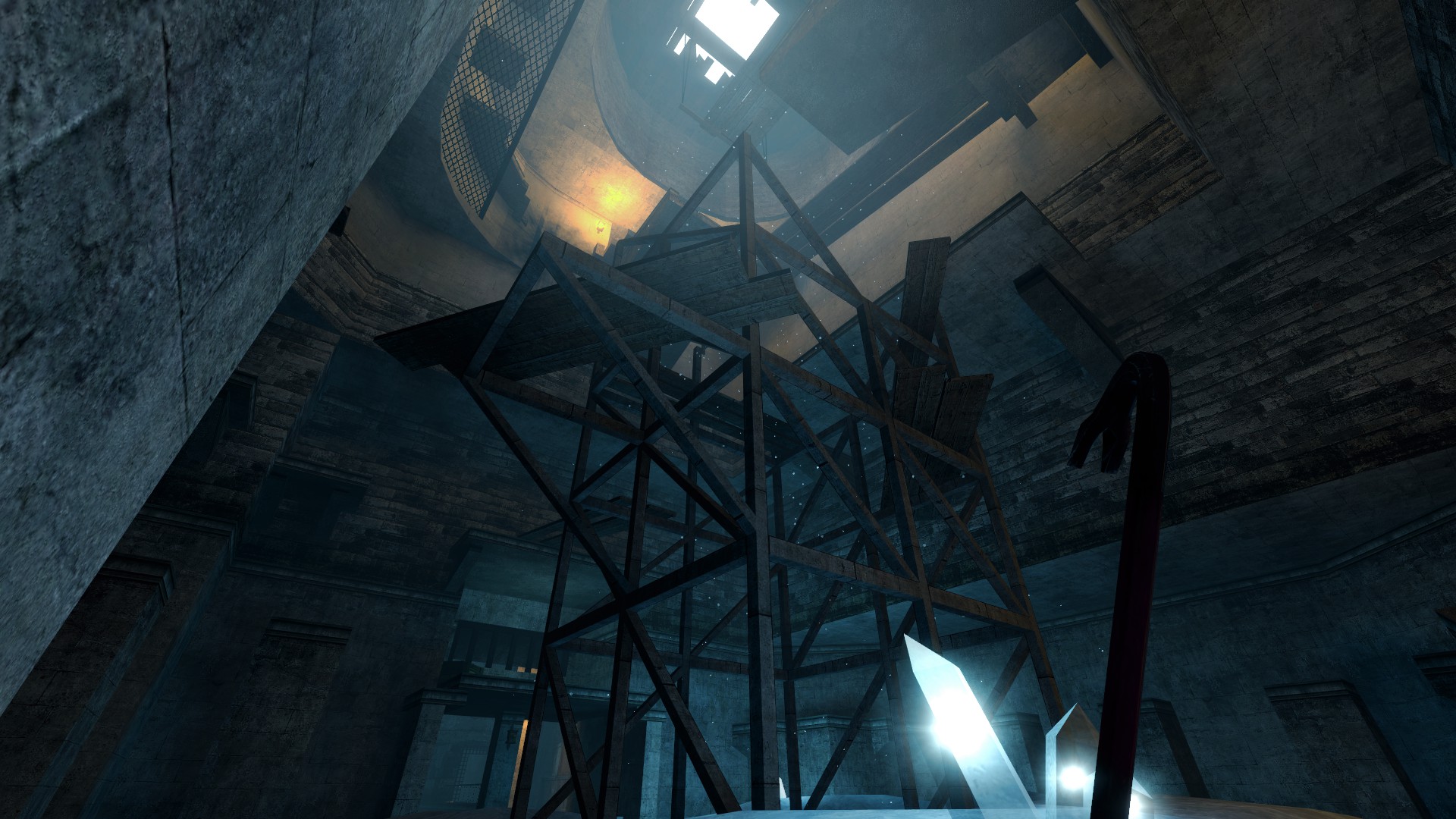 After riding through the railway system, we find ourselves to a very secluded part of the world. We find an ancient castle-like structure that used to be the home of a researcher, "Tom" we will call him. Tom used this stronghold to research the fascinating ruins that reside outside of this temple. Through his findings he came across many interesting artifacts. Tom was a scientist and such wanted to know the truth behind how things functioned. Through his research he discovered a new technology and developed a device showcasing his findings. This device will be the key item of this dungeon - I won't spoil anything here but it is something unique and I am very excited to be able to show you guys some day. With this discovery came adverse consequences however. Because of certain events, this stronghold has a very dark and sinister look to it. Here is an example of the interior: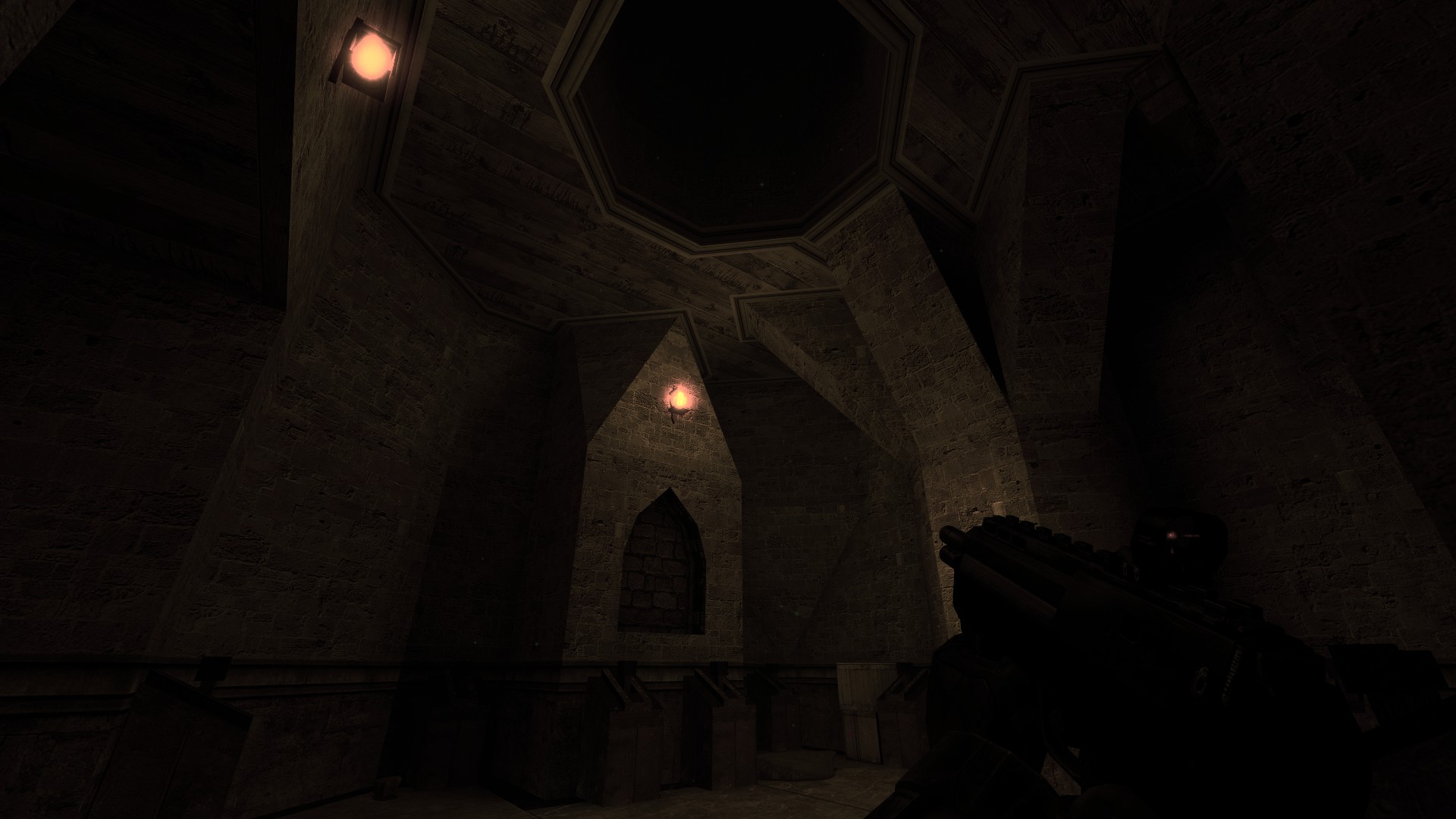 Tom was struggling with anxiety, paranoia and insomnia. He built this massive structure with the help of a small group of artisans in order to help him escape his fears. Through the construction of this stronghold, the artisans came across a small cavern which is also a part of this dungeon. Here is a couple images of what that looks like: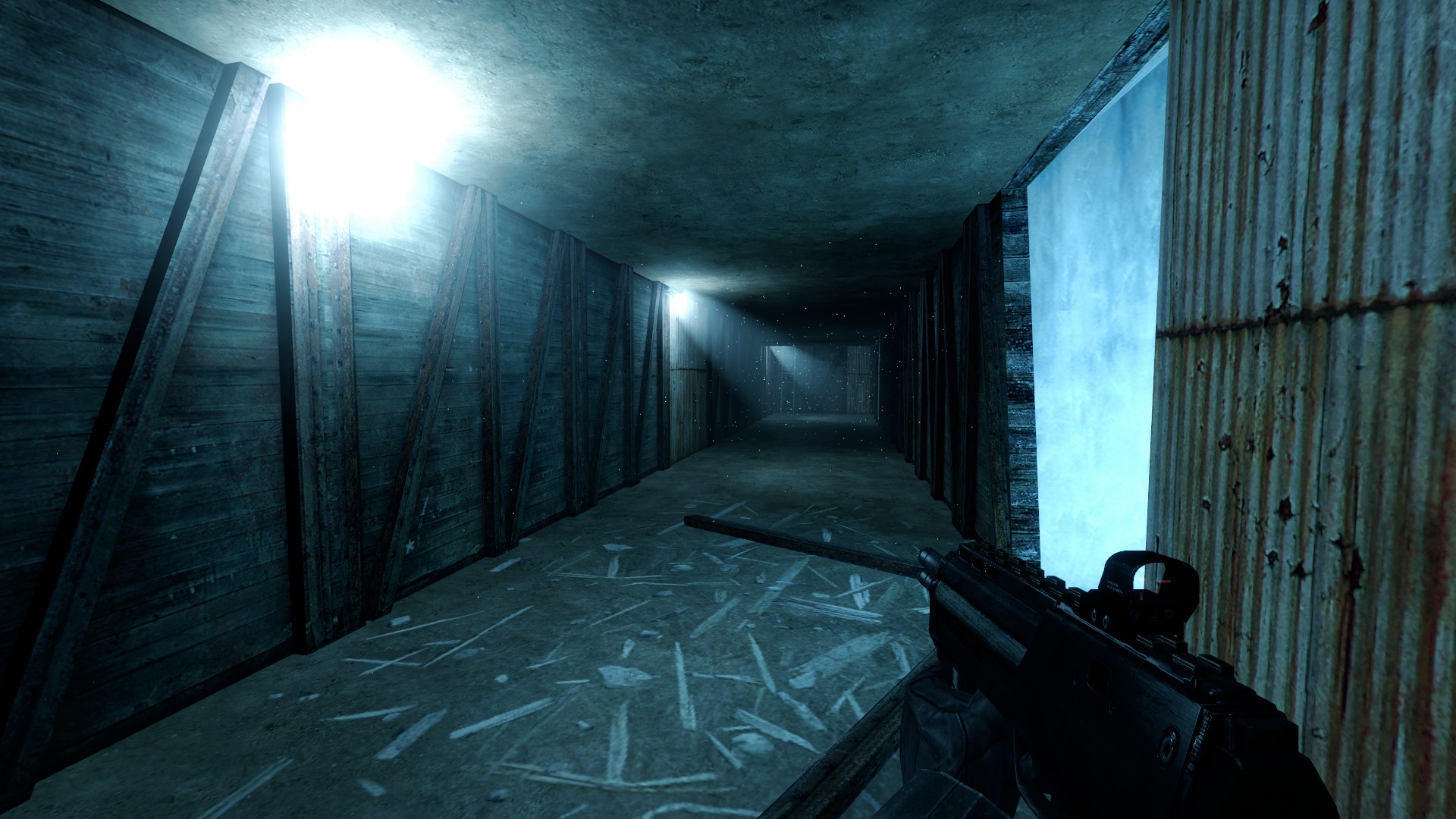 A small section of mine shaft - an unfinished part of the stronghold. This area will appear more "under construction" later on. The construction of this area was cut short due to Tom's unfortunate demise.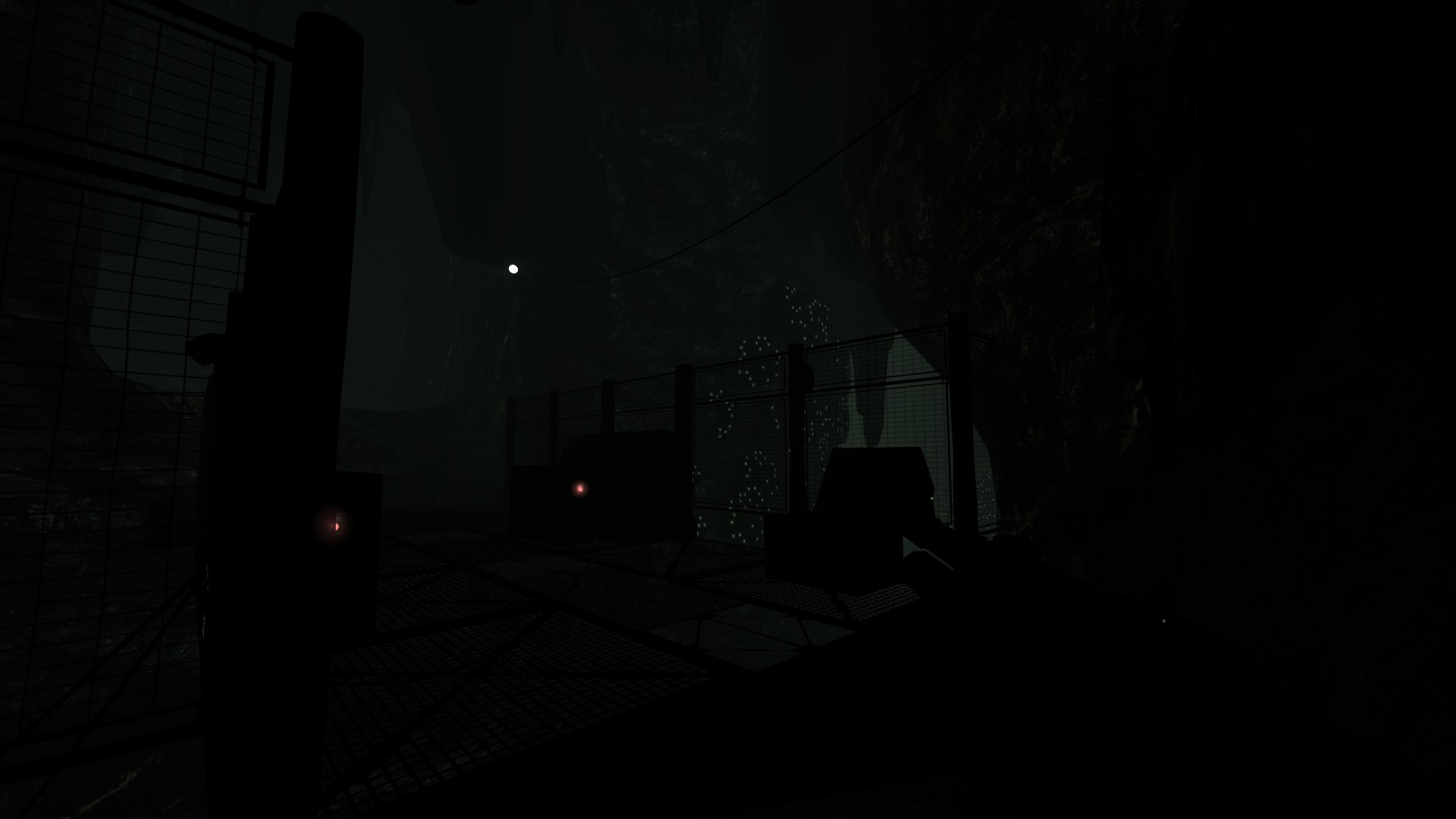 The cavern residing within the mine shaft.
Another screenshot here: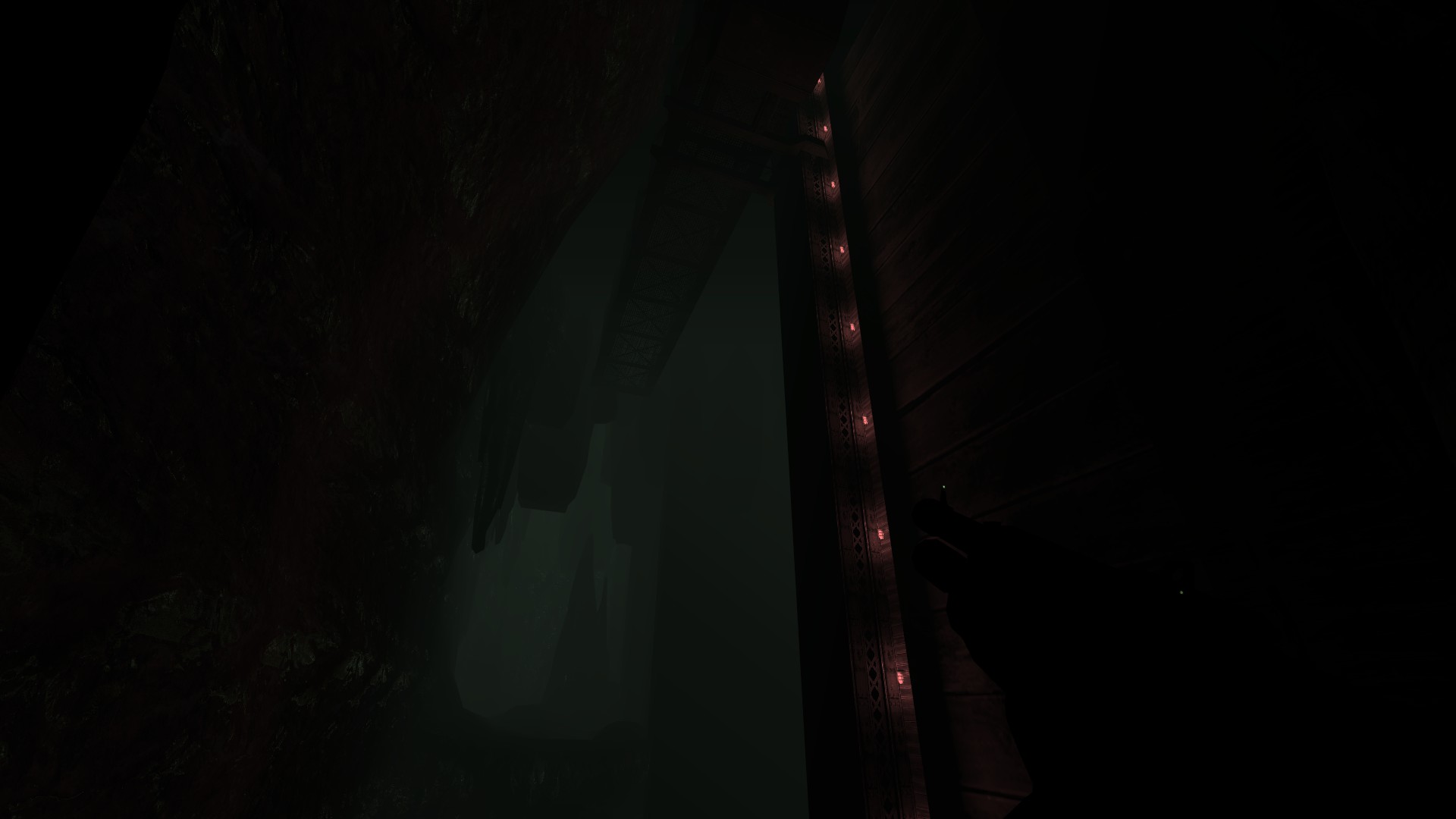 This is the current state of the map. I have many big plans for the future of this temple. Including but not limited to - several new puzzles utilizing the dungeon's key item, a re-work of dungeon design/layout, and implementation of all features found currently in only the Forest Temple (more on that below). Obviously, these screenshots are only about 5% of what you will actually experience throughout this dungeon. This dungeon will certainly pose a large challenge for even the most experienced players.
New Features!
Without delving too far into detail let's discuss some of the new additions to classic HL2 Gameplay which will make this game feel more like a Zelda game - I feel as though this section could have a feature all its own, so I will try my best to keep it brief.
Instances - this is a small feature, but travelling between areas will now feel like it did in Zelda, and will truly feel like you are exploring something new when you find that hidden nook or cranny. This will also allow me to implement new areas to the game post- "final" release.
Weapons as Tools - The weapons in this game will serve 2 purposes. Killing and solving puzzles. Of course there will be new devices added to the game, but all your classics will make their appearance here, but with some subtle changes.
Re-worked Health System - You will begin the game with a maximum of 50HP. As you complete dungeons, find secrets, and explore the world around you, you will become stronger, and thus raise your maximum HP. Health kits won't function like they did before. Instead, you will find various "food" items to restore HP.
Upgrades - As well as increasing health, scattered throughout the world will be upgrades to your weapons including damage and ammo capacity, as well as secret weapons not necessary to beating the game.
Non-Linear Progression - as stated earlier, it is not necessary to complete any of the dungeons necessarily. You will find bonus items and your strength will rise tremendously from completing them, but they are not required. Though if you decide not to do anything, prepare for an essentially impossible final boss fight. Later in development I am going to really try my best to implement a "fully explorable world". Allowing you to travel to previous dungeons if you feel like you aren't strong enough for the current content.
Conclusion
That sure was a lot to take in, I apologize if it was a bit too much. But this is certainly a huge update that I hope you guys appreciate. I really love working on this mod, and I hope you guys will love playing it. Please, I encourage you guys to leave a comment below letting me know your thoughts I want to know what you guys want to see!
Also don't forget to stop by my stream at:
I will do my best to stream mod development as often as I can.
Thank you so much for taking the time to read this, I appreciate you guys.
-abom