We're all very sorry for posting this update so late, plans went down the drain as were toying with what to put in it and our personal lives got ahead of us. But we are here, we are standing and we shall march onwards. So, without further ado, here it is. This instalment will focus on the G98, the standard rifle of the German infantry. Mass produced it was very successful and had several later version, changing into he K98 at the dawn of the Second World War.
With this mod we won't only leave the G98 as it is. We obviously had to include some of its variants and cool little tricks. include some of its variants and cool little tricks.
On top of it being the main rifle, and good looking at that, you will have the opportunity to mount a scope onto it and knock a man down from far longer ranges.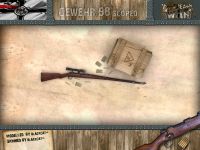 But we all know that snipers are in short supply, so what do you do if there is some opposition huddled in a building? Why, you use the latest in German technology, the rifle grenade! Firing grenades over large expanses will let you silence the opposition quickly and with minimal losses.
As well as the rifle grenades you will be equipped with two new ones, always lovely. A 1915 multi-purpose grenade will uncouple the weaker vehicles and hurt any infantry while the egg grenade is exclusive to the Stormtroopers. The egg grenade is a lighter grenade which allows for longer throwing distances but packs less of a punch, however, enough to make an enemy squad to rethink its plans...if they have time to think...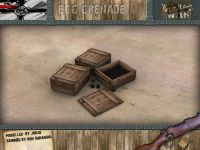 So, you've sniped them from afar, silenced the garrisoned opposition and closed the gap. The rifle proves pretty useless now, too bulky and the rate of fire is too low. Well, there just one more weapon up your sleeve...or more accurately, at the end of your barrel. The bayonet will let your troops engage relatively effectively in close combat and secure you victory.
Now place that flag of yours in that trench and call it a day.
With this update out of the way we'd like to ask everyone and anyone if they have or know anyone that has any modding talent. We're looking for skinners, modellers, anything really. You can contact us via our forums or by simply messaging us. If we have a lack of expertise in your field you may be able to join the team. With a greater team and we achieve our goal at a quicker pace. Then again, we also need the tools... now, where is that object editor?
On another note, you may have noticed that we have bundled some rather nice looking boxes in with our renders. This is to make the renders look nicer and gives a comparison but also because it shows how much detail me put into our mod. The boxes are modelled just as if they were built, each piece of wood placed by hand and then nailed into its location.Now, these boxes aren't purely used in renders. You may see these boxes lying around the map as finishing touches. We're also planning on using similar boxes in conjunction with artillery pieces were they might reload their barrels from these boxes.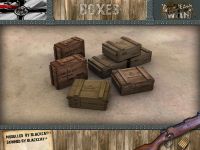 And with that, we end our update.