It's release time again; Beta 2.3 is now complete - featuring many bug fixes, updated components (such as the life system and optimized MCF code), a new respawn effect and a new command menu!
The release date is scheduled for Friday, March 2nd, 2007!
The images below show the new respawn effect as well as the command menu.
The Command Menu was added so players can easily perform Synergy-related tasks, such as dropping weapons and ammo, switching view modes, etc.
You can view the Change Log here: dev.php
New Command Menu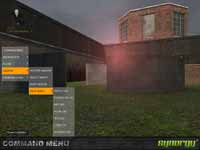 We're also seeing alot more activity on our Forums. We invite you to come post your opinions and suggestions. We take a great deal of consideration into other's positive opinions and suggestions.
If you're having any problems with Synergy, we'll gladly help you - we're always on the forum.
There have also been more and more players on servers too - thanks for playing!