Okay so first off, I have the list of the current GCs for the mod.
First is Droid Uprising, Rebel, Empire, and Droids. Currently still working on it. In this one, the Droids have conquered Coruscant and half the galaxy. These are the planets currently in the GC and who controls them.
****Rebellion****
Endor
Hoth
Bespin
Mustafar
Dagobah
Utapau
Sullust
****Galactic Empire****
Muunilinst
Polus
Aeten II
Ilum
Dantooine
Dathomir
Korriban
Yavin 4
****Droid Empire****
Coruscant
Corulag
Anaxes
Fresia
Byss
Alderaan
Carida
Rendili
Kashyyyk
The Maw
Manaan
Kuat
Balmorra
Bestine IV
Thyferra
Fondor
Abregado-Rae
Atzerri
Duro
Eriadu
Alzoc III
Vergesso
Jabiim
Felucia
Myrkr
Taris
Wayland
Bonadan
****Pirate, Hutt, and Local defenses****
Naboo
Bothawui
Tatooine
Geonosis
Hypori
Ryloth
Kamino
Nal Hutta
Mandalore
Trandosha
Alaris Prime
Honoghr
Kessel
Saleucami
Mon Calamari
WAR IN THE OUTER RIM
Rim World Conflict with a different name. Not much else to say about it.
SUPER STAR WARS
Equal Footing renamed, has six new planets and will contain any other planets that I add to the mod. New planets are Duro, Balmorra, Rendili, Rothana, Alaris Prime, and Trandosha. I've had to change ownership of some planets since I've rearranged the galaxy. In some places Imp, Rebel, and Droid planets are completely surrounded by enemy planets.
BATTLE FOR THE CORE
Deep Core, Core Worlds and a few Colonies region planets. The Empire controls the core, the Rebels control Alaris Prime, Kashyyyk, and Manaan. Droids control Atzerri, Thyferra, and Abregado-Rae.
GALACTIC CIVIL WAR
Rebels versus the Empire, no Droids. I copied it from Equal Footing and made changes to it. While most of the planets are controlled by the Rebels and the Empire, other are controlled by the Hutt Cartel or the Black Sun Pirates. Except for Mandalore, which of course is controlled by the Mandalorians. Hutts, Pirates, and Mandos are not playable.
I plan on adding a few more GCs.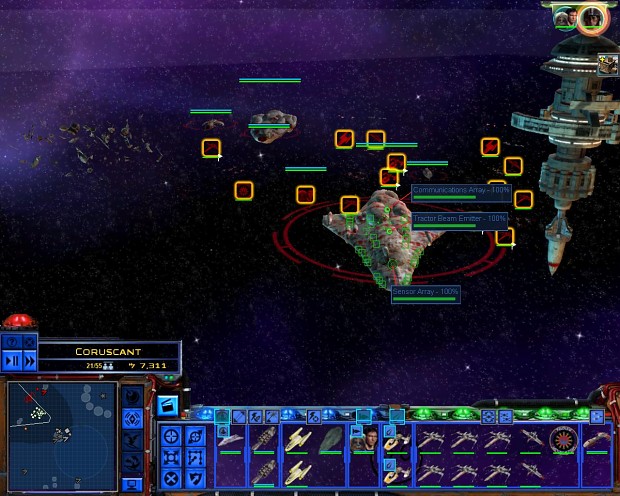 In this screenshot from skrimish you can see some of the recent changes to the mod. I change the color of all the ability icons and the ability auto-fire icon. I've also had to redo the GUI icons again because of a problem with the MTD Editor which deleted the old one so had to make a new icon file.
I've came up with a 2 new special hardpoints for Capital ships only. It works just like the supply dock and comm array hardpoints found on the skrimish starbases. One is the Sensor Array hardpoints which greatly increases the vision range for your fleet in space battles. You can see an example of this in the mini map in the screenshot. The ability only affects Capitals ships. The other is a Communications Array, which boosts Offensive and Defensive power of all space units by 10%. If either of the hardpoints are destroyed, the abilities are deactived. Adding these abilities and hardpoints comes from playing Battlefront 2 so much. I have thought about adding a lifesupport hardpoint, but didn't know what ability it could have.
Don't know if anyone has noticed, but I replaced the holo/Help droid with a Holo projector. So what does everyone think about it. Should I keep it or change it back to a R2 droid?
Please don't ask about when I'm going to release a demo. As of right now I'm still not sure. If I do make a Demo, it won't have all of the new models and textures, but it will contain a lot of the mods XML edits. Nearly 40% of the mod is made-up of XML edits. 40% may not be accurate, but it sure does seem like it.