---
This is a FIX for the HAVING NO WHEELS BUG.
FIX;
-Install the mod Strider_Mountain_V3 as usual, (install in Sourcemods folder).
-then DELETE the entire vehicle folder.
(Strider_Mountain_V3\Strider_Mountain_Rev2\scripts\vehicles)
-install now the mods latest patch StriderMountain_Fix_11_05_15
(DON'T delete this vehicle folder !!!!!)
(when you have the mod already installed you don't need to re-install, just delete the vehicle folder and install the patch "StriderMountain_Fix_11_05_15" again, or look below which files need to be deleted. But it is probably easier to just delete the folder and install Fix 11-05-15 again.)
NOW YOU ARE GOOD TO PLAY THE MOD AND HAVE ALL VEHICLES WITH WHEELS AGAIN!
IN THE VEHICLE FOLDER ARE MANY OTHER FILES TO, LIKE FOR INSTANCE FOR THE CRANE,
BUT ALL STILL WORKS WELL AFTER DELETING THE FILES IN THE VEHICLE FOLDER.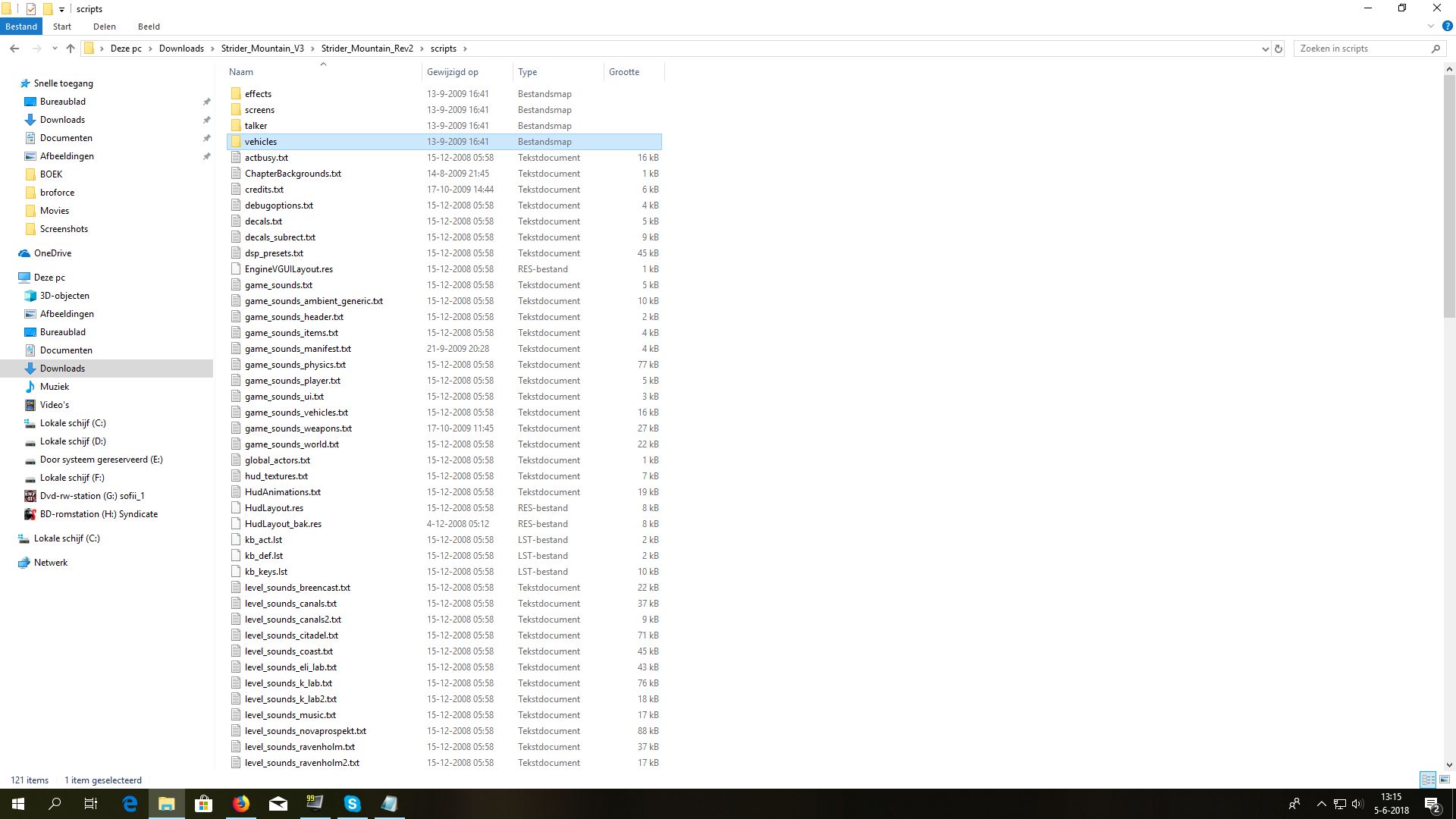 here is a list from all files that are in these vehicle folders;
Strider_Mountain_V3\Strider_Mountain_Rev2\scripts\vehicles (this one needs to be deleted!);
airboat.txt
apc.txt
apc_npc.txt
cannon.txt
crane.txt
digger.txt
fastdigger.txt
jeep_test.txt
jetski.txt
prisoner_pod.txt
reference_vehicle.txt

StriderMountain_Fix_11_05_15\Strider_Mountain\scripts (this one DOESN'T need to be deleted!!);
HudAnimations.txt
HudLayout.res
Because of a Valve update all old mods have this bug. It makes that the players Jeep (car)
and the combine truck (APC truck) has no wheels anymore. This
has major consequences ofcourse!
Zippys2 did tell me about this fix, many thanks to him!
Please email me when you have any questions at;
Leon
aka SPYmaps
(and you don't need to download the "No Wheels FIX" file in the file section because it only contains a txt file
with the exact same text as above.)