Thanks to the admission of the German video game culture magazine GEE we are able to present you its full "Mod of the Month" - article on the "SturmMOD" in an English translation (followed by the original German version)!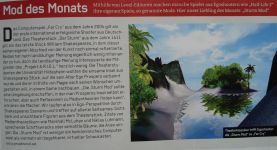 English
Mod of the Month: With the help of level editors some gamers make their own games out of first person shooters like "Half Life 2", so called Mods. Here's our favorite of the month: "Sturm Mod"
The 2004 PC game "Far Cry" is considered to be the first internationally successful shooter from Germany. The 1611 theatre play "The Tempest" is considered to be the last piece of William Shakespeare in which he reflects his own resignation from the arts. According to consensus both have little to do with each other, but consensus didn't really bother the members of "Projekt A.R.I.E.L.". The theatre students at the university of Hildesheim wanted to recreate the solitary island of Shakespeare's play, on which his alter ego Prospero has been banned and which latter wants to redesign with his magic powers according to his wishes, in a game. "The 'Sturm Mod' should fabricate an environment, in which the player is able to explore Prospero's island on his own but also can find reflections on media theories", the creators explain. So we are walking through Shakespeare's scenario in the first person perspective and encounter all kinds of weird stuff: Visible and invisible characters from the play, quotes from media theoretists like Marshall McLuhan and Niklas Luhmann, talking ship wrecks and burned trees that sing arias. The "Sturm Mod" is less an traditional PC game as a a walkable, virtual show case.
German
Mod des Monats: Mithilfe von Level - Editoren machen manche Spieler aus Egoshootern wie "Half Life 2" ihre eigenen Spiele, so genannte Mods. Hier unser Liebling des Monats: "Sturm Mod"
Das Computerspiel "Far Cry" aus dem Jahre 2004 gilt als der erste international erfolgreiche Shooter aus Deutschland. Das Theaterstück "Der Sturm" aus dem Jahre 1611 gilt als das letzte Stück William Shakespeares, in dem dieser seinen eigenen Abschied von der Kunst noch einmal reflektierte. Beides hat nach landläufiger Meinung eigentlich wenig miteinander zu tun, doch die landläufige Meinung interessierte die Mitglieder des "Projekt A.R.I.E.L." herzlich wenig. Die Theaterstudenten der Universität Hildesheim wollten die einsame Insel aus Shakespeares Stück, auf die sein Alter Ego Prospero verbannt wurde und die er mithilfe von Magie nach seinen Wünschen umgestalten will, in einem Game nachbauen. "Die 'Sturm Mod' sollte eine Umgebung erschaffen, in der man Prosperos Insel selbst erforschen, aber auch Reflexionen zu Medientheorien finden kann", erklären die Macher. Wir laufen also in Ego - Perspektive durch Shakespeares Szenario und treffen auf allerlei Seltsames: Sichtbare und unsichtbare Figuren aus dem Theaterstück, Zitate von Medientheoretikern wie Marshall McLuhan und Niklas Luhmann, sprechende Schiffswracks oder verkohlte Bäume, die Arien singen. Die "Sturm Mod" ist weniger ein herkömmliches Computerspiel als vielmehr ein begehbarer, virtueller Schaukasten.
(c) by GEE magazine 2008 - Translation by Stefan Köhler