Dear community,
The war is here!
The SGMG proudly announces the space only skirmish version of Stargate - Empire at War: Pegasus Chronicles to be released!
After over four years of development we are happy to share with you our new project for Star Wars - Empire at War.

Sadly the Installer crashes for many people, after the Installation. THE MOD IS STILL INSTALLED! Only the Launcher and the Batch File are not installed. If this is the case for you, download this Batch file and put it into your main Forces of Corruption folder:
www.citymc.de/dw/Stargate_Mod.bat
STEAM Users: Go into Steam to Star Wars Empire At War Gold Edition, rightclick and click "Properties", click "Set Launch Options" and then type in swfoc MODPATH=Mods\Stargate. You should be able to start the mod then.
Also, if you are not able to download the installer from ModDB, try this mirror:
www.citymc.de/dw/Stargate_-_Pegasus_Chronicles_Installer.exe

Thanks to CityMC.de for their help.
If something does not work as intended, please check our Frequently Asked Questions topics:
We tried to keep the release build as free of bugs as possible, but of course nothing is perfect; if you require assistance, want to suggest a new feature or want to report a bug to the team, please visit these forums:
Vorschläge & Fragen German

Help Desk - Bug reports, feature requests and technical questions English
While you wait for the upload to Moddb to complete we want to share with you the eagerly awaited details of the E.S.F. SOL: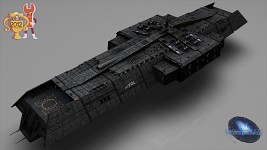 The E.S.F. SOL is the first prototype vessel of a new generation of Tau'ri battleship/carrier hybrids. Several European countries worked together on a top-secret development project for years before construction finally began at a secret underwater facility deep beneath the surface of the Baltic Sea. It is crewed by an international crew of over 3000, including assault teams for ground missions and ship boarding parties, scientists performing experiments and tests onboard, technicians for on-site maintenance and the military crew controlling the ship's many subsystems.
With its state-of-the-art sensors, powerful shields, heavy weaponry and high performance engines, this shining beast of metal is nearly twice as big as a BC-304 and about three times its length. Sporting a massive arsenal consisting of eight missile launchers, six light railgun batteries and eight magnetic pulse cannons it is a foe to be reckoned with. Yet this impressive set of weapon systems is nothing compared to the crown of the ship; a huge, towering experimental plasma cannon capable of obliterating an enemy target altogether by launching an extremely dense, superheated bolt of plasma. Even though its impressive arsenal should be enough to dissuade most foes from engaging it, every aspect of war was thought of when the ship was designed; the E.S.F. SOL's hangar stretches from bow to stern and is capable of holding several F-302 squadrons, HB-302 squadrons and troop transports, giving the flagship of Earth's fleet both long range reconnaissance and surveillance capabilities as well as a mobile alternative to close-in weapons system support against enemy fighters, bombers and missiles. Ground assault and support teams from many different nations are stationed in temporary quarters awaiting further orders from the Earth Joint Forces Command (EJFC).
The primary purpose of the E.S.F. SOL is the same as the previous Tau'ri flagship, the Odyssey; to defend our solar system and in particular, of course, Earth. Aside from this task of paramount importance the E.S.F. SOL is also deployed in combat situations where brute strength and cutting-edge technology is required to win the day, often deployed only in the darkest hour of battle to sway its course in the Tau'ri's favour. Some other minor tasks such as acting as a mobile command post and headquarters while on deep-space missions for remote regions and as training grounds for troops also fall to Earth's flagship in these times of need.
We noticed that some of you would like to see a Unit profile video for the SOL... So, here you go:
We hope that you have much fun with the space skirmish release!
In return we would be really happy if you would support us in the Mod of the Year Voting:
Moddb.com
Of course the development of Stargate - Empire at War: Pegasus Chronicles does not end with the release of the space skirmish part. We will now focus on the Galactic Conquest and the ground part so you can conquer the universe soon!
Because we do not consider our project to be complete we decided to change the release date on Moddb to TBA again until we know when the next part of our mod will be released.
We want to thank you all for your loyalty and support in the last few years! A full list of credits can be found in the mod.
Have fun in space skirmish!
Yours truly,
the SGMG