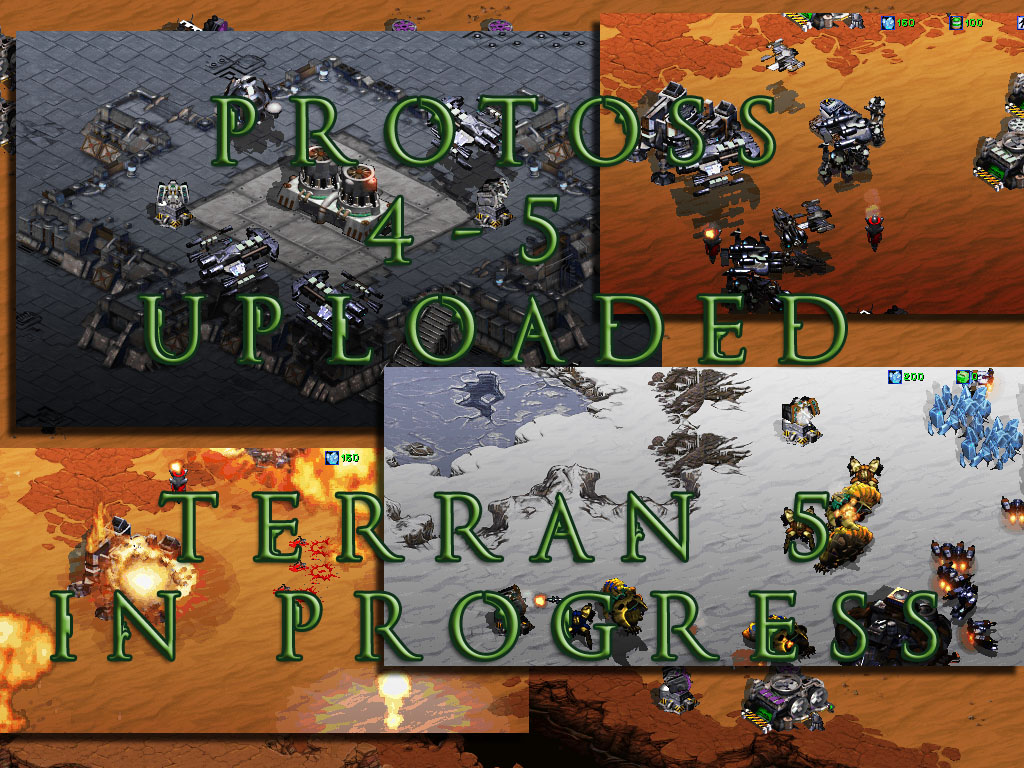 Protosss BW map 4 and 5 have been released
Map 4 has been given full scripting for both players as well as upgraded AI to make the mission more challenging complete with siege tanks in siege mode, removed some stock things that shouldn't of even been there like air upgrades and a few other things that were completely pointless as you don't get access to air in the first place, Ghosts also have stealth by default, there are 4 ai in total instead of 2, overall gives the players a much more enjoyable mission to play through, Map 5 has been given full updates on all its scripting as by stock they were pretty much useless for two players, so a full rebuild was needed, everything has been tested and it works, enjoy getting blown up by spider mines!
Terran 5a is currently in development
Getting Terran 5a completed involves a lot of custom scripting to make the initial cut scene work correctly, we also need to do a fair bit more testing and debugging to make sure its all working properly before releasing it, this should be close to release in the next few days if all goes well. Currently both bases get the same treatment, the opening cut scene is almost completed and just requires a few more little tweaks.
Did a bit of research on other attempts to make Starcraft coop
In the past few days we have found the other versions of Starcraft coop campaign that others have attempted to create, unfotunately neither of them are upto my standards in terms of difficulty and scripting errors, so i wont be using anything from either of them, just so everyone knows that all of our maps have been customized by only me and TyrZ we have not taken anything from anyone else as we wanted a new experience for the coop campaign and i feel that we have successfully done that with full testing and scripting on each level and increasing difficulty, by doing full playthroughs of each level testing both victory and defeat triggers along with rating our overall enjoyment of each level before releasing them to the public.
Where it all began
We wanted starcraft coop campaign to feel like a coop campaign not just a randomly placed extra base with some more resources like others have done, We started this project back in 2009 and did exactly that and didn't bother completing it, I stumbled upon the files from back then about a month ago and since then we decided to create the entire thing from scratch with full scripting and AI changes with increased difficulty along with proper mineral placement and amounts, and testing everything possible, we didn't build this for fame and glory we built this for our own enjoyment, we wanted Starcraft Cooperative Campaign to be exactly that a full on cooperative experience like no one else had seen/attempted before, doing the scripting gets daunting at times but we are dedicated to finish all of the campaign missions in their entirety so that we can play them from start to finish back to back without having any issues and of course enjoying every second of it. We just wanted to share our experiences with everyone else thats why we created our moddb page, for everyone to enjoy the cooperative campaign just like we have.