I reworked a lot of primary and secondary weapons for the standard clone raster. The main goal was to bring more diversity in the playstyle of each unit. At the moment the mod doesn't feels like you have to master each class on your own. The playstyle gets repetitive even when you change class. For example the mod featured three different units with the same primary weapons (the carbine). I looked through a lot of forums and arcitles to get as much information about republic weapons as possible. The weapons are more lorebased as before and the classes are more fun and challenging to play.
When I say the standard raster I talk about the standard units such as Clone Assault, Clone Heavy, Clone Sniper, Clone Engineer and Clone Jettrooper. These troops stay more or less the same on all the maps (with a few minor changes and adjustments for specific maps). Another huge point I was working on are the award rifles. To make each class more interesting I tweaked a lot with award weapons and additional reward weapons.
CLONE ASSAULT
The standard Clone Trooper has the main role of an assault unit. With his low to medium range carbine he charges in the frontlines of the battlefield to fight against the enemy from almost point blank range. To ensure his endurance at the front he is equipped with small medipacks. To make quick attack moves the Assault class is faster and more agile than the heavy or engineer.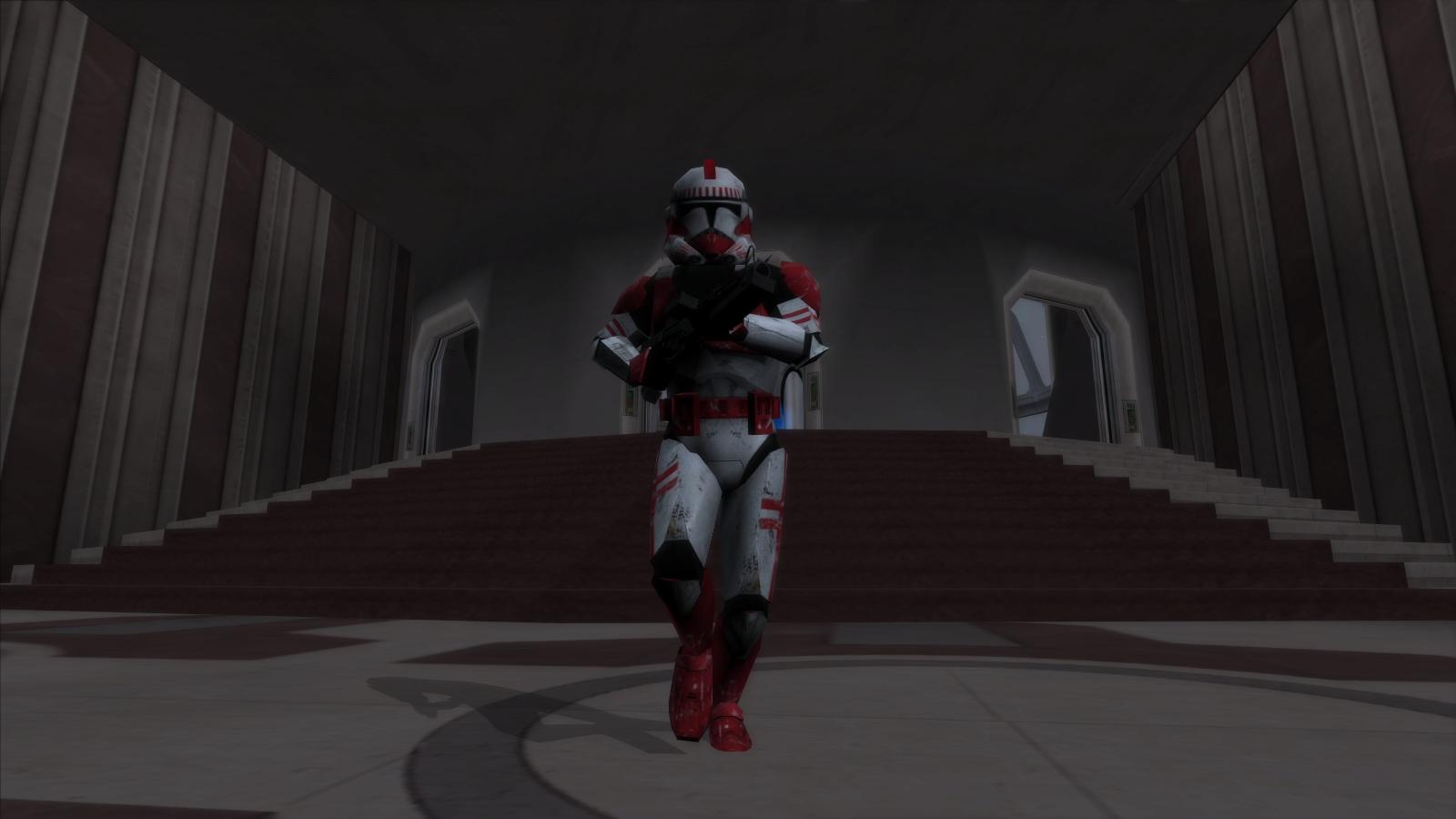 Weapons
- DC-15s Blaster Carbine (32 shots per clip, low-med range, accurate when standing)
- DC-17 Hand Blaster (quick overheat, low range)
- 3x EMP-Grenade/Droidpoppers
- 3x Small Medipack
Award Weapons
- DC-17A Blaster Rifle (32 rounds, all ranges, more accuracy when running)
- 2x Iongrenade (additional, effective against shields, less effective against troops)
CLONE HEAVY
As the name already tells this class wields heavy weapons. Equipped with a heavy blaster rifle the Clone Heavy can easily mow down enemy clankers and gain a Z-6 chaingun as a reward. To keep him balanced the primary weapon deals less damage per shot. The anti-vehicle weapons make him the perfect class against vehicles and buildings.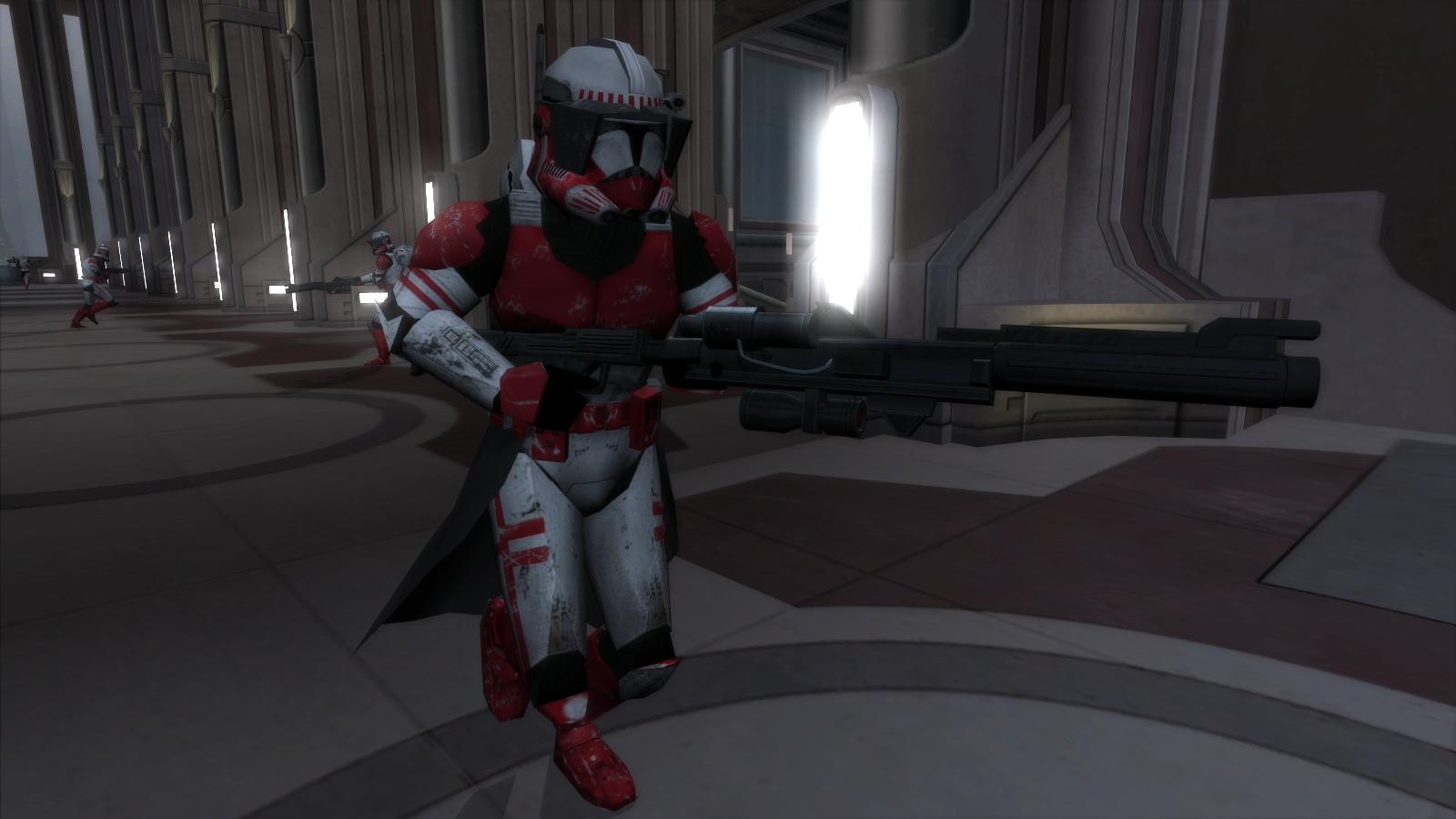 Weapons
- DC-15LE Heavy Blaster (overheat, low-med range, high firerate, less damage and accuracy than DC-15s)
- RPS-6 Rocket Launcher
- 3x Crackgrenade (effective against vehicles and buildings)
- 2x Proton Charge
Award Weapons
- Z-6 Rotary Blaster Cannon (higher firerate than DC-15LE, med range)
- RPS-6 Rocket Launcher with Guided Rocket addon
- 2x Armour Buff (additional)
CLONE SPECIALIST (SNIPER)
The role of the specialist is to stay in the last rows of the battle and pick his target one by one helping the front line to push forward. Equipped with tactical weapons he can lay down traps and reach strategically important targets. The Clone Specialist is the fastest and most lgihtweight of all classes. With his remote droid he can scan enemy activity and report them to the frontline.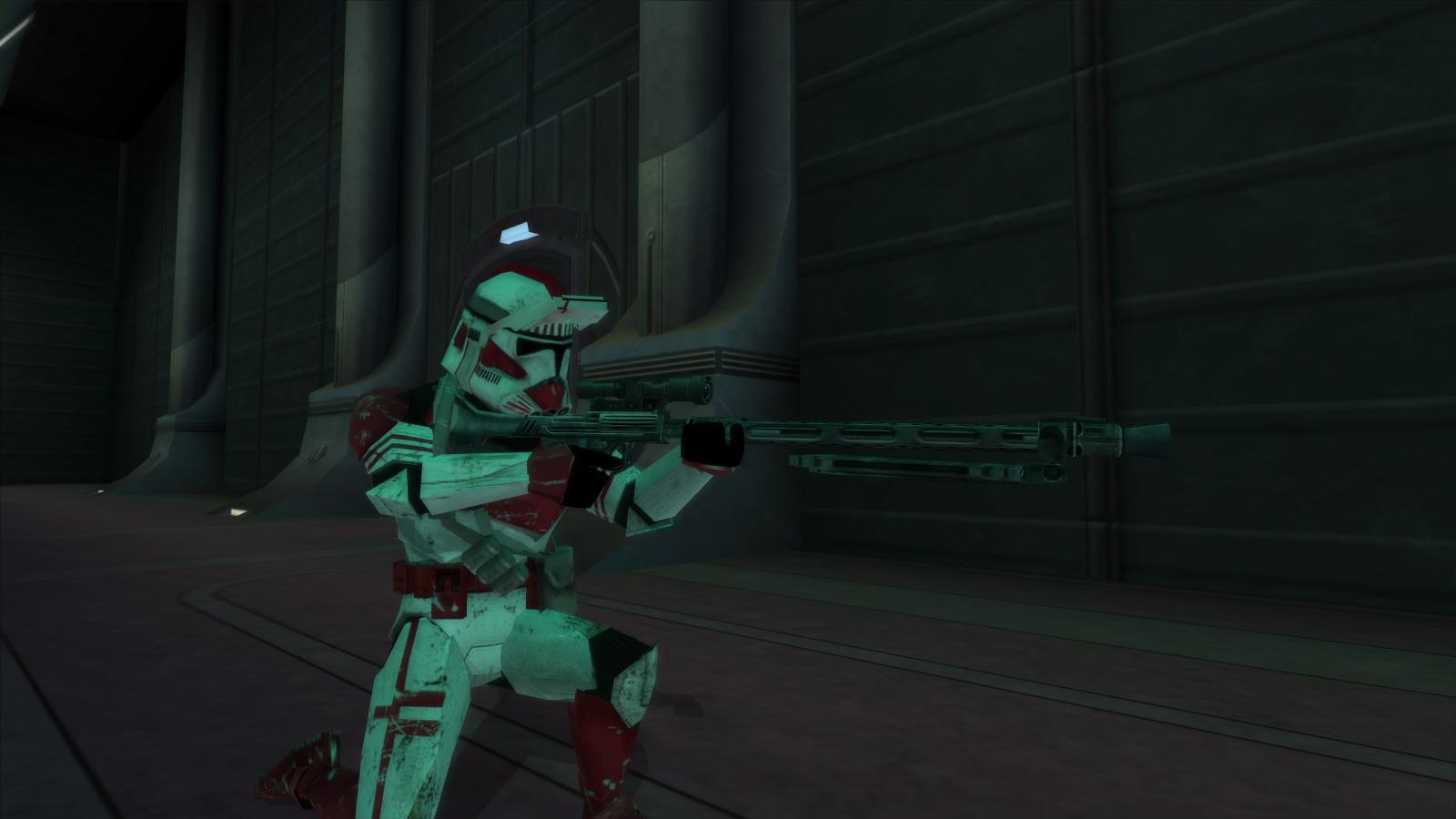 Weapons
- DC-15x Sniper Rifle (5 shots per clip, no double zoom)
- DC-17 Blaster Pistol (low range, high firerate, quick overheat)
- 1x Remote Droid (remote droid now is faster and more agile)
- 3x Anti-Personel Mine (effective against troops)
Award Weapons
- E-11 Sniper Rifle (8 shots, higher firerate, 2x zoom)
- Stormtrooper ability (additional, storm behind enemy lines with brief invisibility)
CLONE SUPPORT
The engineer plays the role of support. He functions best in a squad of troops to make his powers and buffs more effective. Nonetheless the engineer can very quickly rush in front of enemies and strike them with deadly shotgun salves. Staying near his auto turret gives him a HP boost. This class has the best acceleration.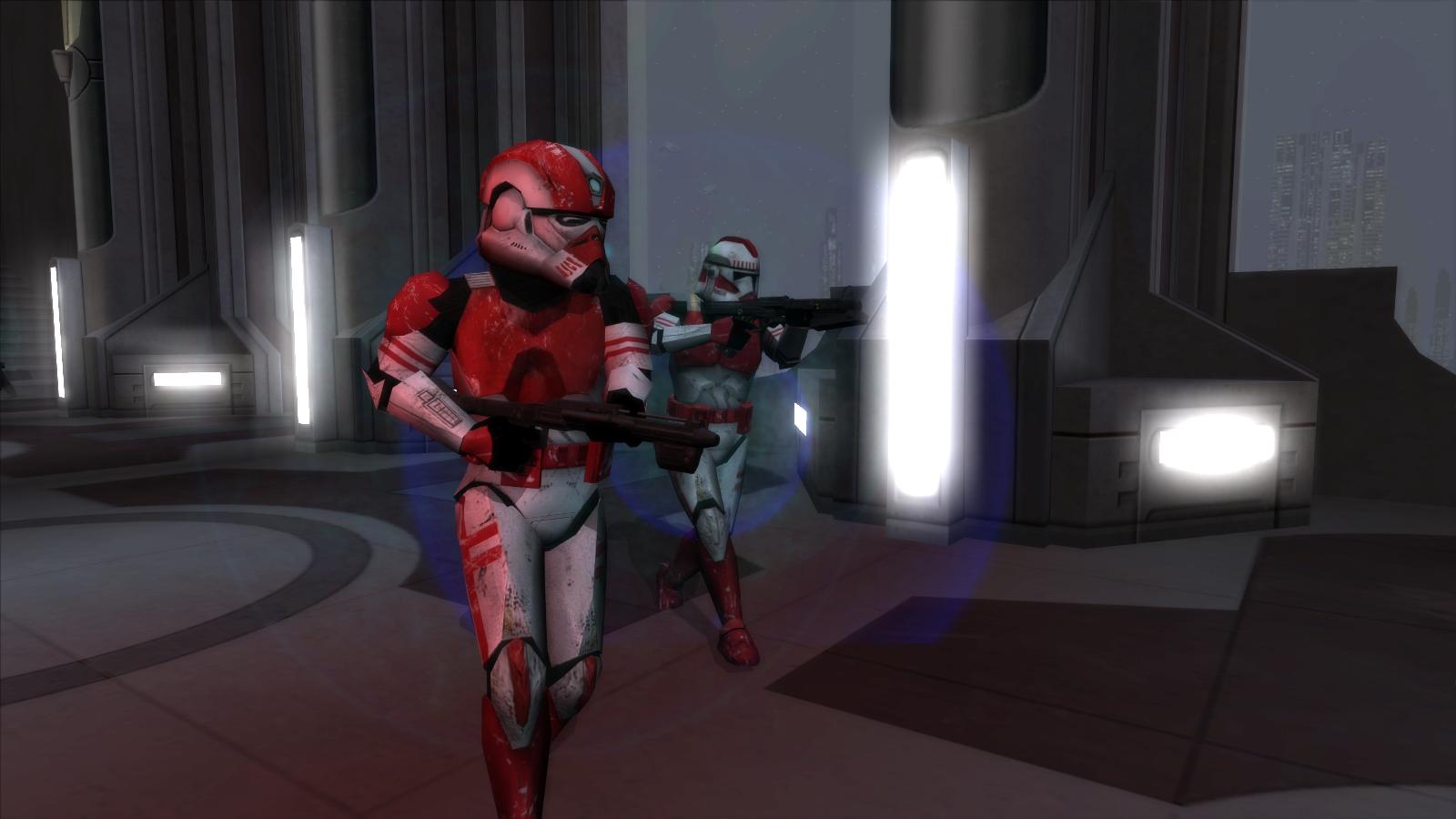 Weapons
- DP-23 Shotgun
- Fusion Cutter
- Injection (health regeneration for a max. of 5 units)
- Deployable Turret
Award Weapons
- DP-23 Advanced Shotgun (greater range)
- Shield Dispenser (additional)
CLONE JET TROOPER
As a jettrooper your job is to support the frontline by bypassing obstacles and enemies and use the moment of surprise. To deal a lot of spread damage the jettrooper is equipped with a shock grenade and an EMP Launcher that can be shot from high up into the enemy cluster.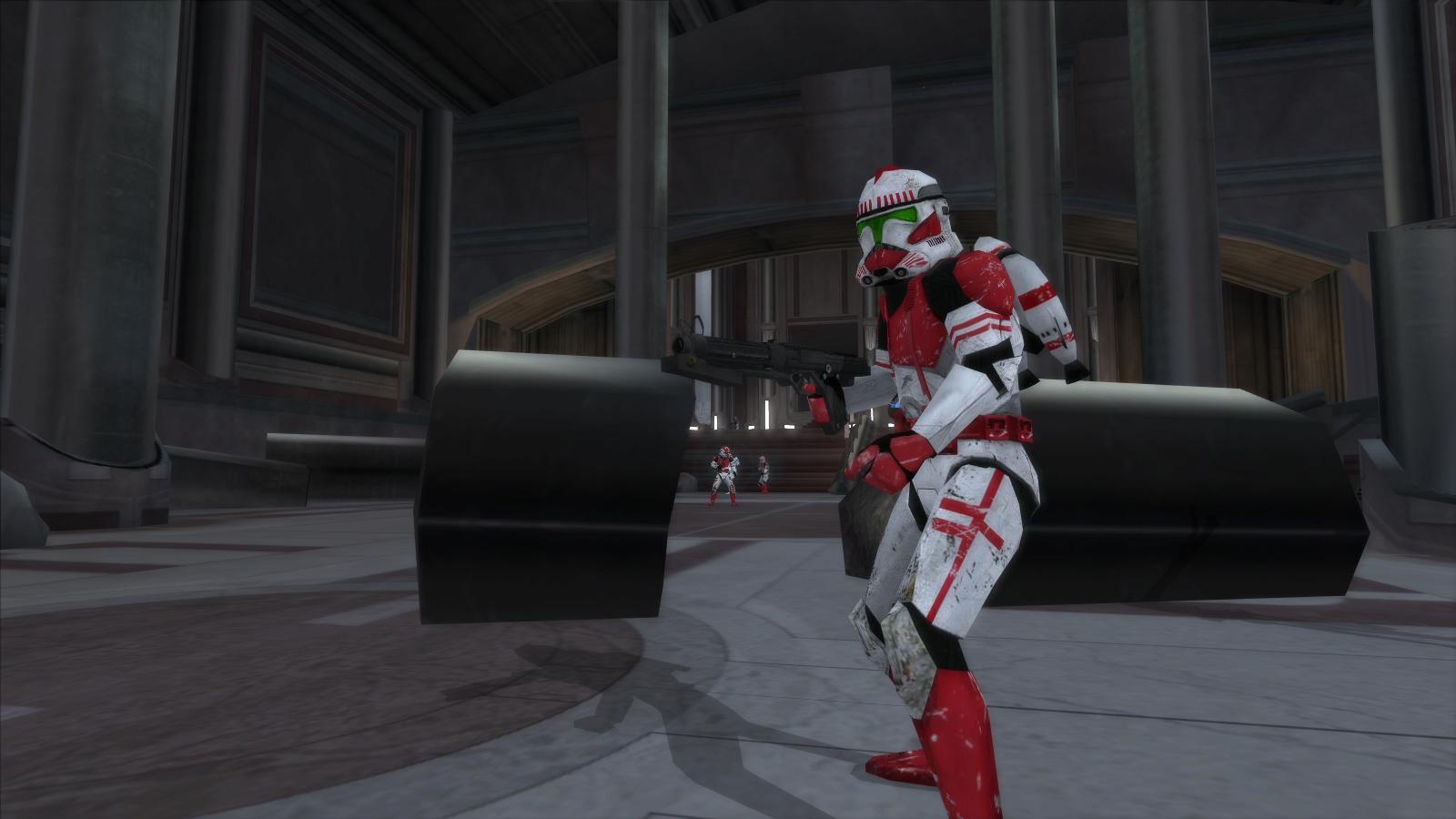 Weapons
- DC-17H Blaster Pistol (low range, medium firerate, high damage)
- EMP Launcher (splash damage, effective against droids)
- 3x Shockgrenade (shocks enemies for 4 seconds)
ADDON UNITS
I want to rework all additional units (in the current version all units with a chaingun) to make them unique and special for every map. The clone commanders and captains will also get a few changes.

CIS
I am already working on the CIS side next to the Republic side. I made a lot of progress and once I finished with the Republic side, I will get into the CIS more detailed.
That's all for now. Thanks for the great support. I will keep you updated!