I've spent the last 5 days preparing a new update for the users of Anarchy Arcade's prototype. It includes lots of new cabinet models, props, and some very cool new features. Over-the-shoulder spectating is now usable in the prototype; that means that you can stand behind somebody and watch them play the game LIVE. Also with this update you can play videos back on multiple in-game screens at the same time to really create an immersive arcade! Twenty days left in the Kickstarter to raise the money needed to license Anarchy Arcade!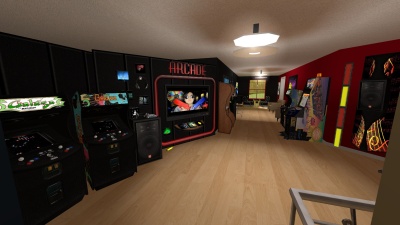 26 New Models
I've created 26 new props and cabinet models for this update including the table-top style Coffee Cabinet requested by the Dopefish Screenshot contest winner! Other cool new additions are a huge speaker based on the one from Back to the Future, a mutli-screen monitor setup based on the movie Swordfish, and an iCade cabinet which is a miniature arcade cabinet that you slide a tablet into; great for small retro-style games!
Anarchy Arcade won't have a Steam Workshop until after the Kickstarter, but it's already received its very first community addon prop designed specifically for the prototype! Check out this Skeeball Machine on GameBanana.com! Thanks Tony! If you have any questions about making your own addons, just send me a message and I'll help out as much as I can.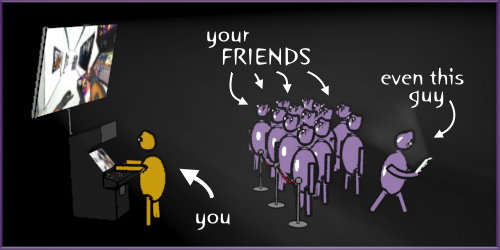 Over-the-shoulrder Spectating
Users have been requesting the ability to stand behind me in the virtual world and watch the games I am playing, LIVE, on the cabinet's in-game screen. I call this over-the-shoulder spectating and for a long time I did not think it was going to be possible to implement. However, I am now able to accomplish in a very open-ended way by taking advantage of streaming services such as Twitch.tv. This prototype update allows for over-the-shoulder spectating in multiplayer arcades. When other players select the cabinet you are standing in front of, they are able to watch your live video stream.
Anarchy Arcade is not screen sharing software and it is not a video syndication service, so you'll still need to know how to stream to sites like Twitch.tv, Hitbox.tv, or Justin.tv to make it work. This feature is implemented in such a general way that you will be able to use any other site that you want. All features in Anarchy Arcade are implemented in this fashion. It gives you absolute freedom. It adapts to how ever you want to use it.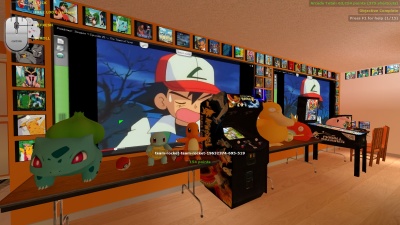 Multiple Screen Video Playback
Last week during multiplayer testing I joined some very unique arcades made by some cool people. Thanks to the feedback they gave me, I implemented a new feature that lets you play your videos back on multiple in-game screens all around your arcade! Just check out the Filters tab on a Cabinet's Green Menu to play around with it. In the screenshot above you can see that when you select a Pokemon episode's tablet, the video also plays back on the big screens!
Weekly 24 Hour Live Gaming Marathon
There are 20 days left in the Kickstarter and every Wednesday I do a LIVE 24 hour gaming marathon where I use the Anarchy Arcade prototype to play video games non-stop all day long. The whole thing is broadcast live on Twitch.tv so you can chat with me live, give me suggestions, or interact with other viewers. Below is the schedule, which I am usually good about sticking to. Keep in mind that this is a live broadcast and will feature mature content.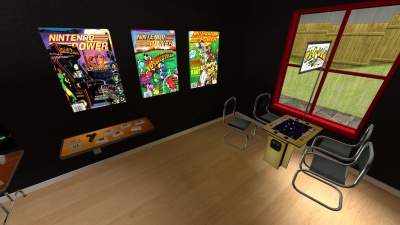 Twitch.tv/AnarchyArcade Video Day Schedule
Retro Toony Kick-Off Show (4:30am - 6am)
Cartoons, indie games, and comics.
Retro Randomness (6am - 9am)
Good old games & bad old games.
Space Invasion (9am - noon)
Laser guns, fighter ships, and deep space.
Lunch (noon - 1pm)
Food related games, music, and movies.
Arcade Tours (1pm - 2pm)
Help me choose which games to play next week.
Speed Racer (3pm - 5pm)
Racing games on my G27 racing simulator.
Vietnam (5pm - 7pm)
Guns, bullets, and explosions.
Jedi Knight (7pm - 9pm)
Competitive multiplayer in a game from 1997.
Zambie Apocalypse (9pm - 11pm)
We're not stopping until we get every last one of 'em.
Counter-Sleep (11pm - infinity)
Jump into the High Times server for some Counter-Strike to wrap up the day.
Remember, this is Twitch TV, not regular TV. It's best if you just throw the stream onto a 2nd monitor and let it stream all day long. Watching me play video games is not the type of stuff that is going to capture your attention for hours at a time, but it is fun to look over when ever something interesting is happening. That's www.twitch.tv/AnarchyArcade. See you on the flip-side.