Delta 5.56 has been released fixing several critical issues and other bugs.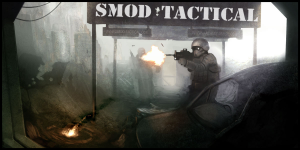 This update fixes a number of critical issues and other problems.
Changes:
-DOD:S/Half-Life 2: The Lost Coast no longer needed. Likely fixing 99% of the "Mount Filesystem Error 301" issues.
-Made a possible 3d scope crash fix. (Still keeps the 3d scope enabled)
-Proper and working W models for NPCs (Converted by Onemanshow and veteran_gamer).
-Tweaked setup map config files for best performance.
-"Point Insertion" re-added to chapter menu.
-Zombie fix merged.
-Updated code to Smod Version 40a.
-alltactical.cfg errors fixed.
-Massive file cleanup for reduced size.
-Player voices disabled.
-Separate install that no longer overwrites the Smod folder. Allowing normal Smod and Smod Tactical to be installed at the same time without conflict.
-Fixed MP5/Mossberg 590 HUD icons conflicting.
-Fixed Uzi using .45ACP ammo.
-Fixed improper UMP magazine size.
-Fixed excessive blurring/shaking when wounded.
-Added proper weapon spawn names. (EX:You can type in give weapon_m4a1 to get the m4a1 now)
-Added P90/M4A1/MP5 fire animation fixes made by EvilMr.Lee
-Disabled automatic reloading of holstered weapons.
-Lowered fire rate on Minigun to help prevent crashes with it.
I hope this helps all of you with any problems!
SMOD: Tactical Mod for Half-Life 2 SMOD: Tactical Delta 5.56 Gameplay Video video - Mod DB