Let's get right on down to it because I'm writing most of this as it comes to mind.
The HUD
So, first bit of news I want to cover is the code work being done. I have for you a good old image of a fully working HUD that compares to most early Half-Life photos I've seen.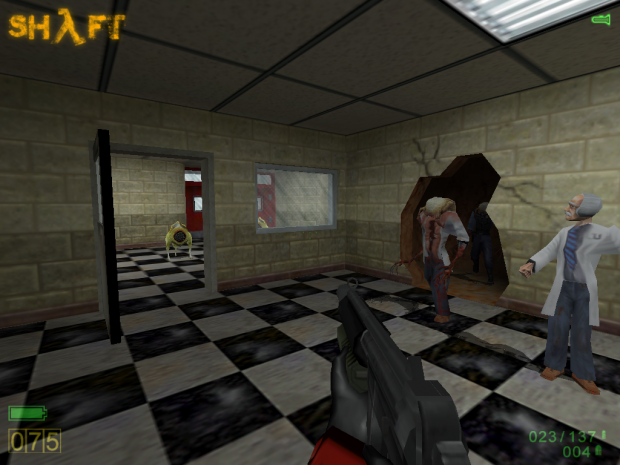 I first attempted this feat back in May at the request of Zaxon and Harron. I looked at the code for the battery and tried to move it above the health. I broke it completely and that's about as far as it ever got. I then went to a few people looking for assistance. No one really could lend me a hand so I just gave up on it until about 2 days ago when I attempted it again. It was still a pain to do when you only have basic C++ knowledge, but it can be done!
Weapons, and Zombie Models
Just like the HUD, this was an ongoing event for a while. The weapons weren't that bad. Zaxon rigged a set of weapons to bare hands, then recently did it to the gloved hev. I don't believe I did much besides set up a few animations for the glock and shotgun. We've decided to use the gloved hev with gloves for any main releases, but Zaxon wants to release other packs later on. So don't worry if you thought you couldn't run around Black Mesa with bare hands flaying around!
We also recently got a hold of a zombie model kindly sent from Sappy. It was unrigged, and untextured, but the mesh was pretty damn good. Far better than another mesh we had that resembled a broken down car. Zaxon took care of rigging it.
I brought up the idea on making a Barney zombie since we can switch out models thanks to SoHL. Zaxon whipped up the model, and Harron provided the textures. Everything turned out excellent!
Everything Else!
I skipped mapping since I'm doing 90% of that, and I already kind of self promoted myself on the HUD, and none of what you are seeing, and will be seeing would of been possible without the team, and the brilliant minds helping us along the way! I want to say if anyone wants to help the project out in some way, give us a pm here on Mod DB. I hope to show some more updates on mapping, NPC's in the upcoming weeks. I also want to put out a game play video sometime as well. This all depends on work, college, and also just wanting to go hang out with friends, and not sit behind a computer most of the day.
I don't really have more to say at this point. If anything comes to mind that I forgotten, Ill post a small edit to this.
Stay Shafty!