Hello everyone!
We're back again with an update for Reds, Some of you may recognise some of the units on these renders, since some of them have been in our public builds for a few years now. They were however, never shown in public as renders before, so we're now officially posting them for everyone to see.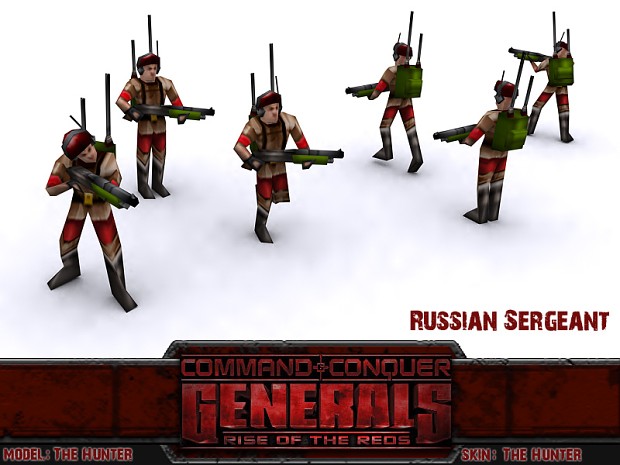 Early into his presidency, Nikolai Suvorov enacted a sweeping reform of the Russian armed forces, including a policy to eliminate the systemic abuse of conscripts and the creation of a fully professionalised, better paid and educated corps of non-commissioned officers. By the late 2030s, a new culture culture of camaraderie and leadership had taken root in the Russian Army, and has since been best exemplified by the Sergeants who would lead and support their soldiers in combat in a variety of ways. They can be equipped with infrared optics to detect hidden threats, call in mortar fire on nearby enemies and inspire their comrades to fight with utmost determination. Better trained in close quarters combat than the average Russian infantryman, the Sergeants typically pass up on rifles in favour the KS-23, an extremely powerful shotgun made from rejected autocannon barrels. The gun is loaded with buckshot for close quarters anti-personnel combat but can also be loaded with a solid steel projectile for use against light vehicles, pending the requisition of advanced infantry munitions.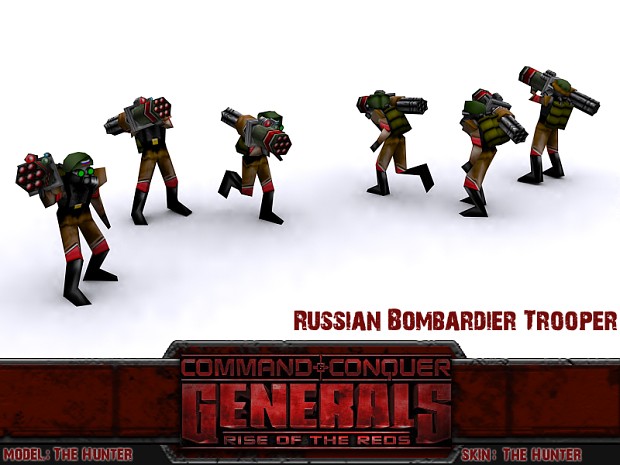 An outlandish concept by design, the "Portable Artillery Rocket System 80mm", or PARK-80 for short, is unique among the Shock Divisions' weapons arsenal in that it was not developed by General Aleksandr, but by one of his known associates: Senior Colonel Illarion Komalev, who headed a project to bring what was originally an aviation rocket into an infantry-portable format. First deployed during the Battle of Kurmuk in 2040, the new weapon was quietly retired after numerous accidents involving dislocated shoulders and backblast injuries, along with its dubious tactical role on the battlefield compared to conventional artillery.
During the Russian invasion of Austria however, Aleksandr found that Russia's existing motorised artillery systems proved inadequate in the rough mountainous terrain where Bundesheer defenders had demolished most of the major roads and tunnels. In an effort to break the stalemate in the wider Alpine region, Komalev who had since become Aleksandr's go-to specialist in bio-mechanical engineering proposed a solution: By incorporating recently developed synthetic muscle implants along with reinforced titanium joints, veteran Shock Troopers were to be equipped with an updated PARK-80 featuring both sustained and burst fire options to assist their comrades as an on-foot rocket artillery. Aleksandr approved this plan, allowing field officers to choose seasoned "volunteers" for the necessary implantations. Never widely deployed due to difficulties with the complex surgery, these "Bombardiers" nevertheless were feared by the European forces, as they could deliver devastating rocket fire while being mobile enough to relocate quickly on foot or by transport. In the event of imminent capture by the enemy, the Bombardiers are instructed to scuttle their weapon (and themselves) via a built-in high-explosive charge, to prevent the PARK-80 and their own bionic implants from being studied.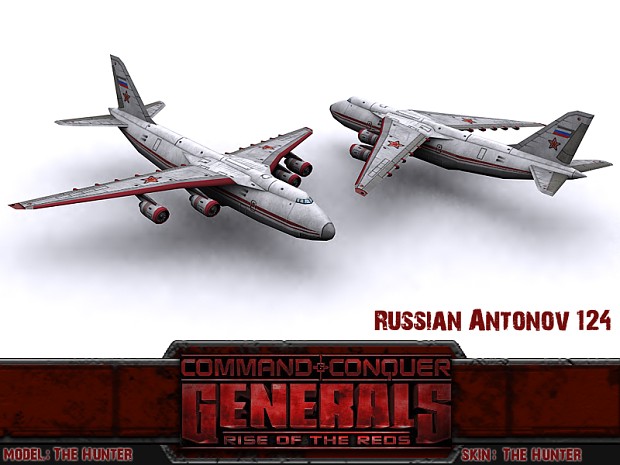 Created by the Ukrainian-based Antonov Design Bureau in the 1970s, the An-124 Ruslan (or "Condor" among Western militaries) holds a double record as the largest military transport aircraft in service and the second heaviest cargo aircraft ever built. Following the dissolution of the Soviet Union, the fleet was inherited by Russia and Ukraine, both of whom also retained their own respective production plant. In 2008, the two countries agreed to resume a joint production of future aircraft, though the rising political conflict in the mid-2010s would put a permanent end to these plans. Since then, the Russian-based production plant in Ulyanovsk has restarted manufacturing of an entirely domestic variant of the aircraft, whose small-numbered production run has primarily served to replenish the aging stock of machines in the Russian Air Force, where the An-124 remains in service as a strategic airlifter for heavy combat vehicles that exceed the capacity of the more common Il-76.


Also, did you know that The_Hunter does development streams almost every weekend? You can tune in and see how we make some of the things in the mod, and also get early sneak-peaks of upcoming content in Rise of the Reds! :)
Just click on the Twitch icon below, and follow The_Hunter's twitch channel to be notified when a stream is going live!