"Hey Guys,
I had this big emotional speech written up about how much time we'd spent working on this, but then I realized this is a WODU not a friggin soapopera so lets get down to the nitty gritty in what is the last Weekly Development Update before our January 10th Launch!!!!"
B

ig News

WE HAVE ACHIEVED FULL FACTIONAL INTEGRATION!!!! Panzer Elite, American, Werhmacht, & British are all in a playable state and actually pretty freaking fun to play despite the balance being a little off, check the Balance section for more on that!
T

esting

This is a new section for us, but we now have more than 125 alpha testers playing games with all four factions, I suppose its worth mentioning that we REALLY appreciate all the help - OMG is a work of passion for all of us on the team, and seeing real gamers get their hands on it and give us feedback on how to make it better is one of the most rewarding experiences in my gaming career. Some notable testers who have really been pulling out all the stops and pounding game after game in include SovietComrade, DMcraft, Thtb, Unlimited, Forceman4077 & slslookout - Keep up the good work guys! Community member Crono has taken on the responsibilities of Alpha Test Lead & good luck to him on that! Up until this point I've been acting in that capacity and man does it take a lot of time helping people with their installs, getting games set up with silly testers - I swear to god it's like herding cats!. Anyhow, more on the testing side as we continue - Once we hit January 10th we'll not only be running the Open Beta, but continuing a closed Alpha that will have new features (like doctrine abilities) added to it so we can test broken powers without wrecking the balance.
W

ebsite/Backend

Been a busy week for everyone working on the Backend - Gary has been stomping all the bugs that keep popping up in the Battle Files (Bug-free for 2 days!) & got the dynamically generated UCS files working Yesterday - I can't even tell you how nice it is to mouse over a platoon and see "2 Rifle Squads, 1 Ranger Squad" when last week it would have said "NOKEY0199928484010912092". Today and this weekend he's spending his time nailing down Persistency - We have the reporting working on the game end and its now his task to take the data sent by the game and turn it into meaningful things. From Reporting comes after-math casualties, veterancy & company building via VP gain - This also means that Availability will start to kick in! Full implementation is expected by Monday or Tuesday, giving us a few days to kick the tires prior to going live.

Speaking of going live, our coding Ronin and personal friend of mine Mike (morteo) has taken hold of the tasks we've given him and pumped out two of our systems in short order and with all the functionality we could ask for...
Note: These sites will ONLY work if you load them from the front page of OMGMod.com (you can copy the URL, go to OMGMod.com and paste it to load from there). Additionally, they will ONLY work if you are an alpha tester - For information on how to become an Alpha tester (It's easy!) check out this instructional video

Ok! Now that you've done than, enjoy the...
Resource Bonus System Omgmod.com
Doctrine System (http://www.omgmod.com/abilities.php)
I'll wait.

.
.
.
.
Okay great, hope you enjoyed those! Mikes' next and final task is the ATS, but that won't be ready for launch - More info on ATS in a future update.... co So Draygon, our fearless leader, has been spending his time juggling a couple different tasks including but not limited to Keeping the Database updated with new units/abilities, resorting the Company Manager, tracking down those pesky Airborne Bugs, and coordinating the persistency effort between Gary & Marcus.. Good job Draygon! Keep up the good work!.

DBSights has been working on the launcher, which will have an early version @ our Launch on January 10th that will have basic functionality such as auto version updating, battle creation, basic chat, etc. The real treat for the Launcher though will be its later implementation loosely targeted for mid February which should include but not be limited to In-Launcher company creation & management, automatic map downloads, WarMap integration & many other neat things.... More on that later ;) Great things are a-comin even past launch!



C

oding
ozmo is back from his Holiday & hard at work - But I should make something clear here - Cozmo is now going by his given name, so from here on out I shall refer to him as such....

Marcus has spent the last couple days hammering away at the core systems code, everything from the spawner to the emplacement scripts have little bugs in them that need squishing, and guess what! Marcus got a big pair of goulashes for Christmas, so he's absolutely up for the task! Having just finished up the Reporting (that's persistency for you nubs!) scripts, he'll be taking the time to finish up the Gamemode - As much fun as annihalation is, after you've played 20 or 30 games it becomes a little akin to repeatedly bashing yourself over the head with a large loaf of bread... I for one will be very glad to get the gamemode in and working! BACKCAP AHOY!!!!
Meanwhile, back at the ranch.... Bonte has done a damned impressive job - Over 300 units and abilities hand-coded PLUS a ton of bug-fixing PLUS taking the lead on hot-fixes and patches, big Kudos to him! He'll be tied up with last minute bug fixes and balance changes *cracks the whip* until we go live, and after that its onward to the roughly 600 doctrine abilities, many with 5 levels...Yeesh am I glad I'm on the balance side of this thing!!!!
Kais is a relatively new member to our team, technically our "Coding Intern" and I haven't addressed him in past weeks but I wanted to make a point of commending him for the rather ridiculous amount of work he's put into some of the systems that seem simple on paper, but when it comes to creating a 31 page reference doctrine describing UCS locations and naming conventions for several thousand entries, I just wanted to say Thanks for doing it! Because if its not you it'd probably be me!
B

alance

At this point we've internally split the Balance team into two groups, so there will be two parts to this.... On the Cost/Unit side, with all the testing that's been taking place and with all the new versions it's been quite a ride for the Balance team.... Their first major task was to deal with the British Sniper vulnerability.... British in vCOH really have no counter to a well micro'd sniper, since their only detector units are the Recon Tommies (weak infantry unit) or the Lieutenant... Neither of these are particularly survivable units, and even if they manage to get within range to detect the sniper they are quite vulnerable to any sort of enemy presence.... A single HMG covering the sniper essentially negates them as a solution. The Recon Tommies may buy a Marksman upgrade that, in its vanilla implementation lets the unit do a 1-shot "Snipe" but unfortunately its range is shorter than even a regular rifle shot (25) while a sniper has a much higher range (50). We solved this problem by increasing the range of the Marksman ability to 50, but in exchange for the range increase we LOWERED the RT's Line of Sight to 35 (normal rifleman level) from 50... This essentially means that while Recon Tommies now have the range to knock out that sniper, they can only do it if they have another unit spotting for them AND they can get the shot off before the Re-Cloak.
Next up on their list of balance problems to look at is the A) Cost problem with the PE Hetzer (way too cheap!) and the Treadbreaker ability for the PE Light AT Halftrack (Guaranteed to Immobilize or Destroy engine a unit that costs 6x as much as it? Yeah, that's a bit broken!)
For this team, welcome new Balance Team members Pengu & Dr.Nick
On the other side of things, we've got the Doctrine Balance team, who are tasked not only with balancing the doctrines but also with creating them! Since Doctrines will not be in the launch of OMG (Should be in the 4-6 weeks following) they've mostly been busying themselves with work on the PE & Brit Doctrines - Theta has an early draft of Luftwaffe up on the Beta boards (publicly viewable and open to critique) & Bodybag is about to start on the British Expeditionary Force (replacement for Royal Artillery which was deemed to be too... Well, Arty heavy....) More info from these guys in coming weeks.
D

esign

This week its pretty thin here... We've redesigned the Resource Bonus system right before implementation, not a major change but hopefully one that doesn't force people to pick either one resource at the sake of all others, or to min/max out.... Beyond that I've been looking at ATS in prep for reworking it the week of the 19th (going to be super busy working with the balance teams immediately following launch.
M

apping

This is a preview of the upcoming map 'Pavilion Square' by Lolto.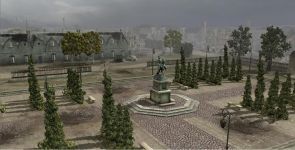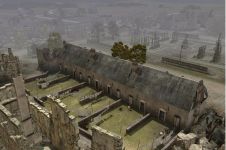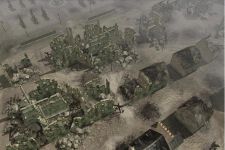 "Lolto: It is a work in progress so anything you see that does not look right will be finished by the time it is released. The map has gone through its 3rd reiteration and has been a difficult map to design due to being part urban. The map is slated for both a 2v2 and 3v3 version to be out when OMG goes public beta. Enjoy the preview screen-shots."
So that's it for this week! Remember to sign up for the Alpha if you haven't already
Oh! And if you like what we're doing and haven't done it yet, make sure you LOG IN AND VOTE FOR OMGMod in the 2008 MOD OF THE YEAR AWARDS!!! (The Button to Vote is right above this update!!)
For the entire OMG Development Team,
GamerAndy