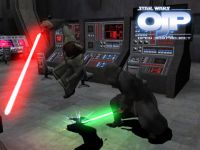 A teaser for a cinematic trailer of the Open Jedi Project: Enhanced mod for Jedi Academy is now available! The OJP:Enhanced community has been hard at work in producing media content to show what the mod is capable of. The full cinematic trailer will be out by the end of the month and will hint at a story that will hopefully become an OJP CoOp campaign.
Teaser #1 focuses on the dynamic, fast-paced lightsaber combat in the Enhanced saber system. In this one-minute teaser you will see the duelists truly in control of their lightsabers and use regular attacks, quick lock-inducing power attacks, automatic blocks, directional parries, and acrobatics. You will see the fast and tactical saber combat that OJP:Enhanced gameplay is currently capable of at v0.0.9u and is constantly improving on.
The teaser features Jon Hockney as Isaias (Jedi with green saber) and JackBaldy as Sagar (Dark Jedi with red saber). Isaias and Sagar skins belong to Brejo "Slaughter" Savet. Imperial Time Machine map belongs to Nozyspy.
DOWNLOAD 640x480 AVI here from the OJP:Enhanced ModDB page!
If you can't play the video, you probably need to download the XviD codec:
Xvid.org