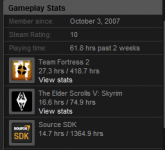 As you can see, NovaCor is indeed still in development. It may be 3rd on the list, but is a close runner up to Skyrim. Much of the TF2 time is spent idling, but I do have a renewed fondness for the game. That comes and goes over time, like a bad girlfriend. I have had a lot of questions lately as to what exactly is happening with the Mod, as we have not been as forthcoming with updates as we were in the past.
Well, we are still developing NovaCor. There has, however, been a noticeable slowdown. A few factors lead to this. One, I live in the Midwest. Winter is supposed to be my slow time at work, as I work in Construction. Unfortunately for NovaCor, this winter here has been extremely mild, keeping me very busy at work - nearly as busy as I am in peak seasons. hence, I have much less time to work on development, and many times after work, I do not feel the 'zest' for getting right to work on the project.
Thats not saying I dont want to work on NovaCor, so do not interpret it that way. I have been focusing the majority of my efforts on making a storyline thats really well put together, as all I had in the beginning was a basic overview of what happened and would happen during the course of the Mod. Now, with mapping at a certain point, I think I really need to hash out the finer details of the story so that we can accomodate the mod's events in each map.
Speaking of mapping, the focus of my efforts in Hammer have been retexturing and rebuilding older maps for the most part. The quality of older maps just does not fit with the most recent Labwork images, and a very noticeable jump or drop in quality is evident. We really need the mapping and overall design to pull together into one finely meshed experience, not something that appears cobbled together from several 'eras' of mapping. Some of the older models also need to be reworked to fit the newer models' quality.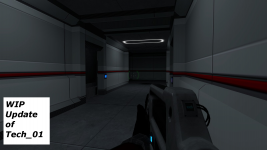 Our modeller has finished another gun, as well as revamped some HL2 models for use in NovaCor. he was able to do things i wanted from the beginning, but had no knowlege on how to do so, and so never included it into the Mod - until now.
He has modelled the Headcrabs into Spiderbots, and reworked the Combine Soldiers into NovaCor Troopers. Both of these are major strides forward for the Mod. He has also completed the heavy Assault Rifle, which we are only awaiting completion of the animations on now.
Our animator is busy with schooling and Skyrim, but he is still with us and doing little things here and there. I cant fault him for being busy with Skyrim; it is an awesome game and very, very addictive!
So theres our news post. I hope all of you can be patient and know that we are dedicated to finishing this Mod. Development will have its ups and downs, but we will not abandon NovaCor.