First of all, we definitely owe you an apology: we were really, really quiet in the past couple months, due to our real-life commitments. Our dedicated leader, TripTucker finally found a job where he can put his great modelling skills into good use, "overtime" is the first word nowadays in Croesus' dictionary, while myself also have limited time to look after the story and the script of STE:M.
That said, we really wanted to show you that we are still alive and preparing to leave dry dock - so let us show you a glimpse on what we have been doing in the past months.
Whenever his time allowed, TripTucker (true to his nickname :D) was working diligently on the layout and props of Engineering. Although the room is still far from completion, we can already show off a completed corner of the Warp Core...
By the way, you can find an extra screenshot at the original forum topic of this update. ;)
Croesus also practiced his character modelling skills in the past months, which is readily apparent if you take a look at his latest work below. Since this media release is focusing on Engineering, I think his choice of character is not surprising...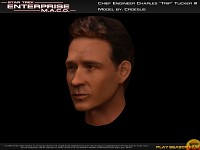 We are also very happy to inform you that we have a new crewmember aboard: LewisNiven is reinforcing our mapping department. Although Lewis is a newcomer to CryEngine 3, he is by no means inexperienced when it comes to Star Trek mods: he has his own Source-based project aiming to re-create the Enterprise-D in a Half-Life 2 mod. Make sure to check out his site when you have some free time!
Lewis will help out Trip in building the decks, and will also fine-tune the lighting effects of the rooms created - with any luck, we might be able to share some teaser shots with you in the coming weeks, thus providing updates in a much more regular fashion... ;)
Thanks for reading through our news update!
Live long, and prosper!
The STE:M Design Crew