So as to give you smth to test we have finally decided to release the mod beta version with pared down campaign map. Campaign will be devoted to the first stage of Vvanderfell colonization and let you to fight in the most populated West part of the island. Game starts in 3E415, you take control of 1 of 4 fraction: Imperial colonists, Great House Hlaalu, Great House Redoran and Ashlanders from Urshilaku tribe. Nord fraction will consist of pirates and raiders, they will terrorize the north coast of West Gash

Everyone has their own goals: Imperials are trying to extend their hegemony without increasing number of troops. In case of huge troubles they could under certain condition receive reinforcements from the continent.
Hlaalu to secure dominance should work harder to develop economy. Using diplomacy and mercs Hlaalu will expand their influence under this region.
Redoran first of all must overcome skaal's raids and constrain ashlanders from the North, proving that they are still capable of showing their military might. In order to achieve this you will get small group of elite redoran warriors.
Ashlanders are against everyone: northern fur guys, renegade and traitors of the true faith, invaders from the West. Ashlanders exploit everything they can get from this scorched earth: they use guar as mount, able to hide in volcanic wasteland and could use mighty but rare silt striders.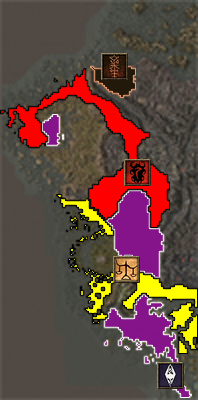 Every fraction can improve their economy and recover lost knowledge by exploring abandoned dwemer and daedric ruins if they are able to banish dwellers. Also ruins can cause lots of troubles: you must keep your eye on them because ruins attract rabble, and they will use ruins as the base for raids and revolts.
In the upcoming dev journals we'll look closer at other campaign features. Stay tuned!