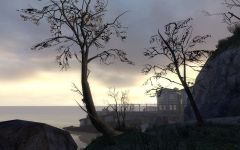 A faint recording of a ghostly, mechanised female voice encoded into the amplitude of a shortwave radio frequency, echoing off charged particles high in our atmosphere, leading back to transmission from a covert location in a destroyed eastern European city from an alternative, near future...

CITY 44 CALLING - CONTROLLER RELOCATED, PROJECT STLL LIVES - 47.618, -122.199 - END

... indicating that, actually, I'll be starting at a certain Valve Corporation at the beginning of October.

What does this mean for MINERVA? Right now, I don't know - I'll initially be working on Valve's own Episode Three, but after that, who knows? I seriously suspect this isn't the end for this particular chain of experiments in designing single-player Half-Life 2 maps, all conducted for fun in my spare time.

Like any of my projects, it started off small, but rapidly grew far, far, bigger. It's not finished yet, but this time I actually released something. 'Episodic' worked.

And, I accidentally acquired a job in the process. Oops?

To everyone, thanks.
Congratumalations!