The next release of Might & Magic: Heroes 5.5 will bring for the first time in HOMM series, random-generated duel maps!
First of all for newcomers: What is a duel map exactly?
Duel maps for TOE have long been used in the multiplayer, to significantly reduce game time and only focus on combat tactics. On a duel map the adventure part of the game is skipped, but other than in 'duel mode' the player will receive a huge amount of experience at the beginning of the game and build up the hero's skills by him/herself. The player will also decide between alternate upgrades and receive
a random stash of artifacts and arrange the slots. Victory is achieved by killing the other player's main hero on neutral terrain (not in a siege).
So what is special about H5.5 Duel maps?
H5.5 Duel Maps will be random generated on the smallest map size: Tiny without underground, so you can have endless amounts of them both with forced or unforced factions,
After generation the game will auto-detect the map as a duel map and regulate the game, but remember you have to activate scripts on them with the provided tools to use them hotseat and LAN!
The players can very easily customize hero level, army size, and the amount of received random artifacts (which can also be 0). There will also be a demo duel map.
The following variables can be set in the user-settings file, but they can also be copy/pasted in the mapscript so that the player can create multiple different duel maps (one for level 20 heroes, one for level 30 heroes etc.)
H55_Duel_WeeksGrowth = 12; --Army size is determined in weeks of growth.
H55_Duel_Experience = 200000; --how many experience the heroes will have at start
H55_Duel_Relics = 4;
H55_Duel_Majors = 8;
H55_Duel_Minors = 4;
A random generated duel map consist of 3 zones, the middle zone will also contain battle sites but by default they are way too dangerous to visit (to maintain the traditional duel map gameplay)
If desired the player can reduce their guards and nerf the arrtifacts gained at the start of the map, this may cause the players to make a run for the battle sites before killing each other.
When a duel map starts a message will appear for each player explaining the rules and objectives of the duel.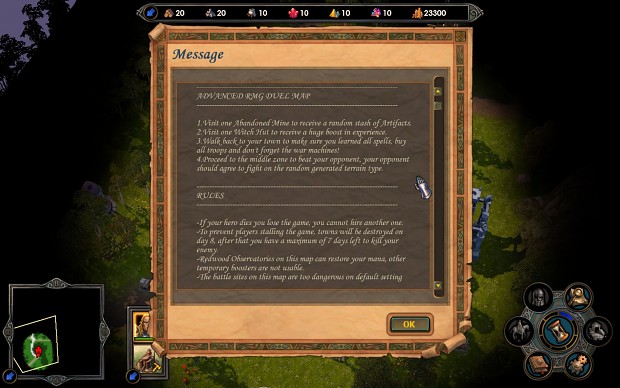 Screenshot of typical generated duel map, it may take several attempts to get one as symmetrical as this one, but symmetry has no impact on the balance of the map.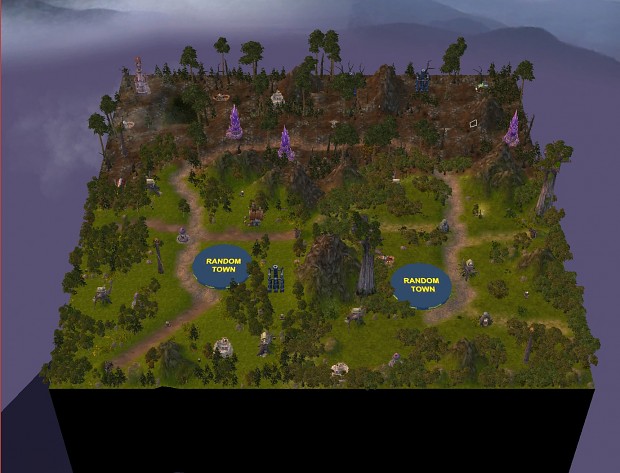 Full army can be bought immediately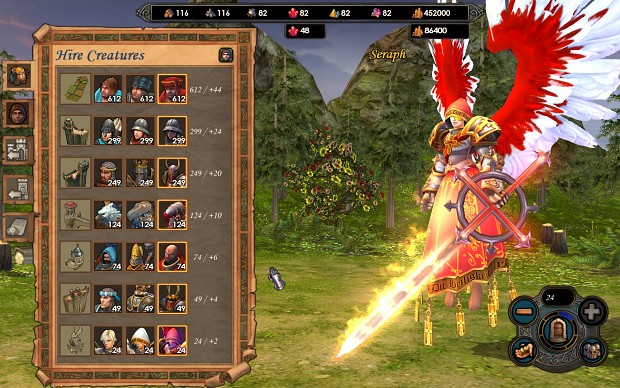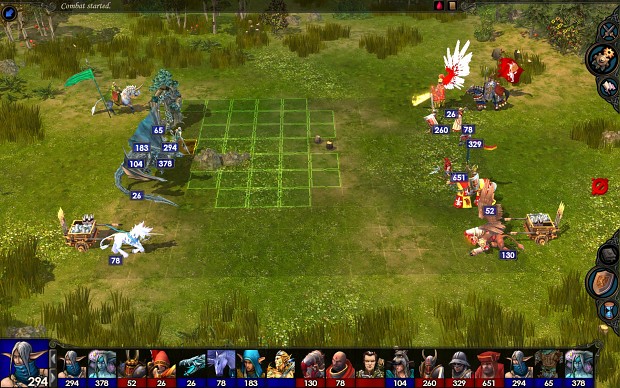 New page in the Advanced RMG manual