It's long past time for some new MEC2 info. The first two images are of the Israeli Gideon, our replacement for the Apache. This is a relatively cheap, very fast attack helicopter which also can be upgraded to clear buildings. The Gideon also has the smoke screen ability, which when fired makes units inside harder to hit (taking much much less damage), although their vision is reduced to almost nothing (meaning they can't really do any damage while smoked).
The second thing to show is from a few request's we've had to show some of our menus. Here is a pic showing the main menu, and the skirmish. The only real notable thing is that on the skirmish menu we now have a tutorial slideshow that plays, explaining the basics of MEC2's gameplay for new players.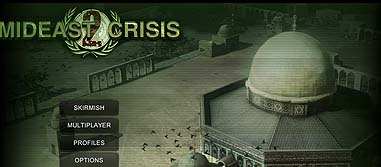 The last thing we have is a couple of screens showing our infantry deaths. Apologies for not having video for these right now, since they look many, many times cooler in person. Right now infantry can die several different ways; normal death, explode death, flame death and radiation death. Below we show the blood decals, plus the flame death, in which the charred infantry stands still like a statue for a second then crumbles into dust.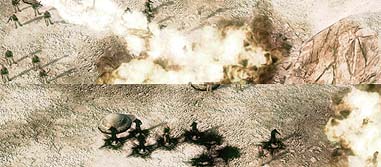 As always, for more detailed information, head to our message board to read our full "status of..." posts. We go into detail of just what is being worked on and what exactly is needed to be done before we can release.
Speaking of release, it should be quite soon. As the latest status topic shows, we're really just putting the final touches on the mod.
And one final note, do consider voting for us for Mod of the Year! If you're reading this, the banner to vote is right above, and we'd always appreciate your support.