Hello Mars Wars fans, time for another update. This time I'll be showcasing some of the new and updated maps for Mars Wars 2.1
Right on the first screenshot you'll see one of the many new and improved character
animations, Parker holding the Pistol - in a more realistic manner than before.
I've taken care of many animations the last few nights. Looks more solid and natural now :)
I've also digged out an older map which somewhat got lost in the list of maps. CTF04 Nemesis
- a remake. Created by Goober. It has some great gameplay and atmosphere I must say.
Above on the right you can see a new map named MWRA-Joust, created by Assaultman67.
It's a railarena styled maps with 3 platforms. Most of the fighting is done in mid air, so be
prepared for some serious Matrix-alike fights =D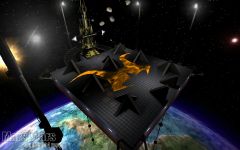 I've also been working on a new Menu look, this is how it's looking like right now.