[page=Introduction]
Killing Floor is a modification that has stayed in the shadows for a long time. Developed for Unreal Tournament 2004, many have overlooked them. With their first demo released and featured on many download sites, Killing Floor has personally taken any critic and slapped them in the face.
While the demo is still early and not fully developed I was quite amazed at what these guys put together. I'm in love with this demo and look forward to more amazing stuff from this team.
Now onto the sexiness!
[page=Gameplay- The Overview]
The gameplay in Killing Floor is fairly close to the Invasion gametype that ships with Unreal Tournament 2004, with some small cosmetic differences, and the exclusion of an "ammo refill" for players following each successful wave. The result is that the gameplay is tense and often frantic but feels on the whole, somewhat slower paced than Invasion. The objective is to last as long as is humanly possible against continual waves of undead creatures, of which there are in the demo 5 variants. The hidden objective that most players will also find themselves faced with in their mission to last the night, is the accumulation of ammo and medical supplies which are scattered around the map in some obvious and some hidden places. Some of the most exciting moments in the game can come during frantic retreats toward known supply deposits while being swarmed from all sides by enemies!
The gameplay is not perfect however, and there is still room for improvement. At the moment, players spawn with default weaponry and there is little room for improvement or the accumulation of better weaponry (although it should be noted that the demo had a limited arsenal and it is likely the full release will contain more weapons). Even so it would have been nice to see some sort of "purchase" system to make use of all those lovely, and unfortunately useless points you accumulate blowing zombies to bits. Nevertheless it's a testament to how solid the core gameplay is that these issues can be overlooked when the brains start flyin'.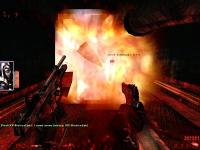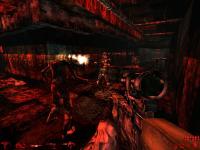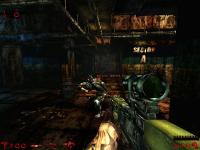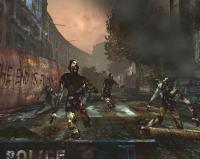 [page=Gameplay- The Weapons]
The Guns themselves are well modeled and grungy, matching the hyper-evil environments they are utilized in perfectly, and each seems to have a power and accuracy consistent with the weapon type, although liberties have been taking regarding realism, and it's pretty clear that while these guns may LOOK like certain real world counterparts, the mod's creators certainly aren't interested in making them behave this way. This is probably a good thing, considering that we're dealing with zombies, and not terrorists...
The Dual 9mm's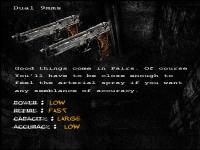 The Bullpup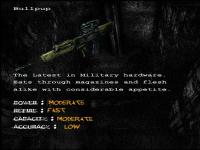 The Kitchen Knife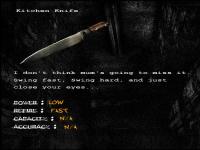 Pssst....there's a hidden weapon.
[page=Gameplay- The Maps]
The Map included with the demo is fairly small in comparison to the UT2k4 maps, but it is packed with detail, and a thick atmosphere that really sets the tone for the rest of the mod. What's more, Killing Floor seems to have a system for environmental physics akin to Half life 2 , and, while clearly not as advanced, it is refreshing to see a new level of interactivity from environments that not only look gorgeous (or awful depending on your love for the macabre), but can be taken apart, pushed around or otherwise played with. Not too many other UT2004 mods can have this said about them, and it's probably a feature that will end up being even more enjoyable if it is developed to include things like pickup keys for the players which could make constructing fortifications to block out Zombies a whole lot easier!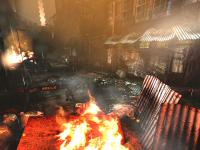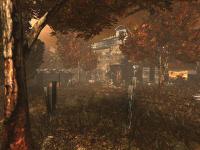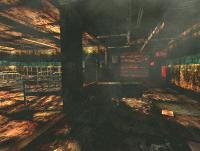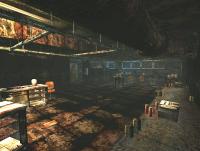 [page=Gameplay- AI]
The A.I is very simplistic, and it does what it's meant to (more or less) Bots tend to use the right weapon for the right job, but will occasionally decide to throw themselves at the mercy of the Zombie horde for no apparent reason , or other acts of brain-dead behavior. One would assume that the A.I will be improved with the final release, and considering that the game is MEANT to be played in a multiplayer context, with real -life allies, this is probably not going to be so glaring in the future. The Zombies themselves are fairly consistent in attempting to hunt you down, and finding the best routes to do so, but they are after all, brain dead zombies, and aren't going to be employing overly advanced tactics to get their meal.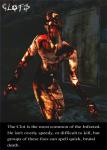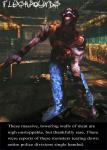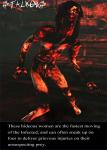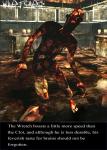 [page=Gameplay- The Sound]
The Sound in Killing Floor is definitely a strong point. The Music is all fitting and quite excellent from the Menu to the In-game tracks themselves, it's all spot-on for the theme. The Weapon sounds are nice, but the Dual pistols did sound somewhat too weak in the Demo, so hopefully this will be corrected in the future. Aside from this, ambient sounds abound, from a dull hollow thumping in an underground lab that has you on the edge of your seat, to the hiss of leaking gas pipes, it's all there and atmospheric.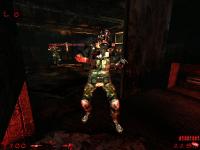 He has nothing to do with sound, but who cares!
[page=My Final Words]
Killing Floor has always been the underdog in the modding world. They always showcased amazing work and were never recognized. Alex (the developer) has worked mostly solely on this project and always had one goal in mind, to produce something he was happy with. Now with a hardworking dedicated coder Killing Floor has inched closer to modding fame. This is one of the few modification I can personally say will amaze everyone over time and will truly be a piece of art. I have watched this modification from day one and watched it grow.
Overall Killing Floor to me is Fun, Addicting, Action Packed and definitely worth putting on your watch list.
Gameplay 8.0/10 (For first release, I'm impressed!)