The SWJKA KotOR 2 Duels SOURCE Pack is HERE!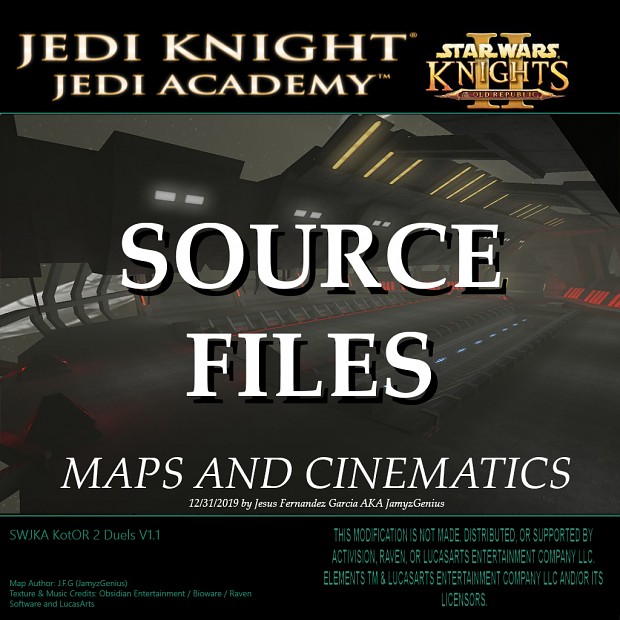 This includes the cinematic source files and the .map files. It includes both (about 48 .map files) the singleplayer and multiplayer editions. You are free to use them as long as you give credit as Jesus F. G. (JamyzGenius). Just do not use them outside of Star Wars Jedi Knight: Jedi Academy, and also do not use them for monetary gain. Feel free to use, modify or build upon these files for your own mods, projects or anything you wish or desire in JKA. Same with my old maps, you can use any of the maps I did for JKA in your own contents as long as you give credit. I do not have all the .map files, but you can do it via decompilation if you really want to use them.
For further details, check the Readme inside the Source Pack .rar file.
SOURCE PACK (Includes Version 1.1 files) - Note, needs the main files to operate properly, check readme for more details:
If you want to download the Mod V1.1 (not source files pack), here is the download:
V1.1 Features Trailer:
Multiplayer Map-Pack V2:
Bots Pack for Multiplayer:
If you want to check the last article I released for Version 1.1, here it is:
Thank you so much for everything. It has been great to be part of this community since when I started modding in the same back in around 2007, meet great people and had cool experiences. I need to move on now and I am 99% sure I will not return to mod Star Wars Jedi Knight: Jedi Academy. It has been a great journey and wish you all good health and the best in your future projects. Please keep the JKA and JKA modding community alive if you can! one of the best I had been part of.
Thank you for everything and happy new year! 2020
Best Regards,
Jesus F.G. (JamyzGenius)