Welcome to the Quake Modification "In the Shadows" which will feature new and updated monsters, a large amount of art assets and a funky new combat system, stealth! Yes I know, probably an unusual combination, slow paced strategic combat layered on top of a fast paced classic run, gun and shoot fps! It certainly is a strange idea, but it is something I have wanted to experiment with for some time due to my crazy obsession with the Thief series and all things sneaky like.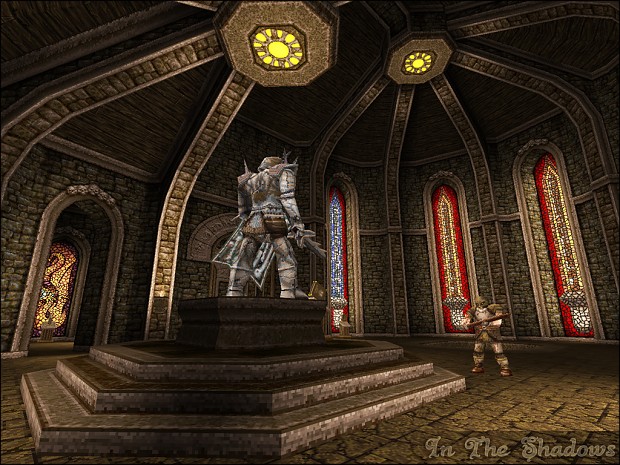 So far I have designed the main story and various layers of environmental history, worked out what locations I want to create and made the first map, "The Temple of Swords" which I have uploaded some images of in my MOD gallery. This is the hub map which links all the other locations together and is the place the player will visit the most. The map is designed with a couple of unique paths so that the player can pick and choose what direction they want to go and hopefully create a new experience each time they pass through.
Most of the new code is in place ready for the stealth system and I have uploaded a video showing the basic tutorial section of the first map. The stealth system may seem simple at first (the tutorial is designed to show the mechanics with very few distractions) but a group of monsters is a different kettle of fish. All monsters will notice something is wrong if they see another monster suddenly die in front of them and will investigate what happened. Large groups of monsters eventually become distraction puzzles with different monsters needing to be turned around before anything can happen.
As always, feedback is welcome and any questions you may have please leave in the comments below.