I was recently contacted by Trak888 on ModDB regarding a project called "Red Alert Millenium" which was posted by a ModDB member by the name of oztronix, judging by his ModDB profile his name is Michael Vranic.
Trak888 brought the project to my attention as it makes use of a huge number of ICFRA art assets, and when I say huge I mean huge. It's everything in their screenshots apart from the terrain, the concrete walls and a truck of some sort. This project absolutely does not have, and didn't even ask for, permission to use my assets and had been queried on this by other people before I was aware of its existence. The author of the project isn't interested in the moral or legal issues regarding this kind of action, has tried to play down and lie about what has been used and is even preaching that he's on some sort of righteous quest promoting a "fair" "new way" of modding in an attempt to justify his activity.
I contacted ModDB regarding the profile and after a short exchange with a staff member the profile was removed.
To make this worse the project is illegally distributing Red Alert 2: Yuri's Revenge as part of its download, claiming to have permission. The permission quoted on their website should you ever come across it was directed at the Rock Patch, NPatch, etc projects which were explicitly not allowed to allow people to play without purchasing the game.
I have since found out that this oztronix has been popping up on C&C modding community websites, which I tend not to follow much any more, promoting the project and has, of course, been rejected due to the nature of his project. I'm aware of the existence of a profile for the mod on Gamestreet and have contacted them to make them aware of what he is promoting. The main website for the mod is on Googlepages who don't seem to be interested in removing anything without a court case taking place first.
I ask that anyone who spots profiles, pages, etc on any websites promoting this project contacts me and I will try to have the offending item removed. As it stands this "developer" is a disgrace to the C&C modding community and modding in general, so please don't support him by downloading the mod or posting positively about it.
Thank you to anyone who has already acted against Red Alert Millenium, whether that action was direct or making me aware of the project so I could take action myself.
I thought it was a bit boring and unfair of me to expect you to read that without anything nice to post, so I thought I'd update the ModDB screenshots for the mod.
If you played the last release there's not really anything new for you here but this is the first time that some of the units shown have been in screenshots, they're also the first screenshots since the voxels were renormalised and it's the first time all the little things I changed after the last big graphics update have been shown in context with everything else. I think the only faction buildable things not shown in these screenshots are the Allied Mine Layer and the Chinook, there are also some things shown that you can't build as they're civilian. Or they could be something else.
I've started with a new Allied base screenshot.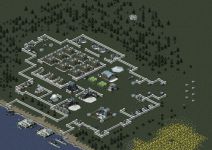 Please view this at 100% by clicking the image, then right clicking "View Original" and either "save link as" or "open in a new tab" (or whatever they're called in your browser) as it is a 2010 x 1425 pixel image and the image box that appears when you left click won't be big enough.
There's also a Soviet version.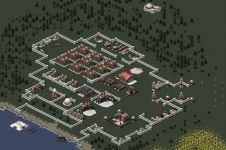 Please view this at 100% by clicking the image, then right clicking "View Original" and either "save link" as or "open in a new tab" (or whatever they're called in your browser) as it is a 1936 x 1307 pixel image and the image box that appears when you left click won't be big enough.
That's all well and good you say, but what's actually happening with the mod?
Well it's a good question, and as you'll know if you're tracking the mod and have been reading the occasional news posts the answer is very little with sporadic periods of activity.
The latest sporadic period of activity is some damage frame work.


Now this isn't much I know, it needs more work or redoing in places but it means something that isn't immediately apparent and won't actually mean anything to most of you. What it means is I've sussed out what all the palette files floating around my dev folders actually do so I can actually make building graphics again, and that's a good thing as I can start powering through getting all the frames done.
Update 11/01/10:
Since this news post and the screenshots went up a big spike has appeared in the stats for ICFRA!'s ModDB profile as well as a small increase in the number of watchers. It's great to see that people are still interested in the project and it's provided me with stronger motivation to continue, leading to me getting a bunch of stuff done yesterday:
Discovered I'd converted some infantry graphics added since the last release with the incorrect shadow colour so I fixed those.
Made some new AP and AT Mine graphics as the old ones were dreadful - the old ones (pictured in the base screenshots above) were done pixel by pixel if I remember rightly. I've no idea why I did that in the first place but I've made some new rendered versions now.
While testing the above I ran into some issues with the mines, mainly that AI units would stop and shoot the entire mine field rather than drive through it, so I fixed those.
Added Einstein, need to write a frame sequence for him but that'll only take five minutes.
Done a number of damaged frames, at the time of posting they are the Advanced Power Plant (altered from the one shown above), Allied Barracks, AA Gun, Turret, Ore Refinery and the Chronosphere (and its animations which I spent twenty minutes being confused by as they wouldn't work - before realising I hadn't added them to the animations list in Rulesmd.ini, oops...). I intend to continue working through the buildings today.
Unfortunately the NPatch removal appears to have broken the Mobile Radar Jammer, I'm going to try and get it working again but I may end up removing it. I don't think it's a particularly popular unit but it's always a shame to take a step away from recreating Red Alert.
I've also just added forums to the mod's ModDB profile so feel free to use them. It's easier to reply to stuff in there than it is to reply to comments.
Update 13/01/10:
Still progressing through the damage frames - Construction Yard is done. Also fixed the awful windows on the Command Post so they're transparent instead of cartoony blue (which you can see the Allied version of on the right of the banner at the top of this ModDB profile) and gave it a bit of an interior. And the pipes on the side are dark now as when I looked at the texture on them I couldn't bring myself to actually render that.
It was nice to see this today.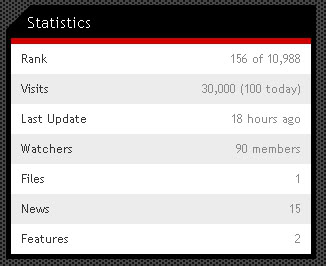 Yay for breaking 30,000 (which I assume is since the ModDB layout changed rather than ever) and for more watchers.