PREVIEW:
Imperial Splendour: Rise of the Republic (IS: RotR), is the late campaign of IS 2.2.1b that focuses on the French Revolutionary Wars at the end of the 18th century.
It is the year 1783; we begin the adventure just after the American Revolution which shows to the world that the order of a monarch can be disputed by his own subjects and that a colony can claim its independence in name of Liberty. However, in Europe, most of regimes are absolute monarchies; the American events are really bad news for the stability of their reign. Such events inspired by the Enlightenment could spread and tilt monarchies in place for nearly a thousand years.
IS: RotR, is a mod which is based on the original Imperial Splendour mod, but adds many new features:

The starting year is 1783, and the (official) end is 1804, what a great transition from ETW to NTW.
For some practical reasons, we are not able to have a full historically correct campaign map, we ask for your pardon, but to change the starting regions seems to be why we are not able to finish a campaign on some other mods, so it is preferable to allow to the player a complete campaign without random crashes.
If R2TW only allows a ONE turn per year with ONE season for its campaign map, IS: RotR allows you a FIVE turns per year with TWO seasons (Hell yeah!

), cause if we stay with two turns per year, the campaign will only have 44 turns and that is quite short.
So what is different from other late campaigns available on the TWC, and what is the difference with the IS 2.2.1 Great Campaign?
A NEW CHALLENGE:
Every IS fans know that the difficulty with the mod is release the economy, and without funds you can not raise armies against other factions, and the game is lost.
In IS: RotR, as it is an advanced campaign, the original IS economic issues are lessened, there is a new challenge, and it is different for each of the two reviewed factions, France and Great Britain:
----------------------------------
----------------------------------

Your economy is only based on your trade roads, from the colonies or other factions, Britain has to maintain a good relationship with others or has to build a solid colonial Imperialism in danger since the American Revolution;
At the West, the United states are a danger for the American colonies and Iroquois confederation is not enough powerful to resist against the new raising nation, you have to act quickly if you want to keep Canada, at the East, the war between Mughals and Marathas is almost over and the winner will probably ask supremacy on the British East India Company territories.
The advantages playing Britain is the possibility of a larger colonial roster compared to the other colonial factions due to a less restricted recruitment limit, supplied by marine troops (Line, Grenadier and Light Infantries) which can be recruited on the American coastal territories and local auxiliary units (Native american units, Black Slave, Sepoys), however their upkeep cost us pretty high so be careful to a good enough economy to support your colonial expeditions.
If one your trade road is blocked you will have the chance to review the economic issues from the original IS (in clear it will be difficult not to have a game over), so be careful to secure those and to have good diplomatic relations with the other factions...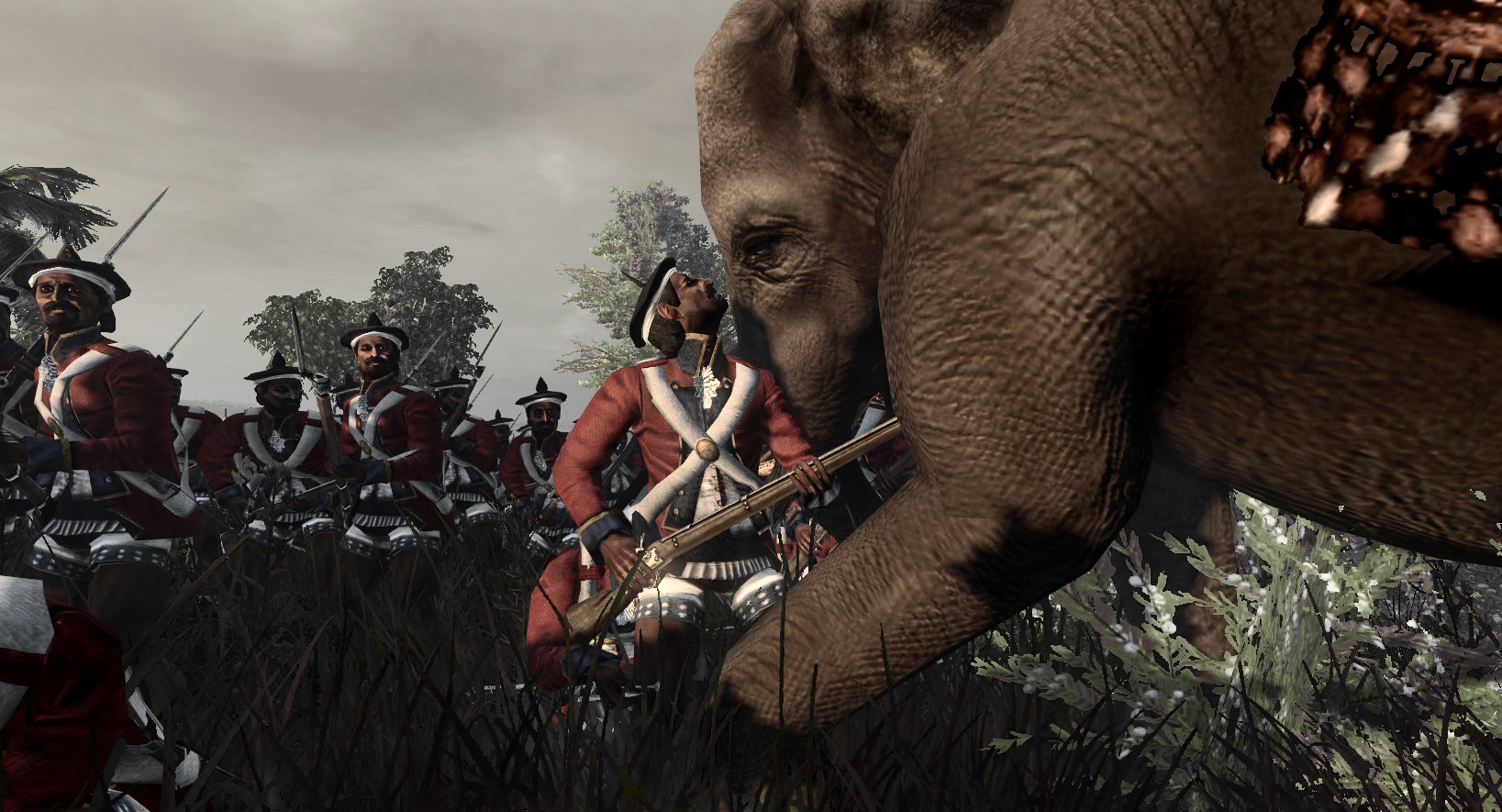 ----------------------------------
----------------------------------

As France lost most of its colonies during the Seven Year war, your economy is essentially due to your own money production (taxes and Industry) and your commercial relations with other countries, however the Enlightenment had an impact on the low classes, they want to know the same destiny as USA, so if you want to stay under a French Monarchy the thing will be difficult cause if you decrease taxes, your economy will become a bottomless pit, so try to balance your economy and the happiness of your lower classes.
If you think that the Revolution is an easy way, let me tell that you're wrong, cause even if you wouldn't have difficulties with other countries under a Monarchy you will have some troubles to make them admitting your new regime and most of them will declare war to you, good luck.
Also you will be faced to other problems, the loyalists troops and black slaves wait to declare the civil war if you push too far the Republican idealism by the technology tree.
The challenge fighting under the Republican or the king flags are equal, just find the way that you prefer.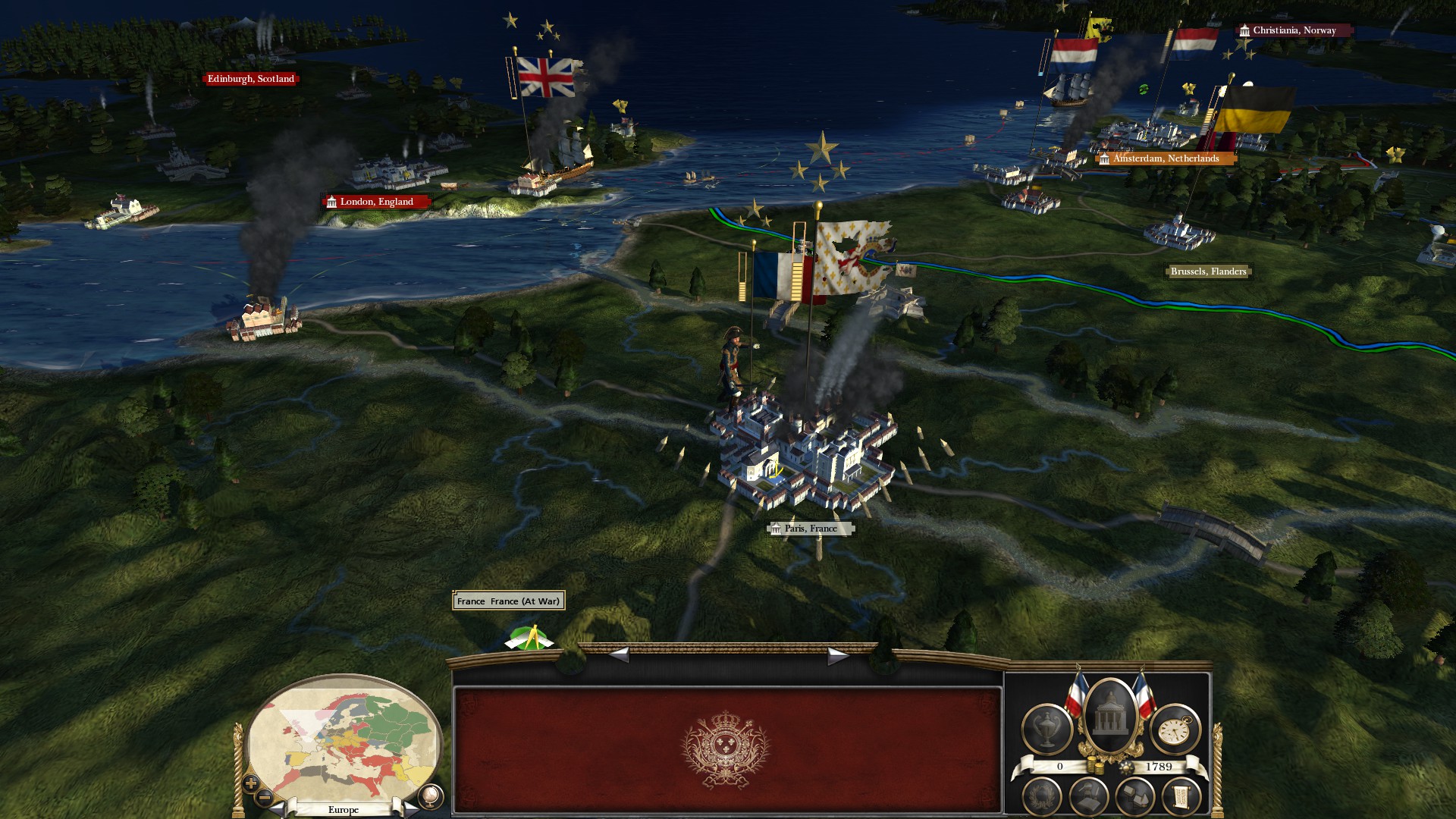 A NEW GAMEPLAY

IS: RotR allows for one of the first time in video game history to add the Haitian Revolution, it is a new emergent faction based on Hispaniola that you wouldn't be able to take in a campaign, but will be available for the custom battles. Haiti is not only a new faction, it is also a new culture, a new roster, a new experience for you in South Americas and West Indies as in IS: RotR, if a rebellion appears in your South America or West India colonies the rebels won't be the Native american rebels anymore, but Slave rebels, troops with an high morale, who would prefer to die than surrender.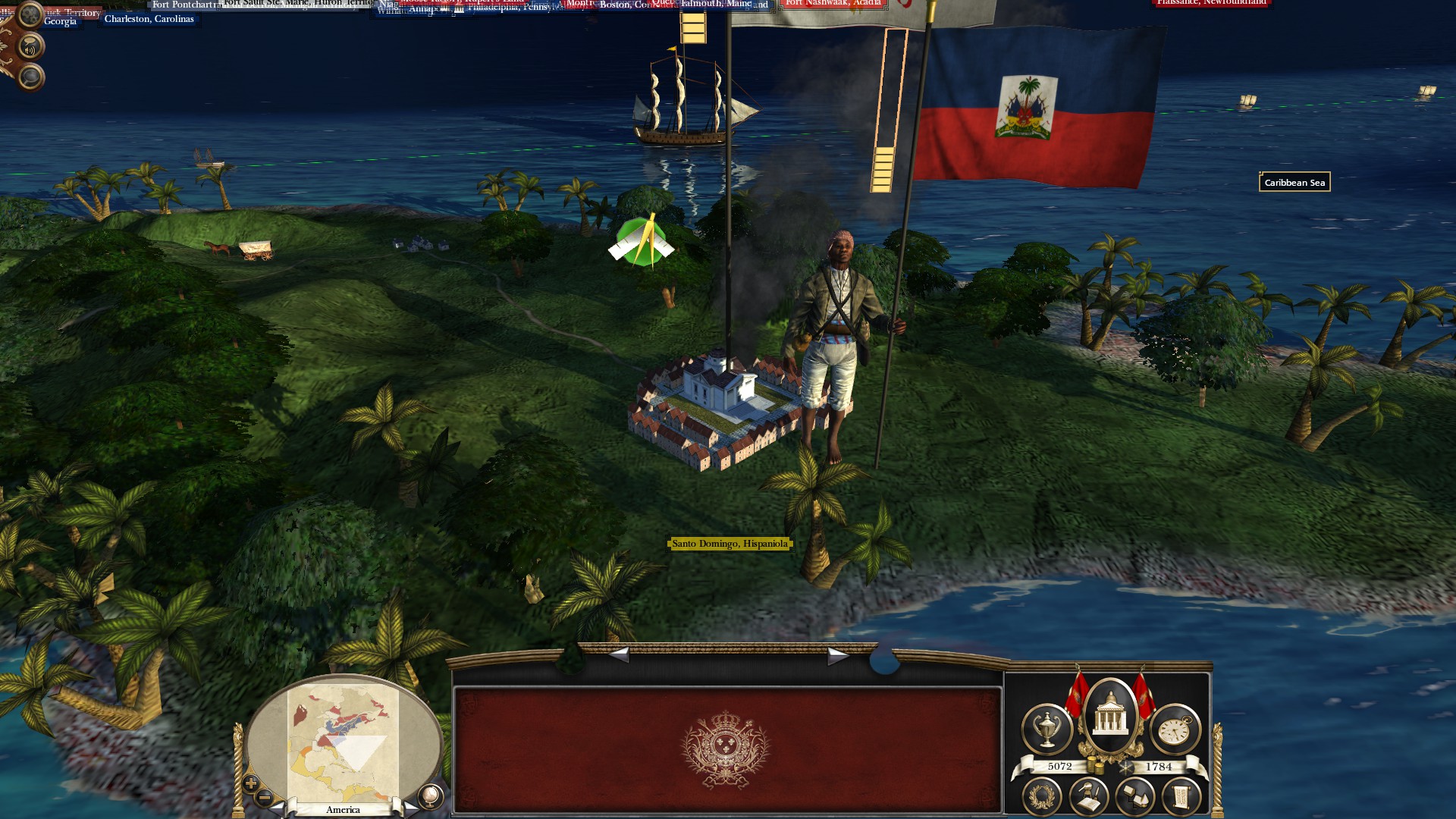 ----------------------------------
----------------------------------

New Portraits for French and British Generals:
The IS: RotR team worked hard so as to extend the game's immersion adding 11 new portraits for each reviewed factions (France and Britain) and some for the historical characters who are found at the beggining of the campaign.
We decided to review the portraits editing the ETW and NTW faces cause if we add portraits which represent somebody who really existed, it would become inconsistent to have a Napoleon Bonaparte with the Lafayette face, it is better to have a random face instead.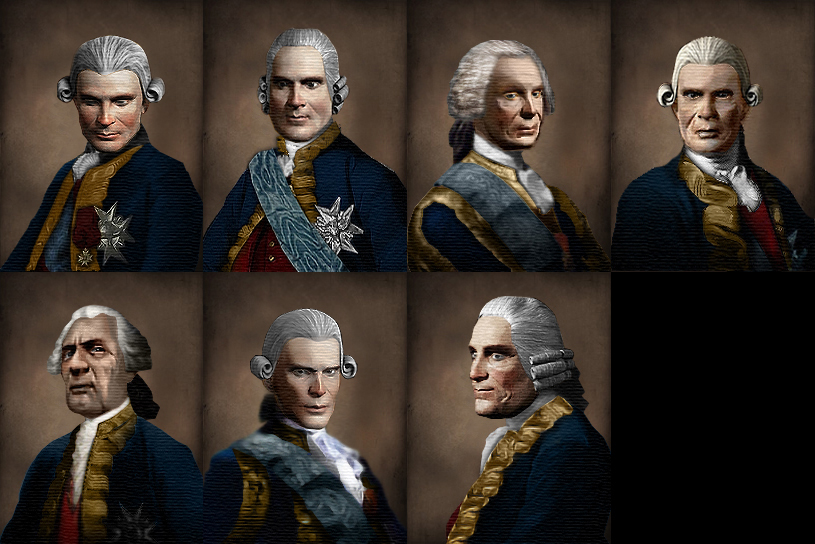 ----------------------------------
----------------------------------

New flags:
After long month of research and designing works, finally IS: RotR adds new flags for the campaign map that are totally historically correct:


What would be a Total War game, without its epic battles?
IS: RotR pushed more than ever the realism and the gameplay of 18th battles on a visual aspect, with new units, new equipments, new environments, etc.

IS: RotR adds around new 80 units and much more textures/models, if we consider that other factions' units has been added for IS 2.2.1b are considered as former units.
IS:RotR adds totally reskinned units to the game, for Great Britain, for French Monarchy and for French Republic.
As IS: RotR focuses on the French Revolution it would be a shame not to work on the Republican units, so as to give them back their historical colours (at the contrary of the CA's (non) works for vanilla).
But the work on the units is not limited to that two factions, IS: RotR adds also new skins to other European factions units, it is a "must do" stuff if want to maintain the consistency of our work.
The generic units are not automatically historically correct, as it is really difficult to balance have historically correct units that could be used for two countries even if they are really far from each other on the Campaign map (like Spain and Russia), but the render is consistent anyway.
Obviously the new faction, Haiti, has a little proper roster so as fight for the rights of black people.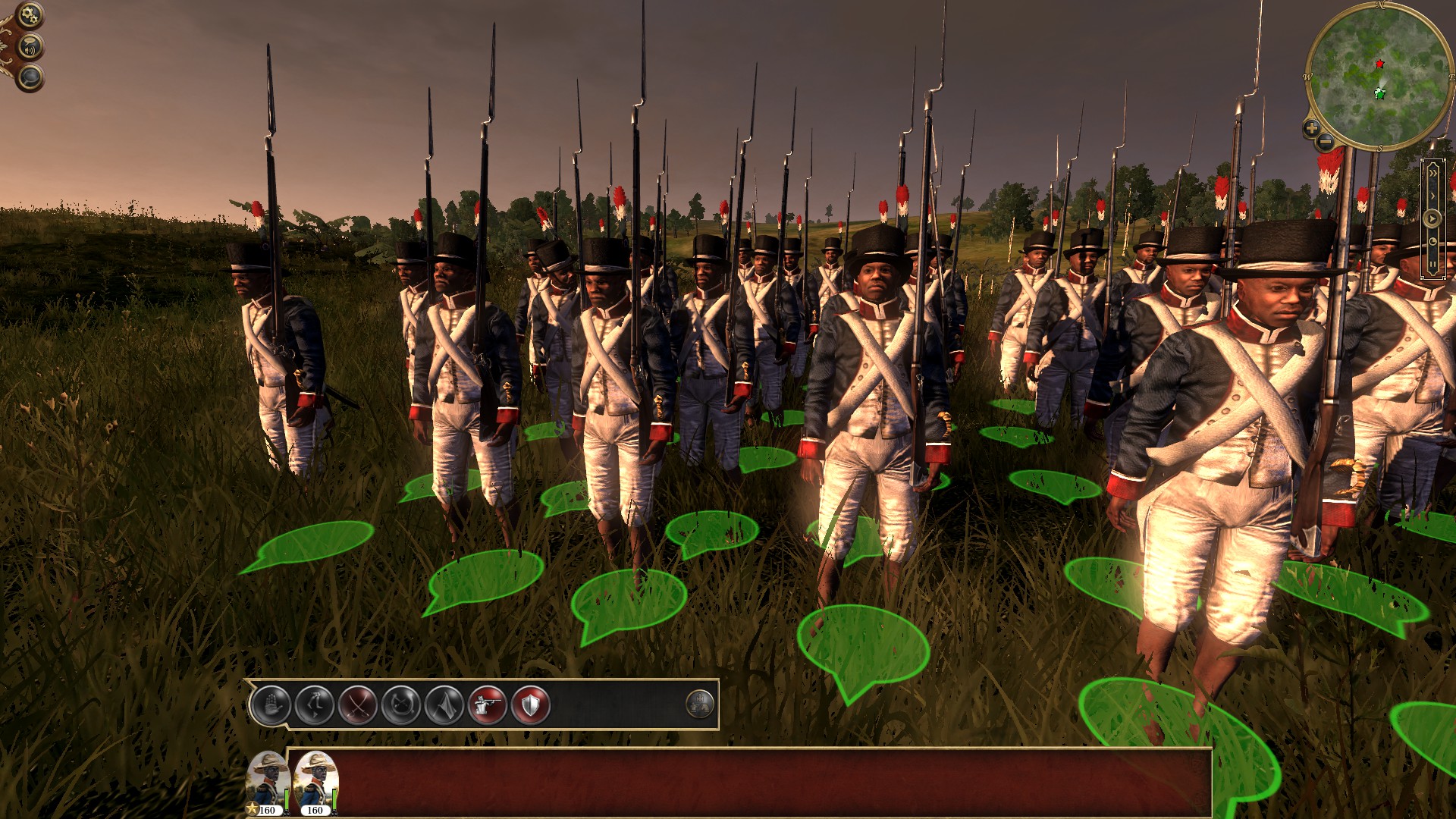 Great Britain in 1780 didn't have the best army of the colonial nation, and the American Revolution showed the British army issues:
in-experimented, bad equipment, and not large enough to counter the dangers that are threaten it.
The British roster is really basic in the homeland, in England you only have access to standard units, plus some guard units. The cavalry is also really basic, around four cavalry units really expensive and not really efficient.
The opulence of the British Army is in the foreign units and colonial ones, around 4 different type of Highlanders (fencibles, line, light, and Grenadier infantry), which are much better than the troops available in England. It is basic but it is enough so as to defend your homeland, but it will be unnecessary if you want to try an invasion on the Continent.
Where the roster is much larger than other imperialist factions is the colonial roster, with three kind of marine units (line, light, and Grenadiers) around five different units per continent (colonial militia, line infantry , dragoons) plus the local units (Sepoys, Amerindians).
However those units are more expensive, and less equipped than the other colonial challengers.
Around 30 units for Great Britain against 15 from the previous release for the late period. The colonies and Scotland allowed a much more diversified roster.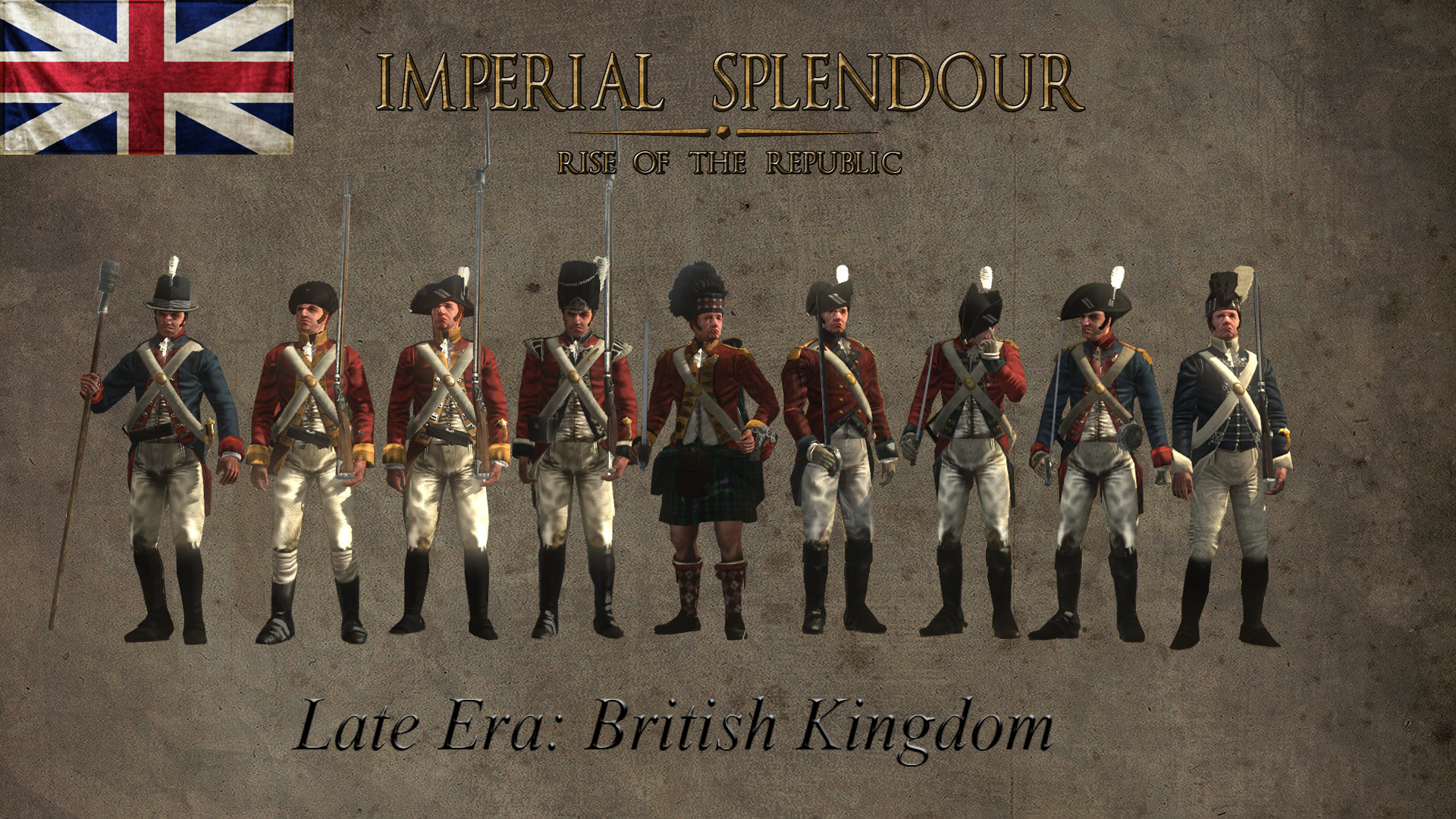 French army is one of the most diversified army in Europe, first because of the large choice of units, the many guards units, many (good) cavalry units, and a lot of foreign units, with a great Artillery.
"Wow but that faction is totally cheated! Lol"
Well no that's pretty wrong, during monarchy you have a good army with a bad morale, excepted for guards units which are really expensive. The units are also really expensive, and the upkeep cost is pretty high so you will have to be careful in your choice.
During Republic, things change almost totally (apart for Artillery which still have a good artillery), the units are converted in a less experienced revolutionary equivalent, with a quite good equipment, and a good moral; The basic units will be quite cheap, but there are only two guards (infantry and cavalry) units with a really restricted recruitment limit, so you will have to have a solid economy if you want to stay away from the bankrupt.
In the colonies, the French roster is quite poor, only a colonial line, supplied by fusiliers of the Marine regiment and colonial dragoons. Those regiments are really restricted compared to Britain, so you will have to create a lot of local auxiliary units (Caribbean black regiments, Sepoys, native Amerindians regiments, etc.) if you want to stay as a colonial State.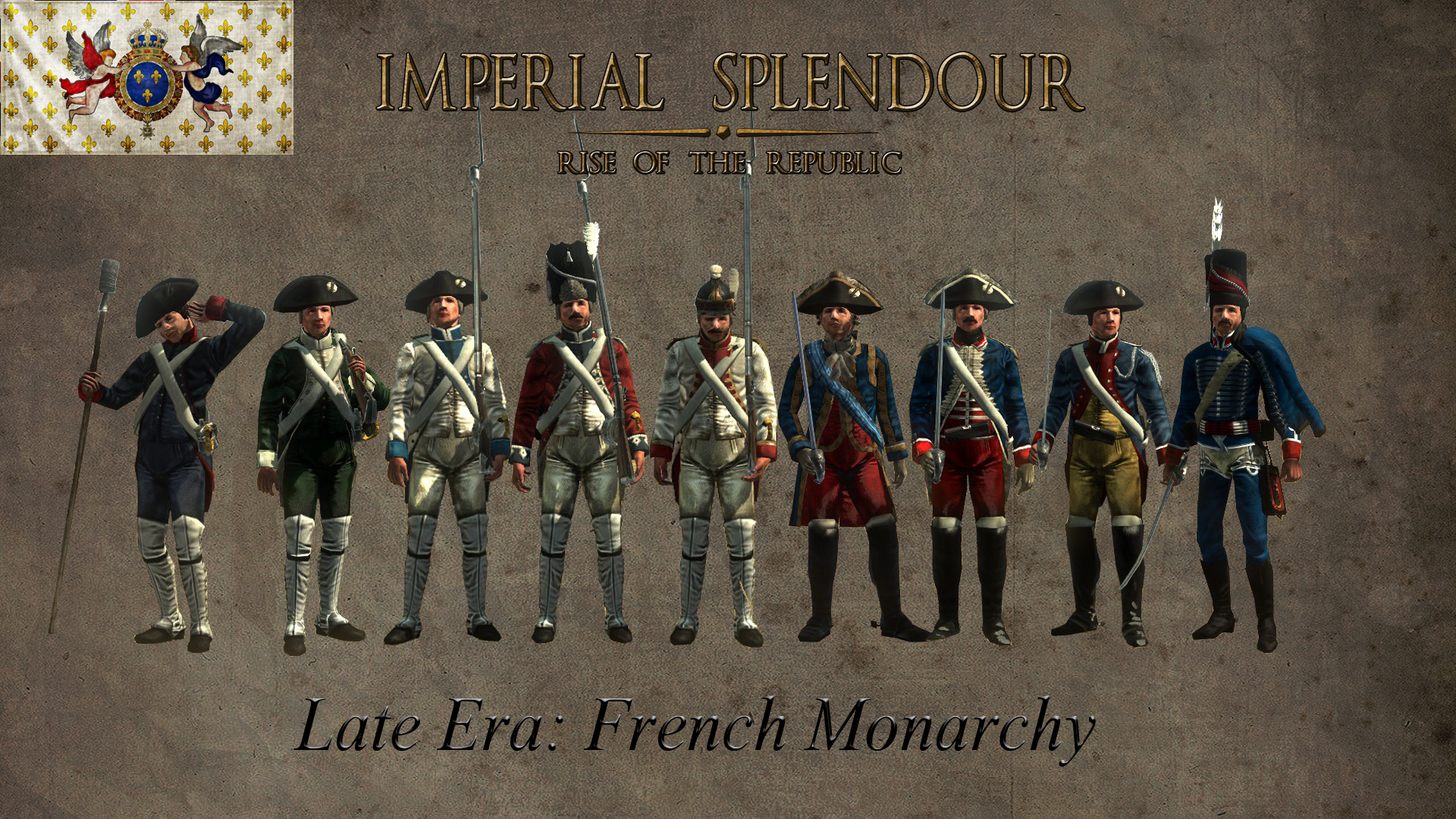 In IS: RotR some equipments has been reviewed so as to be the more historically correct as possible: Drums, bayonets, Claymore, and many other equipments has been reviewed so as to make them historically correct most realistic than ever done on an ETW mod. The work is not finished on the equipment, the IS team has in mind to review every single equipment so as to try to make them creditable, plus adding new ones in the future like the bagpipe for the Highlanders regiments.
The work has just started on that side, and will come step by step, update by update.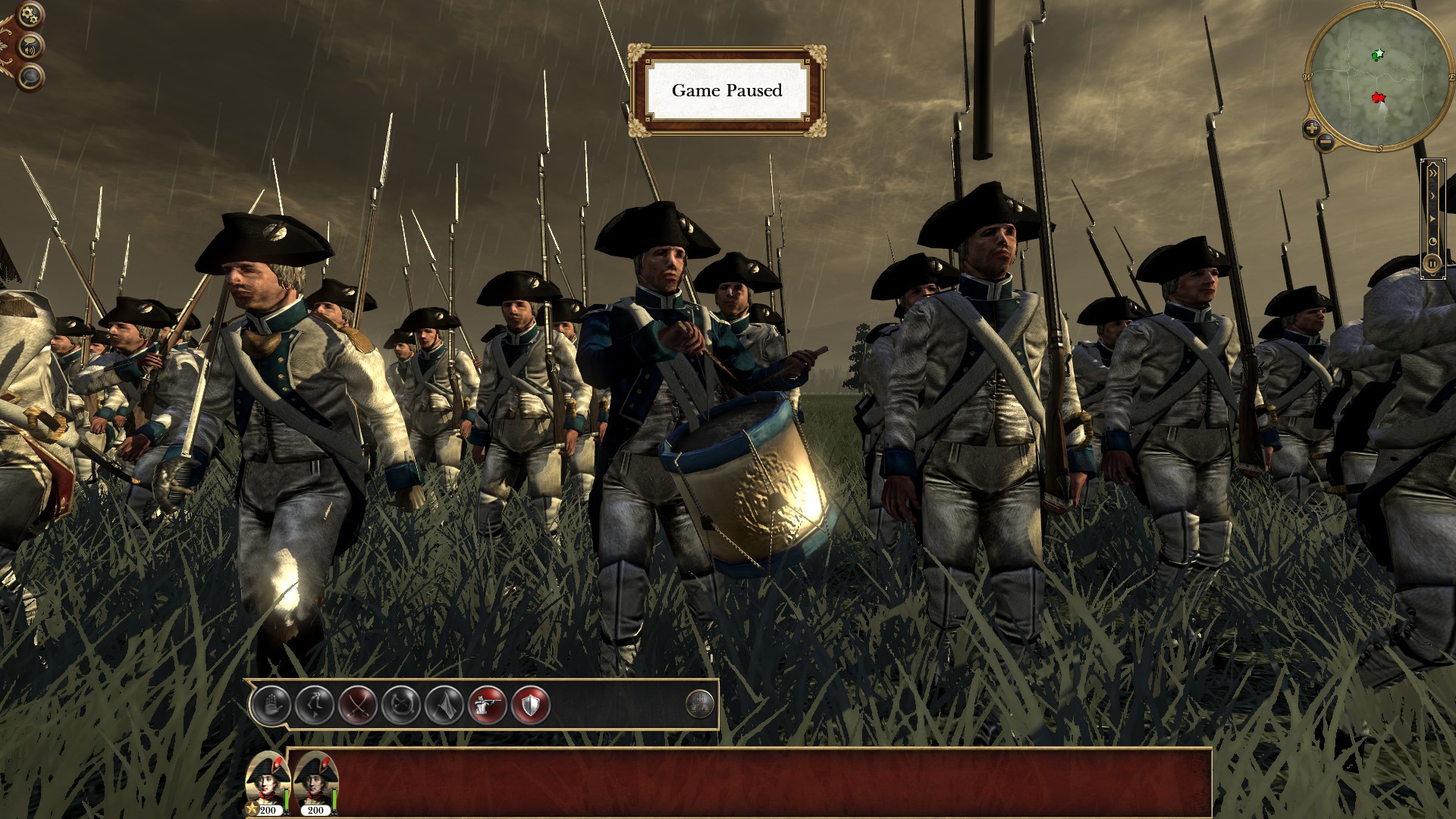 As the previous environments from IS 2.2.1b were judged too much dark, we decided to rework those so as to make them more realistic and lighter, the sky will be blue more often than before, and you won't have to fear during the loading screen if you'll have a good or a bad environment we made our best so as to try to create better, it seems to be a success.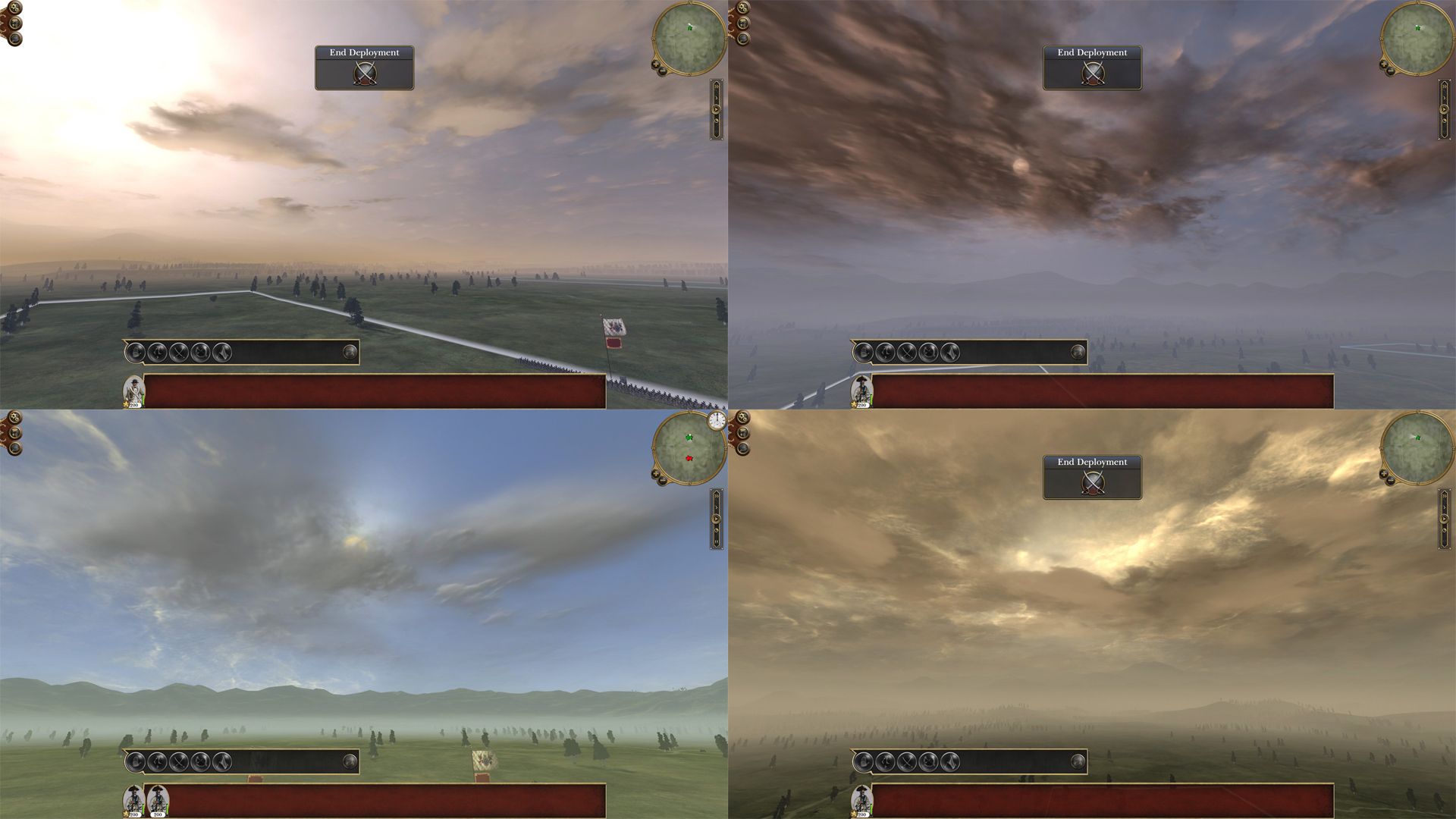 Note: It is an average list of the innovations from IS: RotR release, that mod is based on the Imperial Splendour 2.2.1b engine, and if you want to learn more about Battle and Campaign mechanic please see that thread:
Twcenter.net



The team who is working on the IS: RotR release
Don504 : DB_table editor (db), 2D artist , historian (North America)
Flikitos : Leader, 2D and 3D artist, ESF Editor, DB-table Editor
JaM : Mechanic Battle and Campaign Designer, DB-table Editor, Historian
PikeStance : Battle and campaign mechanic designer, DB-table editor, Historian
Quintus Hortensius Hortalus : DB-table Editor, 2D and 3D artist (Tech tree and building chains)
Wangrin : Co-leader of the mod, 3D Editor, (the best) Historian.
Helping contributors :
162eRI : Historian (Flags)
ErikBerg : Historian (Sweden)
Flaviuss : 2D and 3D artist
Fortes : Co-creator of the mod IS III version
Herr Doctor : Historian and 2D artist (Flags)
MegasAlexandros : 2D and 3D artist
Naxzul666 : Videographer
Okmin : Co-creator of the IS III version
TuranianGhazi : 2D and 3D artist
Lazy Knight : Script lua programmer, and DB-Editor
Previous IS' team members
Ahiga : Lead Creative Designer
Dazo :
Dogmeat : FX, mod-architecture
gomer_pyle : artworks and mapping
Kenniston5 : Technology Trees, startpos editor
Special thanks to the ORIGINAL creator of the mod: Quixote07