General Information
As you probably know Imperial Splendour is back with a new team for the next final release Imperial splendour 3.0.

The mod was, for now, stopped at the 2.2.1b release, also seeing that the team does not count too many members, the work is advancing slowly, that is why we take the decision to release the IS III step by step, part to part, thanks to patch and complements.

It will be a long way in order to attain the 3.0 (final) version, and so as to reach this goal. starting with a 2.2.1b Version.

As you know the 18th century is famous for the evolution of its army, concerning its equipment, its formations, strategies, organization, but also the uniforms. That is essentially the goal of IS III.

The 18th century is divided in three parts, one early, one middle, one late, and for each of these stages the uniforms will change so as to take a form more modern. There will be specific uniform for each period, and also when it will be necessary for each faction (in view of the late period which is really a goldmine for uniform diversity). IS 2.2 will add for each major faction, new units for the most important ones (others will come later, in an other release), for each stage.

The evolution of units will be the consequence of your research in the tech tree, which will be totally redesigned, and also specific to each major nations seeing the historical ordnance of the 18th century.

The three stages have a difference between them, the number of units available. The early period is really weak on this point, it is a stage that do not permit a real diversity of units. Then as soon as the reform is launched you will be able to begin the middle period, a real goldmine on the point armies diversity, a lot of foreign, light, or mobile units, also heavy units make their apparitions. Then during the late period there is a great army's normalization, you will come back to the basis of armies, less units available than during the middle stage but more than the early one, do not worry the heavy and elite troops are still here.
Faction Diversification
Factions


It is the main aspect of Imperial Splendour to offer unique game-play for each faction.
We are limited with the number of factions we can use.
As we didn't have been able to create true new factions, we have to use those already existing in game (but not necessarily used).
It should look like this :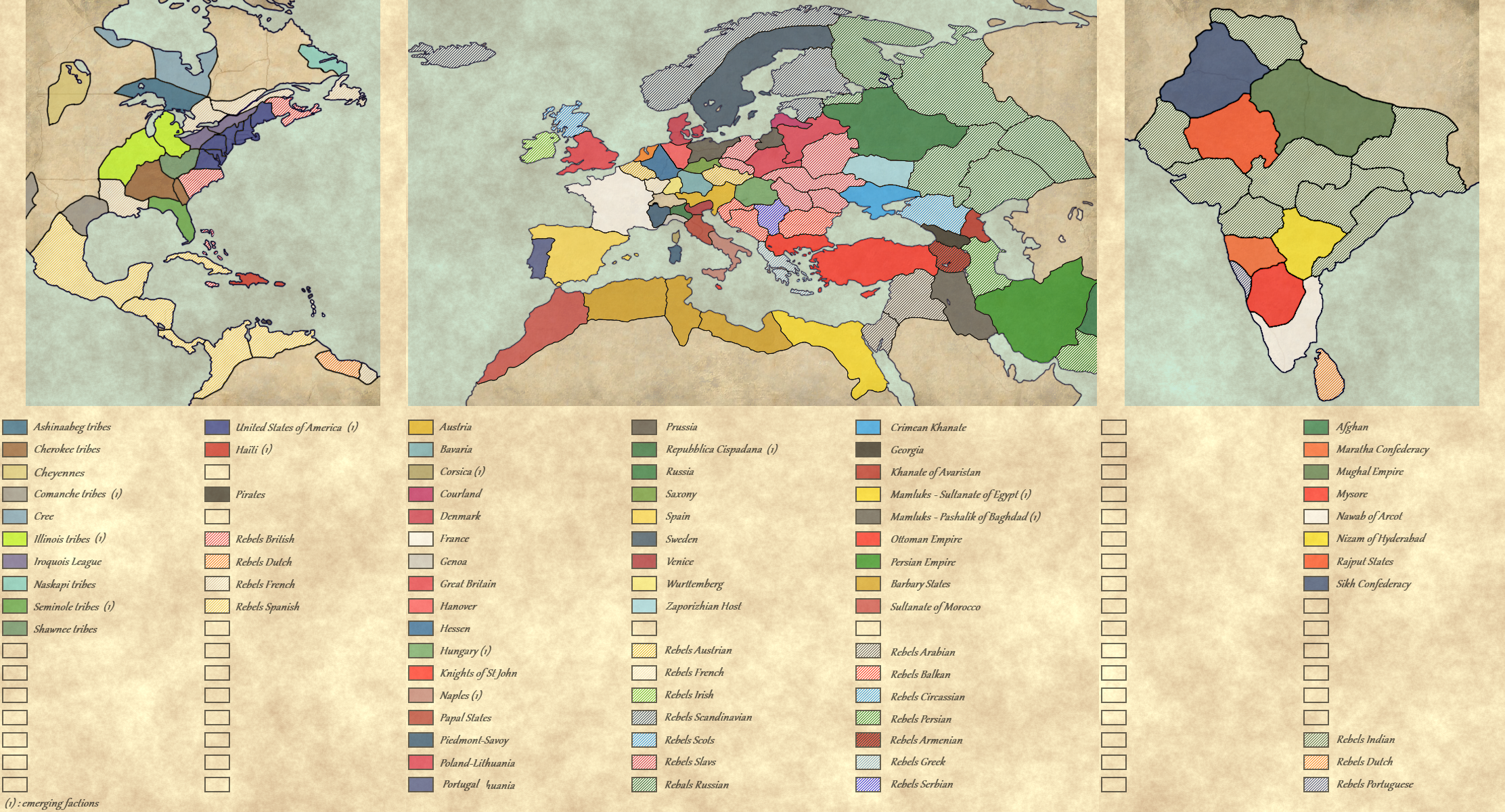 Note this map represent emerging regions for factions, not starting locations for factions.
Moreover, we will have to remove one faction or, at least, convert it to rebels, quite likely the Zaporizhian host.

Please visit the Faction Discussion Forum to read about each factions unique qualities.
Units

First of all, I.S goal is to be as historically accurate as possible, but without destroying the gameplay.
This means that we will not create "clone" armies using "generic" units.
On the other hand, we will not add "all historically units".
When working on faction units roster, we try to keep faction's particularism, but units are grouped by "types" such as "French line infantry fusiliers", "French line infantry grenadiers".
On the other hand, we keep particularism such as "French line infantry petits vieux fusiliers", "French line infantry vieux fusiliers", "Gendarmerie de France" (heavy cavalry), etc.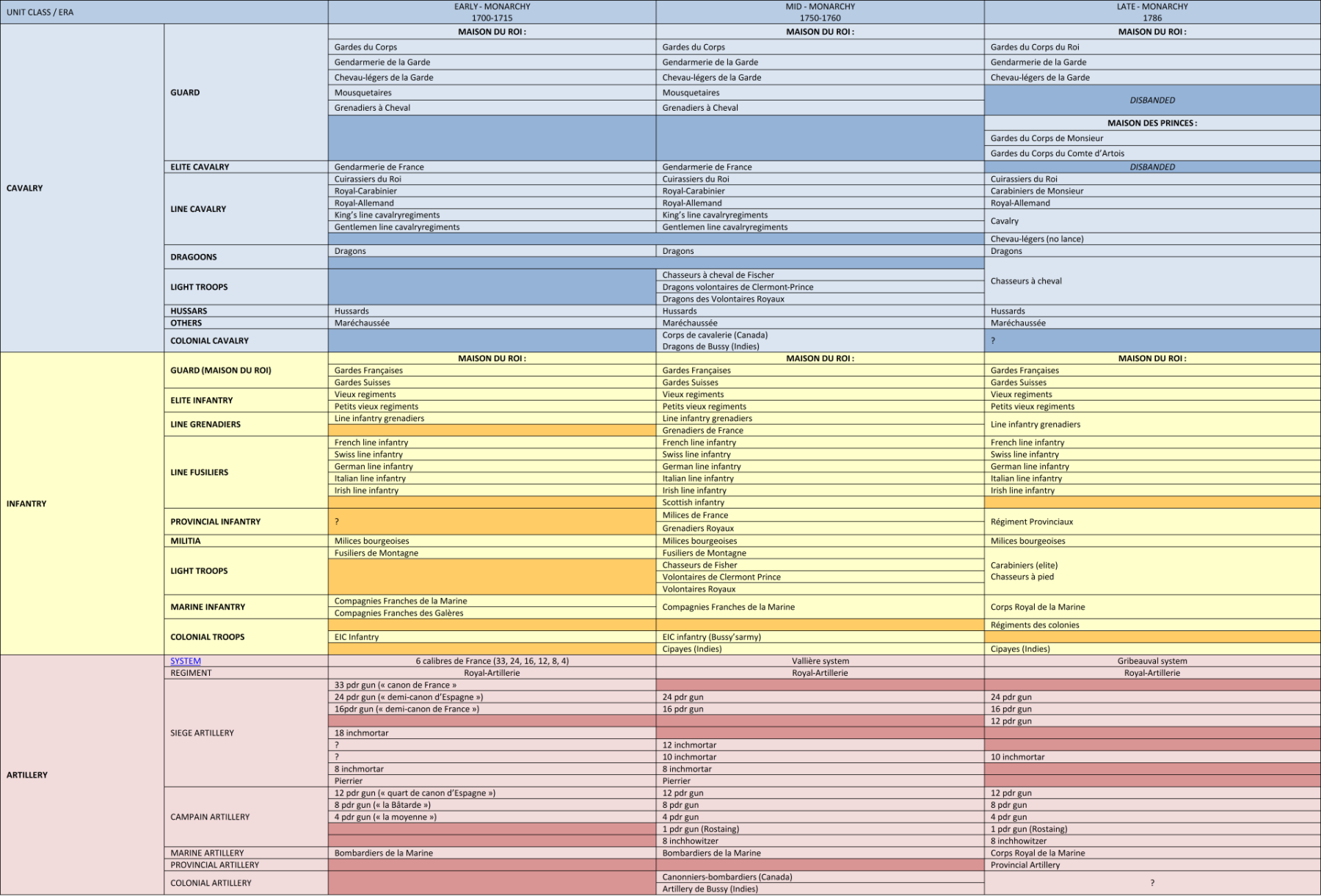 UNIT ICONS SYSTEM
the unique unit icon system differentiate units by colors and symbols which would enable the player to quickly find units :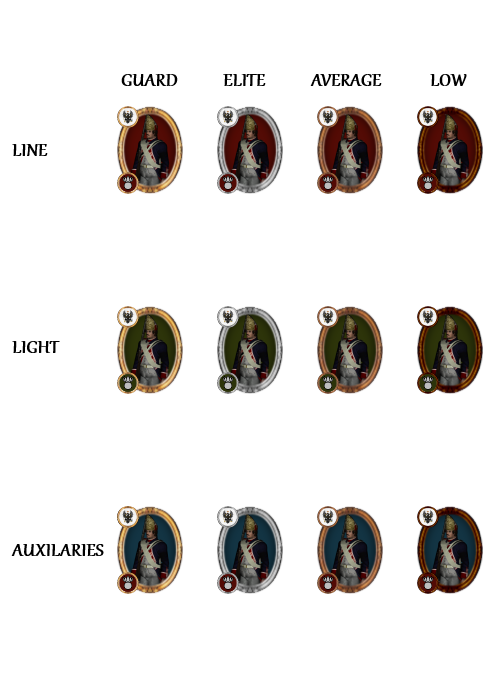 ***Grenade symbolized grenadiers.

Some other symbol (work in progress) :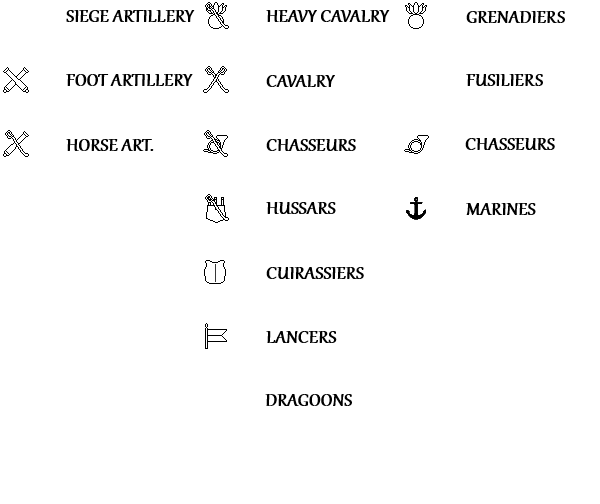 Military Aspects
Combat Mechanics

Combat mechanics will be reworked for IS v3.0
The goal is to balance historical accuracy and realism with game- play.

The battle field is only 2000x2000 in Empire: Total War. A musket, a rifle or any light fire weapon should not have a range greater than 150; early era musket should be around 70, middle era musket should be around 85 and late musket should be around 100. Also, Light infantry weapons could have a 25% greater range, a better accuracy but a slower reloading rate. Of course, there is still much that needs to be tested.

Historically, a trained unit could fire up to 6 shots per minute, but definitively less during a battle due to stress. 2 to 3 shots per minute is considered to be rate under combat conditions. Carbine took longer to load, but something in the 60s is probably too much (60s is, as far as I know, then maximum reloading time that can be use in db tables).

The new Hussars will not use pistol. They should use carbine and sword as it is not possible to use more than 2 weapons.

Working on fire weapon and projectiles is a bit complex and it will require additional testing with each parameters. These can modify in within the unit's characteristics such as core_marksmanship or core_loading_skill but you can also modify projectile's parameters too, such as :
effective range : the "target area" you can see in game
muzzle velocity : effect on impact, maybe on the real projectile range too
marksmanship_bonus :
spread :
damage :
penetration : null, armor piercing , effective_range_based, low, medium, high
collision radius : the projectile "solid" size, bigger is the collision radius, greater is your chance to hit a target.
base_reload_time
base_misfire_chance
In addition to changes to the projectile tables. IS v3.0 will also include changes in the morale & fatigue tables to create a more realistic feel to battles. Troop movements will be reduce. This will make the battles deceptively more challenging. Using careful tactic would be a necessity if you hope to be successful on the battlefield.
Naval Combat
Imperial Splendour contains a reworked Naval System. We're trying to provide a more realistic experience, but not overly boring and time-consuming. The goals which we are aiming for are;
Stronger Hulls - Ships of the line usually don't sink
Realistic Maneuverability - Ships don't have a brake. They can not turn 90° on the spot. Ship maneuverability has been changed, while keeping large differences between the different ship sizes
Useful Ammunition - Each shot-type shall have its uses, yet not be overpowered. Round shot is the most accurate, yet only really effective against hull and cannons. Chain shot hurts the sails, but is very inaccurate. Grape shot decimates the crew, but can only be used at short range
Fitting Morale - In order to make sure ships not sink so easily, they must surrender before they sink. Morale has been fitted to this.
Our battle mechanic is currently underdevelopment and is not part of the any mod. However, you can visit here and download the development version. Your feedback would be greatly appreciated.

Recruitment system
Our goal is to create a new recruitment system based on region.
This means that the number of different units in building recruitment queue should be limited.
On the other hand, the unit recruitment queue for general will be unusable.
The new recruitment system should be similar to the one that Steph developed for Master of Europe
Non-Military Gameplay Aspects
[WIP]
AI, Economy, Unrest and Research fall in this category.

About economy, The IS team will explore several possibilities improve the game- play. To help reduce the way the AI "spawns" armies is to limit unit number available to recruitment and use a high recruitment. Furthermore, building chains will be modify to add more economic and repression effects. It is the hope of the IS team that will create a more consistent AI, and therefore, a more challenging experience.