2013 was a slower than desired year. 2014 will not be. The year has kicked off with an excited vigor and focus which has the team pretty pumped. First, we welcome programmer Calavera_Jo to the team who has helped bring some of this energy into the team. Very talented and enthusiastic, he's already tackled a wide range of tasks from a refined blocking system to editor fixes to cleaning the environment of our code more.
The maps have continued to make progress as Caffeine Freak has become much more efficient in his terrain modelling. H2m2 is nearing it's completion of layout and detailing with game play to follow. Zurra has been taking care of some of our art needs. We still would love to add more members to our team (especially artists!), so if interested please contact us.
We'll be looking to assemble a small testing team once again with a current eye around late second quarter. More on that to come in the next few months.
Game on.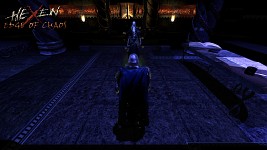 IRC Network: irc.gamesurge.netIRC
Channel: #edgeofchaos
IRC Web: Hexen Web IRC Chat
Twitter(team): Twitter.com
Email: hexen.team@gmail.com