Greetings Admirals and Fleet Masters!
Today I'd like to update you about the progress of the mod and our plans for the future.
First of all, for those coming to our mod for the first time, Sins of the Prophets is a Halo-themed total conversion of Sins of a Solar Empire, a 4X space-based RTS, that attempts to bring the Halo universe into an empire-building and fleet battle strategy game. By total conversion we mean everything. We have our own custom voice acting for units, custom ships from the Halo universe, and even a custom UI to fit the Halo motif. Take a look around and see if our baby interests you. (Press members can feel free to contact us personally for any questions and comments: Unikraken or Canadaman7)
Update to Rebellion...
For those that don't know, we've moved from Entrenchment over to Rebellion. We will support the DLC, but won't do anything with it at the time of this post. However, we made a commitment to release UNSC vs Covenant on Entrenchment and we will fulfil that commitment...eventually. We've previously said that upon moving to Rebellion we would update the mod's timeline from pre-Halo: CE to post Halo 3/4. We still intend on doing that, but our first release will be only the necessary changes to get it working on Rebellion (like diplomacy), along with balances and tweaks we've been making since the June release. Rebellion's graphical enhancements have made the mod extremely pretty.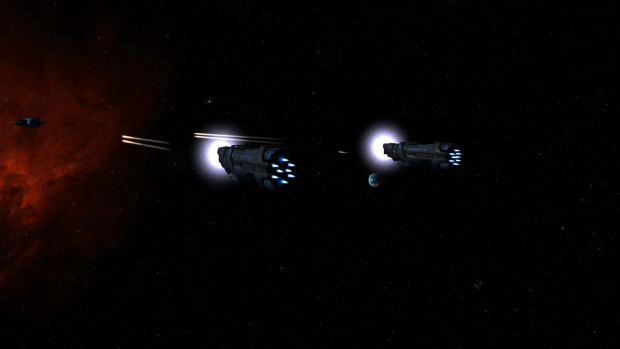 Speaking of tweaks...
Sins of the Prophets gameplay has previously been described by some as a "dirty street brawl" or Pyrrhic Victory Simulator 2013. Battles usually lasted no more than 30 seconds and often lasted less than 10. The community had mixed feelings about this style of gameplay, but largely it seemed like the long lulls between fighting and the hyper-quick bursts of momentary action made the mod not as entertaining/rewarding as it could be. Thanks primarily to Dianno5741 and our playtester corps the mod has been overhauled, largely to great fanfare by those that have played it. Combat has transformed from street brawl to strategic warfare.
The speed of combat has been slowed down to a less frantic pace. However, newcomers to the mod will still find our battles to be much quicker than the base game's. Battles are usually over in a minute or two (can be longer depending on size of fleets and classes used), but now there is actually time for some micromanagement of units and possible retreats/maneuvering. You still feel like the primary weaponry being used is devastatingly powerful (MAC rounds vs Plasma torpedoes), similarly classed ships often cripple each other after the first blow. Though secondary and tertiary weapons do now play a larger role in deciding the fate of battles, because primary weapon cool downs are longer and thus more accurate to the official storyline (canon).
The UNSC rely heavily on outnumbering their foe and quickly replenishing lost units after battles, while fortifying new territory with SMACs and other defenses. The Covenant need to push through engagements and forward into taken ground to degrade the economic capability of their human foes in order to win. Expect some gameplay videos uploaded and possible livestreams to take place in the next month or so while we finish up work.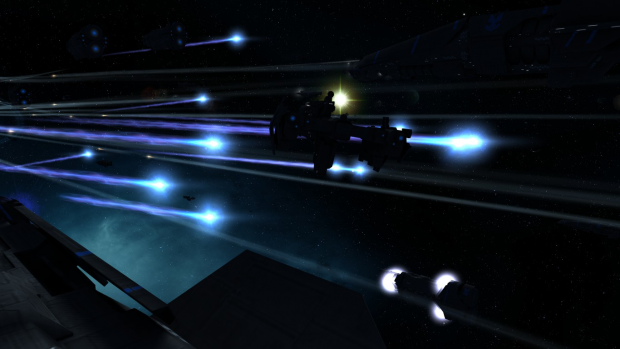 Future...
After the initial release there will be a series of updates where we include improved models and new units. The biggest of those including the UNSC Infinity and her escort frigates. We'll also be trading out the Mako corvette for the Stalwart-class frigate and eventually an updated ONI Prowler model inspired by the one shown in Halo 4's Spartan Ops series. Several Covenant ships and structures will be replaced over time as we get them modeled and textured.
After the release of the mod, if you record good gameplay, do a Let's Play series, or livestream playing the mod, feel free to message us with a link to it and we'll consider promoting it through our Facebook page and here, as long as you follow Microsoft's game content usage rules and do not try to monetize the videos and have quality content.
Feel free to join the groups below to keep up with us and interact with our growing fanbase!
Official Forums
Steam
Facebook
Google+
Android App