HALF-PAYNE
FINAL PAIN
Half-Payne latest update brings Twitch integration, Random gameplay mods, Valkyr nightmare tribute and more.
NIGHTMARE SEQUENCE

Long time ago me and perhaps people who've played previous versions might have considered what kind of Max Payne content could also be added. A nightmarish dream sequence was an obvious choice because of how well it can be tied with the Apprehension ambush scene. This update includes a short tribute to nightmare sequence from Max Payne, made by ZikShadow, who also did some main menu backgrounds and made a Black Ops remod.
RANDOM GAMEPLAY MODS

This update features config files to play the game with random gameplay mods. All those gameplay mods that were featured in previous updates now can be toggled at random for certain period of time. This will make your playthrough either a breeze or super painful, which is totally intentional.
TWITCH INTEGRATION
If you stream on Twitch, you can now allow your viewers to mess with your Half-Payne playthrough. If you play with random gameplay mods - people will be able to vote for the next one. For more info on how Twitch integration was done, see the previous article.
While I did stream some test playthroughs myself to find and fix bugs, I have no idea how well it's gonna work with huge streamers.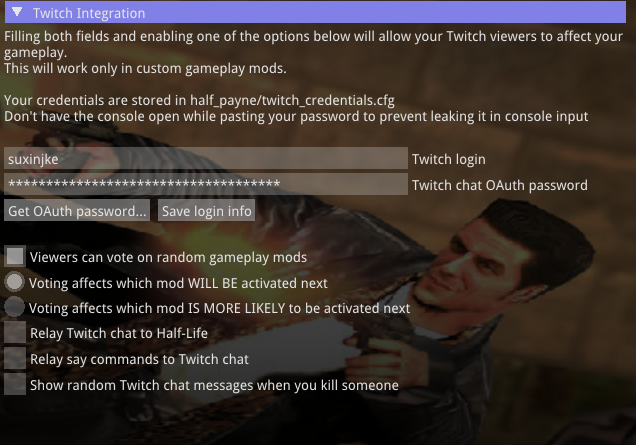 GUNGAME
I've always enjoyed Gungame mode in Counter-Strike, because it forces you to use unpopular weapons. In case of Half-Life, you may have to use weapons in situations that you'd never pick them for.
M249
Coming from Opposing Force, It can be found in ON A RAIL chapter, in one of the rooms with dead soldiers; and in SURFACE TENSION chapter near airstrike control panel. This weapon is an alternative to SMG and Ingrams, with relatively fast rate of fire and no reloading. Rate of fire decreases alittle as you shoot.
VR MAPS
One of my buddies, gordon90001, is Metal Gear Solid fan and also does some mapping. He made a couple of maps stylized as MGS1 VR missions. While gameplay value is questionable and VS 12 might be rather difficult for most people, I definitely couldn't allow the effort remain unnoticed.
PAYNED
Long time ago I stumbled upon weird video of mod that featured our beloved protagonist
I contacted fury_161 afterwards about this and I can't remember what we've talked about - the logs are gone. The mod on the video is basically Action Half-Life with Max Payne everywhere. The models are relatively low effort but get the job done. If you loved G-Invasion then you will love this. I asked if the models could be included in Half-Payne as an additional mod and was allowed to do so. Gotta say implementing the dynamic changing between original and payned models, which is required by random gameplay mods, was rather annoying challenge.
OTHER STUFF
New custom gameplay mods:
cnc_sounds
deus_ex_sounds
drunk_fov
explosion_jumping
gauss_fast_charge
gauss_jumping
grenade_pellets
gungame
inverse_controls
kerotan_detector
no_self_gauss
payned_sounds_humans
payned_sounds_monsters
quake_rockets
shoot_underwater
superhot_toggleable
timescale
timescale_on_damage


autosaves_only
no_game_title
no_start_dark
preserve_nightmare
random_spawner_seed
Existing gameplay mods changes:
black_mesa_minute and score_attack became separate [mods], and you can combine them together. 'sagm' and 'bmm' related commands and cvars have been removed.
black_mesa_minute and score_attack: MELEE BONUS and EXPLOSION BONUS now award the same amount of seconds or score as HEADSHOT BONUS. EXPLOSION BONUS still remains huge if it was caused by explosive barrels or crates.
infinite_ammo: give only the bare minimum ammo required to shoot the weapon.
snark_infestation, snark_from_explosion: snarks now get some additional random velocity on spawn.
drunk_look: wobble now gets slower when you get into slowmotion.
superhot: now more slower and smooth.
snark_nuclear: decreased explosvive damage from snarks.
crossbow_explosive_bolts: double the damage and exposion scale.
Config sections additions:
Added [entity_replace] config section.
Added monster_barney and monster_scientist to allowed entities list for spawning.
[end_conditions] state can now be stored in savefiles.
[loadout] can now be specified in map_cfg, it will be used if [loadout] was not specified in custom gamemode config.
[start_position] can now be specified in map_cfg, it will be used if [start_position] was not specified in custom gamemode config.
[entity_random_spawner] now allows to spawn entities only once when visiting a map for the first time.
Other changes and fixes:
Kerotans have been placed in all vanilla Half-Life maps.
You can now toggle slowmotion while using turrets.
player_info_window now has buttons to copy position coordinates.
When dual wielding - classic view bob will not be applied due to how weird it looks.
Added psp console command to debug print all precached sounds.
Max's commentary has been moved to BASS audio library due to hitting precached sounds limit.
Increased default BASS audio library buffer size which should prevent some people from having garbled music. You can also change the buffer size in advanced options or with sm_buffer cvar.
Player will not be gibbed anymore when falling from huge heights.
Improved physical bullet trails, they look more smooth now.


bullet_delay_on_slowmotion: fix not working as intended at all - bullets didn't regain the velocity back.
upside_down: fix left/right diving direction being reversed, resulting in almost no diving at all.
teleport_on_kill: prevent weapon_gauss from damaging player when it's used as teleport_on_kill weapon.
one_hit_ko: fix bullsquid's spit not killing in one shot.
one_hit_ko_from_player: fix any damage towards the player being huge enough to be a one_hit_ko.
weapon_push_back: fix empty crossbow making a huge amount of push back.


Fixed vanilla Half-Life bullet wall holes being rendered alittle bit under the crosshair.
Fixed vanilla Half-Life crash when alien_grunt's hornet hits you after going through change_level.
Fixed some of vanilla Half-Life xen maps not having proper gravity when you launch them with 'map' command.
Fixed Med Cabinets not giving out pills if you save/load while cabinet is opening.
Fixed non-player rockets being guided by player's RPG.
Fixed reloading both guns (berettas or ingrams) with single gun reload animation if you pickup additional ammo during reload.
Fixed cheat detection for custom gameplay mods not working when timer is paused.
Fixed dead player being able to touch end_marker.
Fixed [entity_random_spawner] working on all maps despite certain map is specified.
IN CONCLUSION
Originally scheduled to release on spring 2018, I think this is going to be the last major update for Half-Payne. I don't want to work on it anymore in the nearest future because I can't enjoy Half-Life modding in general for now and felt like forcing myself to work, which is always a red flag no matter what you do. I'd like to take a break from programming, then focus on some other projects and eventually proper game development instead.
I'm still gonna deliver a patch or provide support if required.