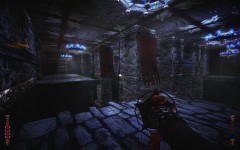 I'd first worked a lot on the wallsliding thing, where players can reach areas by sliding across walls. But people asked me, why not go all the way and have Grimm walk on walls?
I was asking myself the same question and coming up with reasons not to do it... just because.. I felt I needed to find those reasons. Which wasn't reason enough..at all..
So I decided to work on it and have been very pleased with the results so far. It's still a work in progress and there's some more tweaking to be done in terms of how far I'm willing to let the player control things. The more control I give, the more difficult wall walking becomes and the more frustrating. Since frustration is my #1 enemy in terms of gameplay I need to compromise a bit.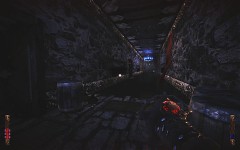 I'm going to keep both wall sliding and wall walking in the game.
I will also extrapolate the techniques into a feature where players can slide down certain walls, e.g. a flag, piece of cloth or a pilar.
Most likely there will be areas where players will wall walk first then alternate between rings to go up, wall walk again, jump & dash, then wall walk etc..etc.. to get that platforming rhythm going.
All in all it's worked out splendid so far, so take a look at the video section for a new video.
Or check out these two youtube videos on wallsliding and the development showcase for wall walking.
Wall sliding and a first look at vin1_m5
Development Showcase for wall walking: