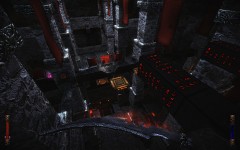 Grimm's Skill Modes
There are many subtle elements which influence the gameplay when you select a certain skill mode for Grimm. I've worked very hard to make their names reflect their true gameplay difficulty where easy really is meant to be an easy experience. Gameplay difficulty settings influence both traps and enemies. When you select easy skill mode enemies will moves slower, attack with less speed and will have less health as well. There will also be less enemies to attack you.
In easy skill mode, there will also be fewer traps and they will move slower.
If you look closely you'll see that there are many subtle differences in the levels that influence the gameplay outside of traps and enemies. Often in easier skill settings there will be small ledges to help players navigate the maps better and in hard mode sometimes entire sections of the map need to be navigated in a different way. I hope that this increases replay value for the game, who knew you had to take a different route in hard eh?
Tutorials
It seems that many of you haven't seen the tutorials for Grimm (or played them!). I highly suggest to take a look them here: Moddb.com
There are many gameplay tips and hints there that can help you defeat the game on even the most difficult skill setting.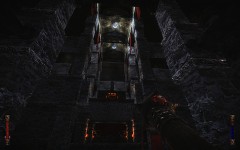 Grimms Graphics
A lot of stuff in Grimm depends on which settings you chose in Grimm. All of this is based off the value you set for your machine's quality. You can set it from low to ultra. Grimm checks these values upon mapload to either add or remove certain things in the game. These can vary from lights to detail model to lower polycount in a map. Gameplay is never altered because of visual settings, but some things might be considered minor cheats. For example, when you set things on fire in High or Ultra quality mode they also cast light to their surrounding area. This does not happen in lower quality modes. Other subtle things might or might not be included in the game depending on the visual settings. The best way to see the differences is to try it out and see how far you can push your system.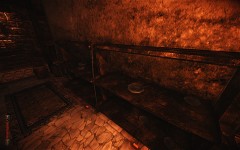 Clutter
The upcoming release of Grimm will feature a new option called 'clutter'. Clutter is basically a system that randomly populates the map with 'clutter items', simple models like pots, cans, forks, knives, spoons, plates etc..etc.. to make the maps look more lifelike. The fun thing is they are placed randomly, so every time you play a map, things will have been moved around.
Clutter is always non-solid so it doesn't interfere with gameplay. The reason for this is simple, I don't want the gameplay to change because of visual settings.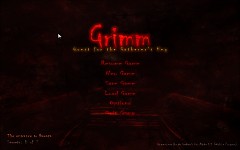 Secrets!
Many of you have been asking for a secrets counter and I completely agree that the lack of one was simply disturbing in the last release. I have remedied this by a pretty elegant and simple system where a mapper can just drag & drop secret locations and the game counts them dynamically.
New Release
I am working on a new release that will include some bugfixes and rebalancing acts on the last release. It will now include a finished fourth map that includes the areas shown in the new screenshots posted in the images section. It will also introduce a working Dark Warrior, instead of the clown that was in the current release and introduce a new enemy, more dangerous than any before.. the Dark Mistress...
I have a rough schedule going that leans on 4 weeks so keep coming back for updates an screenshots in the meantime!