Hello all, this is MagnumPI, one of the modelers for the Grey mod. I have been working on a special weapon for the mod, the double barrel shotgun. This gun is a staple for any horror game, and our new texture artist, Crash, has done a great job with the texture.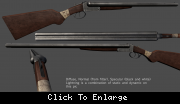 This weapon will be exclusively for people who donate to our development team. The double barrel has a slower reload time, but it is very powerful. Ashkandi is also working on an awesome new enemy to use your double barrel shotgun on, which is also going to be exclusive to donators.
But that's not all!
People who donate will also be put into the credits, so everyone who downloads this mod will know how awesome you are for contributing to this mod.
Well that's about it for now, and please click the link below (or the banner) to get to our Paypal page!