[page=Introduction]
G T X - Doom 3

We've said it a million times before, Doom 3 sliced the gaming community in half like... well, a really sharp knife! However the one thing that few people could argue (and those whom did were taken to mental hospitals if i remember correctly) was the quality of Dooms Graphics. Once again ID software raised the bar, and redefined what people could expect to see in their games.

Despite the fantastic normal mapping, enhanced animation system and realtime lighting/shadows, some people just aren't satisfied. Once of these people is Gyppi. Already the creator Green Tech for both Doom 3 and it's expansion pack Ressurection of Evil, Gyppi is out to push the Doom 3 engine even further. Making the existing experience even more immersive, aswell as offering the mod community some new enhancments to incoporate into their work.






Catch the
latest from the G T X mod right
here on their moddb profile!



[page=The Interview]
Hi there! First and foremost could you just introduce yourself and outline your general responsibilities on the mod
Hi, well, my name is Gyppi, I'm 19 years old and I'm the Mod Leader of this project.
Alot of mods tend to be TC's, creating new storylines and inhabiting them with new characters etc. However GTX seems alot more about enhancing the Doom engine futher in it's original context. Is there a specific reason you decided to build a mod like this, or was it more due to circumstance?
It all began with some email that I received from Green Tech's users that asked me for a new mod with only the RealMetal effect,without green, only the graphic effect. Then I decided to develop a new mod that integrate the RealMetal and many other enhancements, including the bloom shader by Use_less based on SantaClaws's work, the parallax mapping by Junkguy, self-shadows, reflections and other.
This is to make doom3 look as impressive as new game so everyone, can play D3 with the graphic detail level of a more modern title.
Many Doom mongers are familiar with your previous releases, Green Tech for both Doom 3 and RoE. Can you tell us what the most significant differences between Green Tech and RoE are, as both seem to be about enhancing Dooms Graphics as much as possible?
Green Tech for Doom3 and its conversion for RoE are identical mods based on the green colour, both have many graphic enhancement but GTX is something more, it isn't based on green, and has many more graphic features. GT (Green Tech) , is a mix of gameplay, graphic and sound modification, GTX is pointed on the graphic side of the game.
What is the general schedule, or production overview for something like
this?
The first thing is to check what other games have (in terms of graphics) and Dom3 does not, for an example the reflection in Half-Life2. The second step is to understand how this effect is generated in that title, therefore, the third step is to reproduce the desired effect, or something better, in the doom world.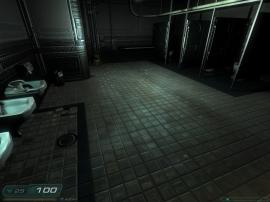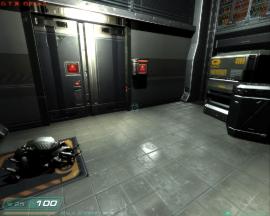 Are there any major problems you've run into during the development of this mod?
Performance, with some effects the fps rate go down rapidly, so much that I decided to delete them from the final release, an example is the complex reflection, that you can see in a screenshot in the mod's image gallery, here on moddb.
Although much of the work is about enhancing current features of doom, are there any plans for total reworks of the characters and demons?
For the first version of GTX, no. But in future I hope that I can add detail to the 3d models. One of the problems of d3 is exactly the low polygons model of any characters and demons. When I see a character with the head like a pyramid, well, I don't like it very much.
Are there any plans to take these features and eventually develop them into a totally fresh TC, or are you happy with developing them for Doom and then allowing the community to try stuff with it?
The original idea of GTX see it as an add-on for Doom3 and doom3's mods, so if someone want to play a specific map, he can play it with GTX installed without problems.
But I'm planning a second version of GTX with more than graphics enhancement, I'm talking about new sound, texture, gameplay and maybe some new maps sp or mp.
It's clear that Doom is a very accessible engine and offers you alot of power over it's features. Do you forsee moving GTX into other gaming engines (such as Half Life2, Unreal Tournament) or is this going to be exclusive to Doom and other ID titles?
No, GTX is a Doom3 exclusive, I may think about develop it for the upcoming Quake 4 if it hasn't a very high graphic detail level.
If not GTX, I will definately develop something for Quake 4 too.
Could you explain to us what you feel the best feature of GTX is going to be, or which you are most proud of?
Of course the graphic level that GTX give to Doom3. I'm happy with many of the extra details I've manage to get into the engine, and hope others can appreciate them too.
Finally, any chance of a release date??
Yes, GTX beta 1 will be ready in one or two weeks, this beta contain all the graphic enhancement that I shown in the GTX's image gallery,
plus something inherited by GT 1.3.
Thanks for your time Gyppi! I know plenty of Mod developers are going to be looking forward to this release, and best of luck with any future endeavours!