P atch #3 got pushed back a few times, but it's finally here at last. A lot of work has gone into it over the past month or so to iron out remaining bugs and bring about a few additional improvements to the game. In this news post I will be quickly summarizing a few changes, but you can view a full list of changes in the change-log.
There are two notable changes to vehicles, the first being that certain vehicles (such as the quad-bikes) are now able to perform a wheelie using the same 'lean back' controls that the bikes use. Note that different vehicles will of course be more capable at this than others, - a really heavy quad bike won't be able to perform the maneuver as good, or if at all.
Something else I added for a bit of fun is the same ability on a few of the cars, so you can launch your vehicle onto two wheels off the start line if you want. This is enabled by default because it uses separate controls to normal driving to perform. Let me know what you think, I will be improving this over time.

The second change is a way to disable the horrible (in my opinion) blue flames effect that occur when you go near your top speed. I presume this was a left over from the um-implemented boost system. This effect is now disabled by default, but can be re-enabled via a provided optional mod if you wish.
A few other changes include increasing the minimum speed for ROAD vehicles when driving off-road, improving a few more vehicle cameras to make driving easier and also the addition of a few new difficulty related optional mods to control factors such as zone unlocks, vehicle prices and race rewards etc.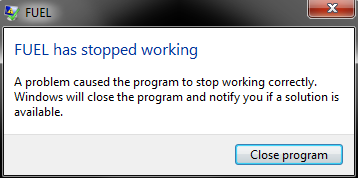 Note that this is still a BETA...
Just putting this out there that this is a BETA and NOT a final version of the mod, so there will likely be bugs etc. If you get a problem with this specific patch then report the issue to me and role back to Patch #2 temporarily while your issue is fixed.
Some users have reported getting a "FUEL has stopped working" generic error message when switching out various mods. I haven't been able to identify what causes this, but it will resolve itself on its own. Just relaunch the game a few times... get the error, relaunch... etc. and it will stop.
Download V15.4 [BETA5] - Patch #3
You can download FUEL: REFUELED V15.4 [BETA5] - Patch #3 here.
You must have FUEL: REFUELED V15.4 [BETA5] installed for this update to work. You DO NOT require Patch #1 or Patch #2 installed as all updates and additions from those patches are also included with this patch.
If you have any trouble running this mod, then i've written a short tutorial here that should give solutions to some of the most commonly reported problems with FUEL: REFUELED. Additionally there is now a video that provides step-by-step visual instructions on how to install the mod. If neither of these are able to help you then you can either post on the forums here and/or PM me and I'll do my best to help you resolve the problem.
Remember that if you encounter a bug or issue then please report it, no matter how minor or even if you are able to resolve it on your own. This is a 1-man project and frankly there is bound to be things I over look during my own testing sessions. If no-one reports the bugs then I'm hardly going to produce a fix for something I don't know about! :D