S o has it really been 3 months since I did an update...?! Anyhow I thought it was about time I gave some news on what's currently being worked on and what you can expect from the next update coming 'soon'.
Stability of V15.4 Patch #3 and V15.5
So frankly I'm not that impressed with Patch #3, generally as patches go they are supposed to make things better, but I somehow manage to implement more bugs to the game with this one! The rather annoying CTD issues on startup that certain users experience are I'm sure incredibly annoying. So with that in mind I've basically been working on the general stability of the mod, but rather than release a patch to patch the patch, I've decided to just drop V15.4 and basically rework the mod with V15.5.
To get V15.5 more stable, I've basically worked to reduce the amount of resources it uses. In a nut-shell the problem with Patch #3 is really the fact that too many files are being loaded into the game console during the loading sequence and practically overloading it... hence the CTD. I didn't spot this in testing as it worked fine for me at the time.
When V15.5 is finished I really hope to have fixed this problem, already with the work I've already done I've significantly reduced the issue at least.
More inclusive
One thing I'm currently working on is how the optional mods are handled, rather than include a base version of FUEL: REFUELED, I will instead be including a whole load of the typically optional mods as standard, and instead then providing an optional mods to then disable them. This'll simplify the installation considerably, as it will mean the average user would only need to activate the base package to get the best out of the mod.
I'm looking into easier ways to distribute this mod, one is via Desura once they get round to supporting FUEL (sent them all the info) and another is via an .exe setup program. Of course the current manual installation with mod manager will always be available, but its just more ways to make the installation of this mod easier for people.
Vehicle Revisions
Some of the vehicles have been known to have the wrong drive layout - i.e. one vehicle such as the Mudhog is somehow 4WD and yet should be RWD (thanks to 'hi-ban' for bringing this to my attention). A few other vehicles have similar mistakes like this, and while it doesn't exactly have a major effect on gameplay as a whole, its still a mistake that needs fixing.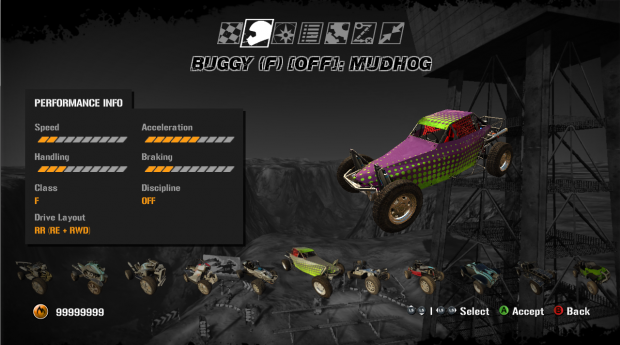 With this update I've also begun bringing the drive layout information into the client via the garage UI, ideally the vehicles should have the same traits as a RL vehicle with that configuration and is thus useful information to know.
'Coming Soon?'
I really want to release a stable and fully tested mod, so I'm not going to set a release date for this one - it'll be done when its done. This news post is basically to highlight that the project is very much still alive - but obviously its hard to release regular screenshots and videos when the stuff you're working on isn't really that interesting to look at... so check back every once in a while as I will be publishing more news closer to release.
Want to join an online free roam?
The FUEL Race Organization Club hosts events practically ever week via the steam group. Check the group event feed for upcoming events (usually on a saturday evening GMT and may not be added to a day or so in advance). Below is a video of last weeks event created by "Pew pew LAZORS!"