T he latest release of FUEL: REFUELED is available for download, this version "FUEL: REFUELED 2012.5 [R1]" is a reworking of the mod to focus on including support for all localizations and being 100% backwards compatible online. It is also much more stable than the previous V15.4 release.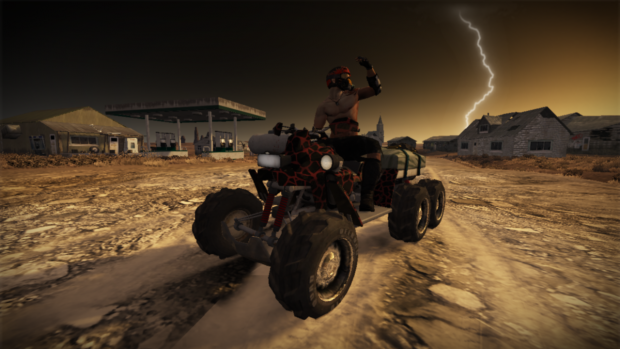 Recap on FUEL: REFUELED - LITE
After the release of V15.4 Patch #3 I decided to rework the mod from scratch. There was a few issues arising as a result of how the mod was developed and thus this needed to change. Firstly was the stability issues; V15.4.3 had start-up issues for some users and fixing these issues proved complicated. This was caused by one of two things; primarily by having too many different files called into the console during the start-up and two the cached files from users who ran stock FUEL previously resulted in the game crashing unless they were deleted first (not easy for everyone to get to as its hidden away in AppData within the user folder).
The next issue was with online compatibility; when first working with FUEL I had to re-order things like the vehicles to make it easier to edit races. But this lead to issues where vehicles wouldn't show up correctly between versions while online. So I looked into a way to edit the races with the stock order in place; for which I turned to creating database files and various scripts to produce outputs. So this release is 100% compatible online with the stock game in both races and free ride.
A third issue was that only English (and French, mostly) was supported by the mod and that left a lot of users unable to play. The reason being simply that I don't speak those languages and thus working with them is difficult. However this release I have ensured that French, German, Italian and Spanish is fully supported by ensuring text strings are referenced correctly, plus any new strings are translated and then added into the localization files.
With these issues resolved the mod is greatly improved when compared to its previous release. I am aware that a few things that were present in V15.4 aren't present in this release, but I already have a second release of FUEL: REFUELED - LITE in development, but I'll talk more about that later. In the meantime check out the first release of FUEL: REFUELED - LITE.
Features
As FUEL: REFUELED - LITE is a total reworking of the mod I shall give an overview of some of the features rather than specific changes. For more info I suggest you read the change-log or the news article I posted about a week ago here.
Reworked Career Races
All 72 races have been reworked in this release with a number of improvements. Firstly is the diversity of the AI vehicles; no longer do races consist of like 3 or 4 specific vehicles, but rather a much wider selection. This also leads to many races featuring more vehicle types; such as "Bike & Quad" races, rather than typically bike only. Theres 75 vehicles in the game, makes sense to use them.
Secondly the environment parameters used in races have been given a tweak to improve the overall atmosphere in the game. Its mostly little things like background fog, the slightest of snow-fall or rain and the sun/moon moving in the sky are amongst the changes. Also I've made weather more variable as certain races progress; such as the rainfall could reduce or the fog could increase etc.
Because of the wider AI vehicle selection, natrually the player vehicle choice expands along with it, but not only in singleplayer, but multiplayer too. In multiplayer the largest choice you have by default is between 5 vehicles, in one race with this mod you have the choice between 18 vehicles! All of this is balanced because typically those 5 vehicles you could choose at stock was always the most fastest ones (made things kinda boring really), just now you have access to a wider selection of the not-so-high performance vehicles.
Damocles Dragster in Free Ride
You can now take the "Damocles" dragster for a drive in free roam and custom races. It always felt silly to have the vehicle restricted to just one singleplayer race, its an entirely seperate vehicle class to whats selectable in multiplayer and single-player so its not like it effects the balance in any way.
Change Day/Night Cycle Length
The stock day/night cycle is really short and you'll often experience many in-game days during a single play session; this can kill the atmosphere a bit if your partaking in a single long drive across the map. Now you can change the length of day to your choosing either by one of the optional mods provided or via a tool provided specify a custom length (including day:night ratio). If you'd rather, you can even force the time of day to remain at a specific time.
Revised vehicle color palette
All the vehicle colors have been given a re-work, primarily to include new colours (Black and Purple) and also to improve the overall atmosphere to the game. The colors are all slightly darker, which I feel better suites the atmosphere of the game. Unlike previous releases of FUEL: REFUELED, the reworked colors in this release have been given appropriate matching slots to that of stock users. What this essentially means is that if you encounter a stock game user who is driving a white car; that car will also show up white for you etc.
Reworked UI and Optional UI Themes
There are various optional UI themes included. The screenshots above show a reworked garage menu in the "V14.5" theme (top left), a reworked map menu that is part of the "V14.4" theme (top right), the reworked camp menu (bottom left) and finally on the bottom right is the reworked HUD. Most of the subtile re-workings that are specifically fixes rather than changes have been added to the default UI; this includes reworked options, select camp and map menu's.
Bonus Code Content
Previously there was select content such as a vehicle ("The Warrior", displayed above), liveries and driver gear that could only be obtained by entering a code into the options menu. I've removed this and instead integrated the content as part of early gameplay. It adds more liveries to find in the game-world (locations you can then teleport to afterwards) and easy access to the vehicle which most people wouldn't know about unless they happened to be browsing the cheat websites.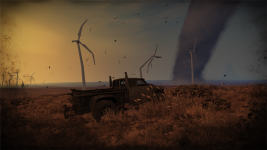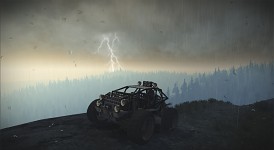 Development Tools
Ever wanted to have a tornado in Free Ride? Well now you can create your own 'Free Ride Extreme' Free Ride Activities using the tool provided. You can adjust all time & weather parameters and pick from 95 preset start/finish combinations across the 19 Zones. There are also other programs included so you can specify and create a "force time of day" or "force length of day" optional mod script. Best about all this is that you can have the scripts outputted to your MODS folder in mere seconds after merely typing in the values you want.
Unlike earlier versions of the development tool that featured in previous releases of FUEL: REFUELED, I have spent considerable time ensuring ease-of-use. For example, time values can be entered in hours & minutes (e.g. previously one had to enter 2.5 hours for 2 hours, 30 minutes) and I created translation scripts to allow all weather values to be entered as percentages. There are also functions that can fill in the gaps should you accidently leave a field blank, so your creation will still work (and not crash the game!). Little things like this make the tool both easier and overall quicker to use as you don't have to convert each value before entering it; the program does the work for you.
Download
Links to the download and change-log are provided below. If you get stuck with installation then I've put together a step-by-step video to assist. It can be found here: Moddb.com
If you have any problems with the mod or discover a bug then let me know by either comment or just PM'ing me directly.