Hello, Freelancer. Looking for something new about good old Freelancer game? Welcome on board!

== Important! Sorry for bad English :-( ==
Chapter 1. Advanced Universe
If you play in FL Nomad Legacy, you know - I making mod about new universe and storyline. But new objects it's not matter. Matter is new features. My current universe have many features, but still not have enough objects. I want to fix it, yeah. But I want to raise level of FL universe to next rank.
Sometimes age I complete final gamedesign plan of my universe. Look on this screeshot:
(this screenshot maded only for development, not promotion):
Advanced Universe of FL Nomad Legacy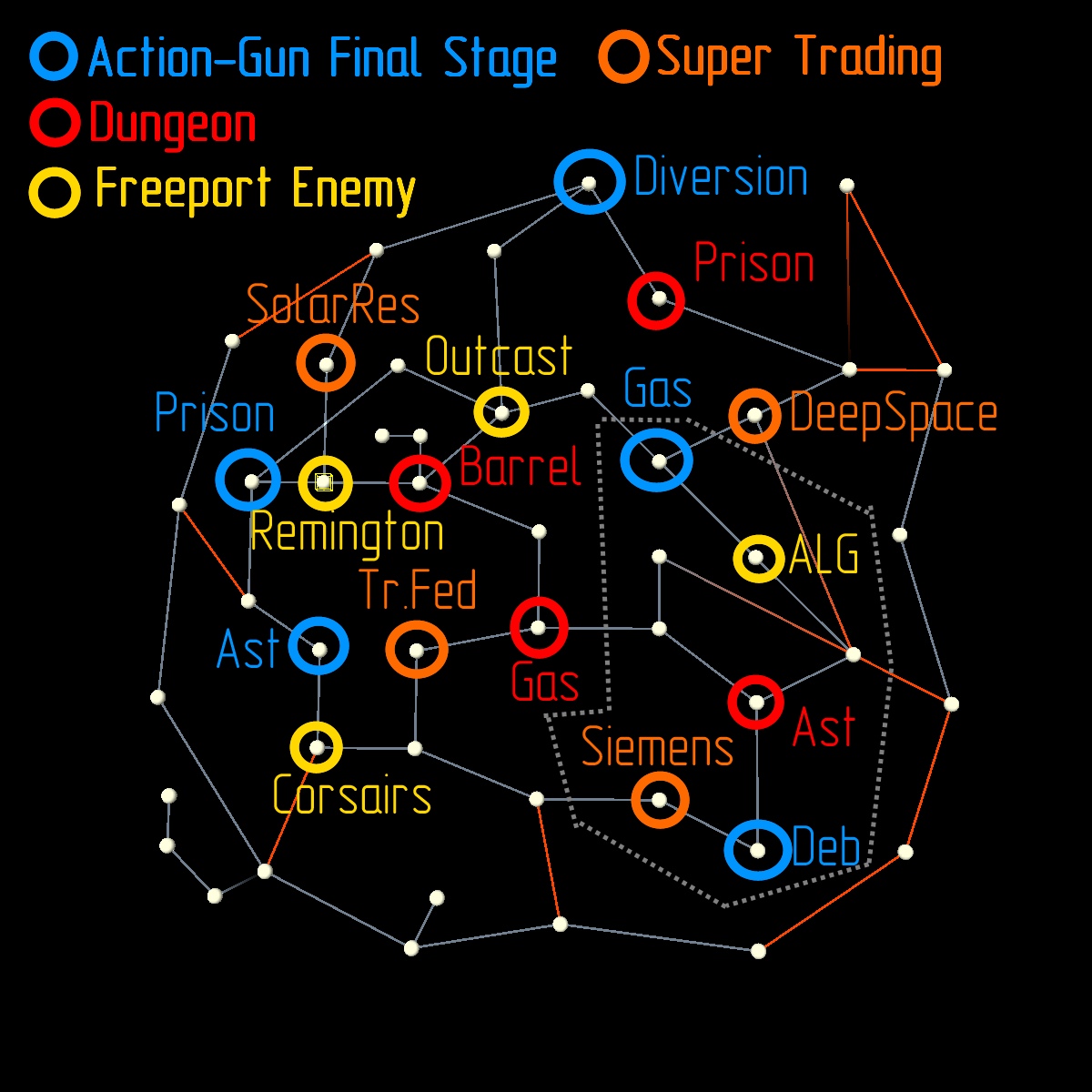 Description:
Dungeon - it's a... dungeon? Different subquest. Join dangerous mission and get your reward: key to faction's military base. And that's not a joke. I already made one of it, but will tell about it later.
Freeport Enemy - now in FL Nomad Legacy you can raise reputation only by making faction missions. But how restore back reputation? You can buy basic reputation on freeport, but freeports want see you as friend too. How to fix it? Attack unique enemies of every freeport and raise reputation to that freeport.
Super Trading - FL Nomad Legacy will have static courier missions. "Super Trading" it's top legal courier mission with best reward and best requirements.
Action-Gun Final Stage - Hmmm... sorry, it's too hard to explain. Look at the next chapter.
System in gray dots - it's a plan of next release. I can't create that universe at once. In next alpha-release you can touch new universe only in Rheinland systems.
Important clarification. This list only of TOP MISSIONS. For example:
Bar mission > Killing station bar mission > Dungeon
Basic trading mission > Advanced trading mission > Super trading mission
Dynamic ast mining > Static ast mining > Very big asteroid mining

And that's all. Every feature is tested and ready to be created. I just need time to do it.


Chapter 2. Mining
Mining... mining in FL Nomad Legacy will not just "attacking on flying asteroids". No, that's too simple.
In Nomad Legacy everything is mining. Yes, everything! Examples:
Asteroid mining
Debris minining
Wrecks and damaged stations unlocking
Gas mining

For mining you need to have special mining gun. Or action or role gun.
Every ship can mount one on special guns. You can mount basic mining gun. That's allow to mine every object, but with basic speed. You can mount special asteroid mining gun. That's allow to mine asteroids faster, but other objects will mine with default speed. So, you don't need to buy guns for every type of mining. Special gun will just work faster on selected type of mining.

Mining objects have different levels.For example, asteroid mining:
Level 1 - Dynamic asteroids. Default asteroids, already exists in default FL and Nomad Legacy. Simple reward
Level 2 - Basic field of static asteroids. Not renewable. You have probability to get basic reward here.
Level 3 - Large field of static asteroids. Not renewable. You have probability to get extra reward here.
Level 4 - Similiar to "Action-Gun final stage" from universe map. You can get best reward here.

Chapter 3. Modules system

Just mine for cargo is not interesting. In FL Nomad Legacy you can mine extra modules.
Asteroid mining - Mass decreaser
Debris mining - Extra power regeneration
Gas mining - Drag modifier (extra speed)

Every module has levels. For example - asteroids
Asteroid field Level 2 > you can find basic mass decreaser
Asteroid field Level 3 > you can find advanced mass decreaser
Asteroid field Level 4 (top mission) > you can find unique best mass decreaser
You can mount modules on special placements on your ship:
But not all asteroids contain modules. How to find required objects?

Chapter 4. The Marker gun
That's not so many words to tell about it. Marker gun it's no a mining gun. You can mount only in weapon slot. What's effect of this gun?
Marker gun can mark best asteroids for you. Hit on asteroid and watch special effect. White effect? You can find here only cargo. Yellow effect? You can find module level 1 here. Green effect? You can find module level 2 here. With this gun you can skip not interesting asteroids.
Chapter 5. Special ships
That's too hard to explain... marker guns, different mining guns. What is simple way to use it?
Yes, that's way is exist. You can buy special Mining Ship - CSV.
CSV have speiclal manipulator. That's "gun" allow you to mine every mining object with maximum speed. You don't need to have special guns anymore.
That's why CSV will not released in first version of mod. But with mining this ship can be best choice of every miner.
CSV. The Manipulator Animation
Epilogue
Ohh... that post is very big. But many players want to know, what mod is making so long. I so sorry, but I can't made simple fixes. Next alpha is coming soon. Now I working on cinematics of intro scene. But this is another story.
Again about of possibility to do this plan. That's possible. But I have full-time job and working on mod only in free time. Sorry, I can't change this. Anyway, I want to complete this mod. You need just to wait for nearest alpha-version release.

Thanks to you for reading, and watching!