Hello watchers,
Here's what this newspost+media blitz has in store for you:
- Screenshots of the new maps
- Screenshots of the stopwatch grenade and the stopwatch grenade pickup
- Another gameplay video
- News on development
So let's get started!
---
New maps:
There are 2 new maps since the last newspost and another map(fo_complex) has been updated, after being left in an old state with dev textures for several weeks/months by Alt' who took over the map from Draken, who is now no longer on the dev team but is still gonna be part of the tester team.
First up the 2 new maps:
fo_zone_two by Soulfather: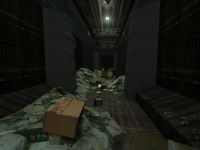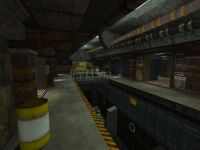 fo_beach by Alt':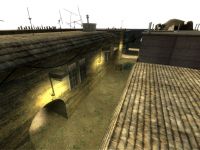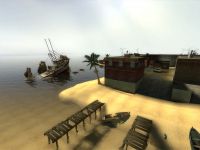 fo_complex by Draken and Alt':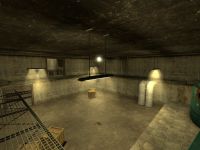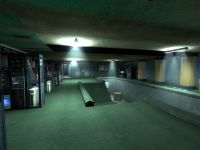 ---
Stopwatch grenade:
The stopwatch grenade model has been finished for a while but not yet been shown here on moddb, it's simple but effective!
The pickup for it has been recently finished, each pickup gives 2 stopwatch grenades.
Screenshot: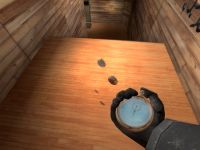 There have also been some rumors circulating that the stopwatch will have an alternate functionality that allows it to teleport the user to the place thrown and if it hits a player it will swap the players with each other. This could be great for placing an enemy right next to a grenade.
---
Closed Beta Gameplay video:
During a recent beta test I recorded the fragging on a variety of the maps, resulting in this mostly uneditted video of the gameplay and the HUD, which is mostly the same as HL2 except for an icon near the ammo counter showing you which weapon you got(will likely also show the actual name in the future as well) and lowered transparency of the hud, the stamina bar always shows and doesn't have text on it, so it's much smaller.
But enough blabbering check out the video yourself here:

FragOut! Mod for Half-Life 2 FragOut closed beta gameplay video by DuckSauce video - Mod DB
---
Development progress and decisions:
The development of FragOut has been going fairly well and is becoming more and more stable with a growing amount of features, but... after a lead dev to lead dev discussion between me(DuckSauce) and Soulfather(lead dev of the mod Kreedz and also level designer for FragOut) I came to the conclussion that the development of FragOut should continue on for a while longer, adding things such as secondary attacks to the stopwatch grenade, melon and holy hand grenade.
Also after discussion and some brainstorming with Mastix(Lead Tester), I decided to take some suggestions of him and then went even more radical as to fully change the workings of Last Man Standing, that it will become something more like a deathmatch but still not completely.
Since Last Man Standing felt alot like deathmatch but with the downside of lives lowering the action, it eventually became clear it needed change. This change will no longer make it to be Last Man Standing, the exact name will still have to be determined, but instead of lives there will be Survival Points, once these are out the player can still play like usual, but his eventual score and thus his chances to win will be affected by these survival points. It will work the same as lives aside from the fact the player won't have to spectate for running out of survival points.
Frags and Survival points will be used to determine the eventual winner.
There are several more changes:
Such as that there will be a hitsound system, if you ever played dystopia you should know what it's like, Dystopia isn't the only game with this though, games such as wolfenstein enemy territory, quake, and enemy territory:quake wars, also had hitsounds.
For those who aren't sure what a hitsound is, it's basically a short sound that will play whenever you have a confirmed hit, this will help you better determine how much you injured an enemy.
Also there's a HTML window that can be opened with F1 at pretty much any time, in the case of having gotten owned in Last Team Standing, or just wanting to read up on some quick basics, you can press this key and it will show the player manual on the fragout site(which doesn't exist.. YET but the window is there and works)
there may also be a second window to be called with F2 showing the html window as local html in the case the website is down, this would mean it's likely to be outdated though, while the Manual on the site could be updated any time with more tips, tricks and strategies.
Last but not least, I feel a bit annoyed now and then when I run out of melons and have to spam skulls around, so basically, there's not enough killling gear in my opinion, while sailboat and stopwatch are nice, they don't help much with the killin, so it's very likely there's gonna be a 6th grenade added after all! considering the sailboat was first gonna be 2 seperate nades and the stopwatch will have functions for 2 seperate nades too, you could say that there's actually gonna be 8 grenades, packed up in 6 grenades :)
Phew, pretty big wall of text there, I think it's safe to say FragOut won't be releasing this month, maybe not even after that. But when it does, expect to have a blast playing this!
One last thing!!!
For any server owners out there, we're looking to have both a normal windows dedicated server and a linux dedicated server for testing purposes, the amount of slots should be at least 9, no more then 16 slots is needed though hehe, that's insane in this mod.
Should you be interested in playing FragOut earlier then the rest, be sure to send a pm my way and you may become a Contributor and Beta Tester. I'm afraid we can't pay you for it though, so be sure to think it through :) at the least you will have people reguraly playing on your server :)
Well that's it... Keep watching! :)
P.S... 100 watchers.. WOOT!!! thanks to everyone watching! you keep us motivated!