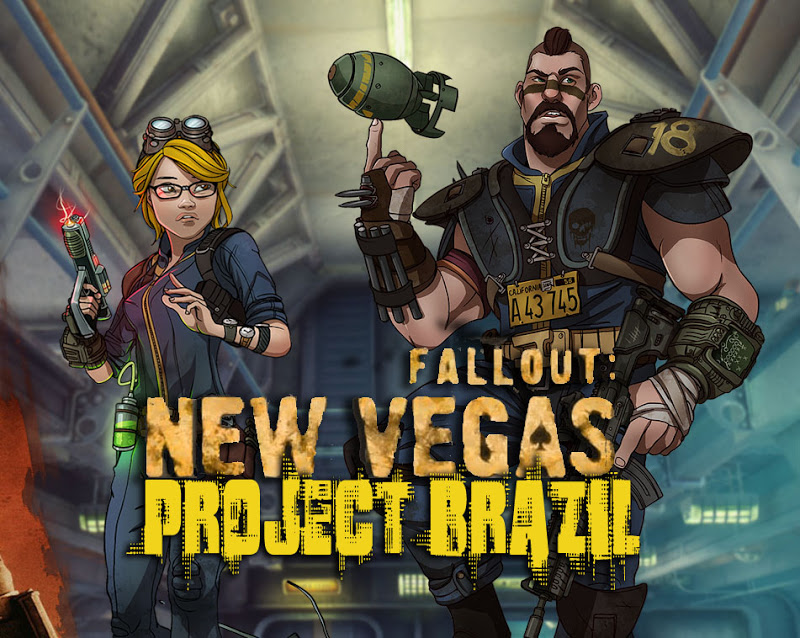 You know it's late in development when the only pictures you can show without spoiling the plot are spread sheets. :p

So project Brazil is a massive mod - basically its own game. It isn't the size of the map (as big as Fallout 3!) or the number of new weapons & armour (there are a lot) that matter, it's the number of quests, events, and the amount of choices you have while navigating from the first quest to the last. It amounts to roughly 8 hours of game-play from beginning to end, and then you can play it 3 more times and not hear more than ~95% of the same lines of dialogue twice.
When you remember that this has been done, and is being finished, by just a couple of people at any given time, the development time makes sense.
The Intro video, Prequel, and Chapter 1 are all contained in BETA 131, which has been out since May 2013.
Chapter 2, 3, and 4, and the Ending & Outro have been our work since January 2015, up til today. Rick is working on Chapter 3 today as I type this, establishing the last talk with Senator DuVille and Annai Oran before we skip that Chapter 4 material (we had to cut it for time, but the voices, art, levels, documentation, and text are both in the game if anyone ever wanted to patch it back in.) That purple patch is where Rick needs to do some surgery to fix a cluster of possibly game breaking bugs:

PBrazilCH3SVRMQ02VertibirdFlightScript - forgot to offload follower that came with player.
Free Kira script in SVR escape
Guards in cell with Elsdragon at end of SVRMQ01
Repair script on B6RK
Repair script on ALPHA
PBFollower stage 80 - disposition of slave followers upon boarding Nos' or escape vertibird or escape on foot.
Cards trigger stages 90, 92... rescue - set iEventstage to 81
Faction/Monitor script for SVRMQ02 power relay.
Faction/Monitor script for SVRMQ02 Ooga
Bragg's PBrazilCH2ENCSQ01 to lead the Enclave Born Soldier III wildcard to Daggerpoint
Non-Enclave wildcard -> ???
Hidden replacement of unplayable slave collars at escape point.
Wildcard branch quest PBCH3WCMQ01
Strength Option for Elsd initial dialog -> escape quest
Union City - after MQ02 water quest respawn the guards and clean up the dead. Re-Enable Walter and integrate nonoodles NPCs
Need to keep player out of UC before meeting Vargas or Raider capture/Raider path with triggers/faction crime monitor script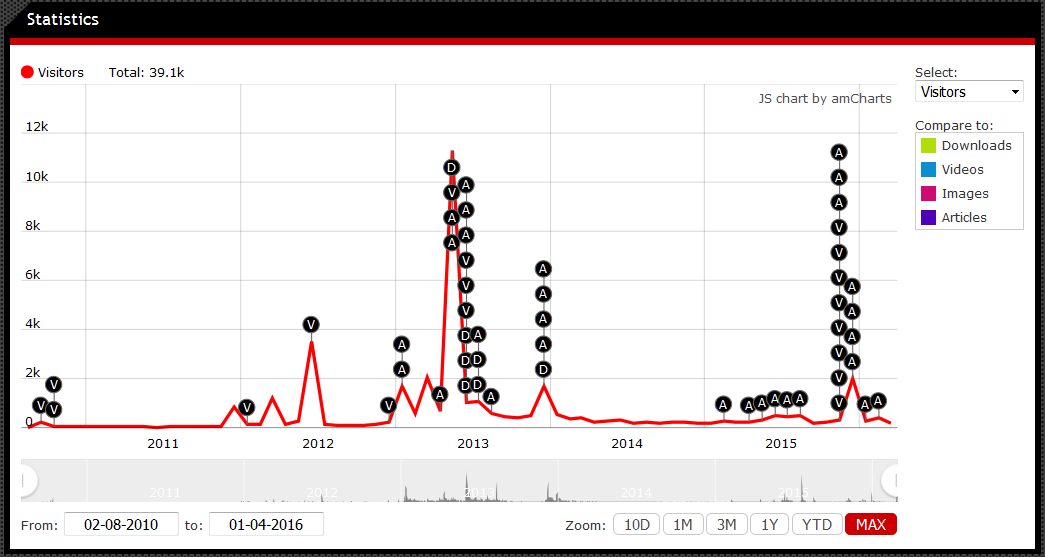 You can see mirrored in our site stats the stages of our Project Brazil's development! :) It's basically the heartbeat of the project. A stands for Article, D for Download, and V for Video.
Those three early spikes in 2010 are the birth of the project. It promptly died as I left Arizona to go work on Man Vs Wild and other major broadcast & Hollywood films. Then I watched someone I love get married and realized I'd kinda been phoning my life in. :p So I decided to buckle down and finish FPB. That's the first spike in December 2012.
December 2012 - May 2013 was Rick, Freddie, and I developing and releasing Part 1 with our first team. That December we kinda burned out and gave up the ghost, and I went back to doing remote work for Hollywood.
2014 was a dead year. Practically, nothing got finished on the mod. I was working full time, and so was Rick, and we needed to take time out. I also taught myself some more advanced 3D art techniques and got my old hobbyist talents in 3D up from passable to professionally proficient. I started Shadow Star, wrote a bunch of the story for that game, wrote a book, and I did some early Shadow Star art & planning.
January 2015 we came back with a vengeance, and it's clear we have not just a renewed sense of determination, but a much clearer vision. We released an article here every month, social media posts every day, and made daily progress. The only pause in updates was in September 16th to November 25th, when I spent nearly every day, sometimes 12-14 hours every day, recording the voice acting for part 2! But I made up for it by posting a giant list of videos and audio clips. (My wallet is still recovering from taking so much time off paying work, and I haven't quite got my footing back yet.) Seddon also jumped ahead of us to code the Raider side of the story, while also tackling the final battle at the end of the story.
Now we're in 2016, and you can see what we have left to edit from that voice recording session, here: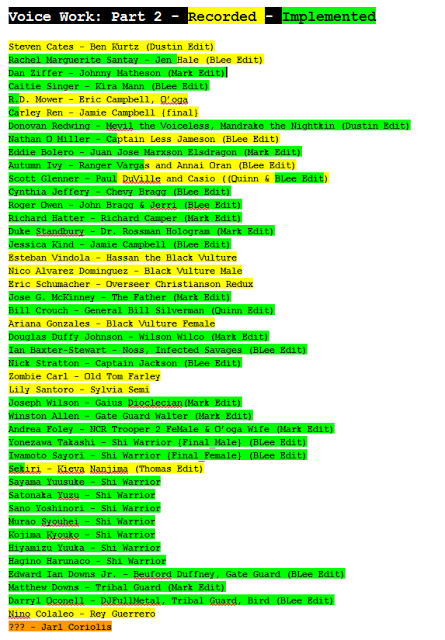 We have 57 Voice Actors in Project Brazil Part 1 & 2 together spread over an ungodly number of NPCs and nearly, if not more than, 5000 lines of dialogue. (New Vegas had 27,000 lines, and Fallout 4 has nearly 110,000, so we're not THAT huge. :p)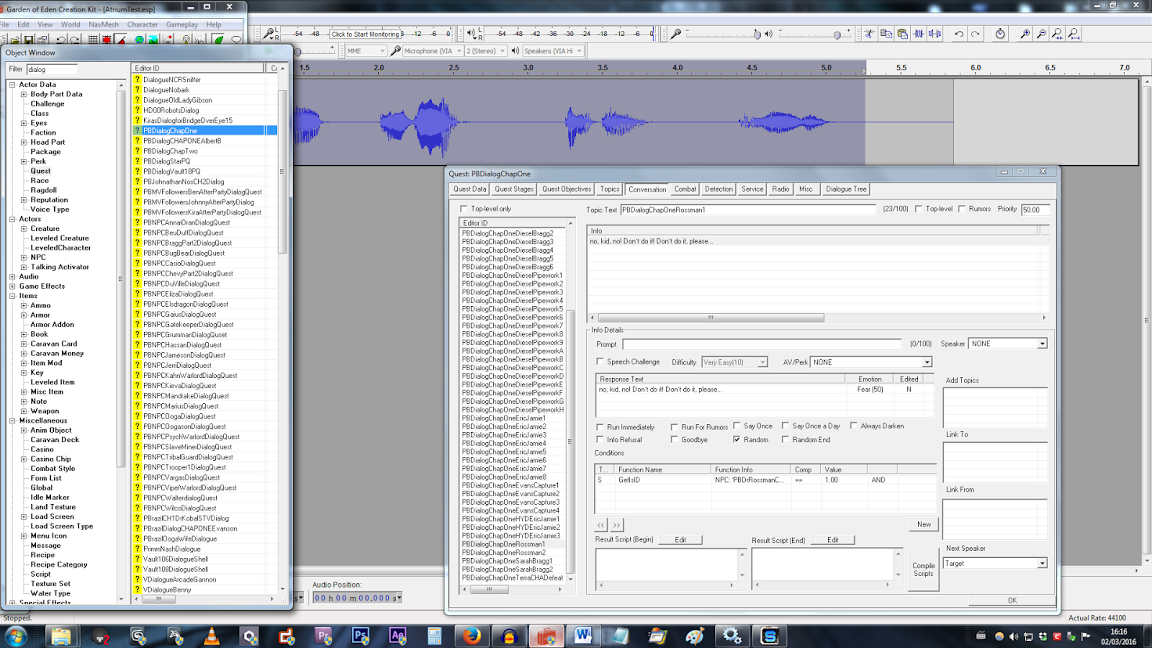 But, this gets tedious! March Hickman, Thomas McNiece, Quinn Kurmaskie, Brandan Lee (me), and Dustin Wing have all contributed to helping edit dialogue (all except Dustin I had to teach, too.) Some of these characters have 600-900 lines, so they took roughly a week to two weeks to edit, each. Plus there is adjusting text in the GECK to match the voice, modifying emotion and animations, and finally lip-syncing each and every line. (And testing & bugfixing.)
A lot of times when you're editing you feel like you're trying to do the best you can in a bad situation. The audio maybe wasn't recorded in a safe soundproof space, or the actor had a hard time with the lines, and you have to hack together every line from different takes to make them good. We didn't have to do that too much. All our actors are top notch, as most of them are Role Plays or professional working actors in stage & film.
Because they were all recorded 1 on 1 it made directing much easier than doing them remote!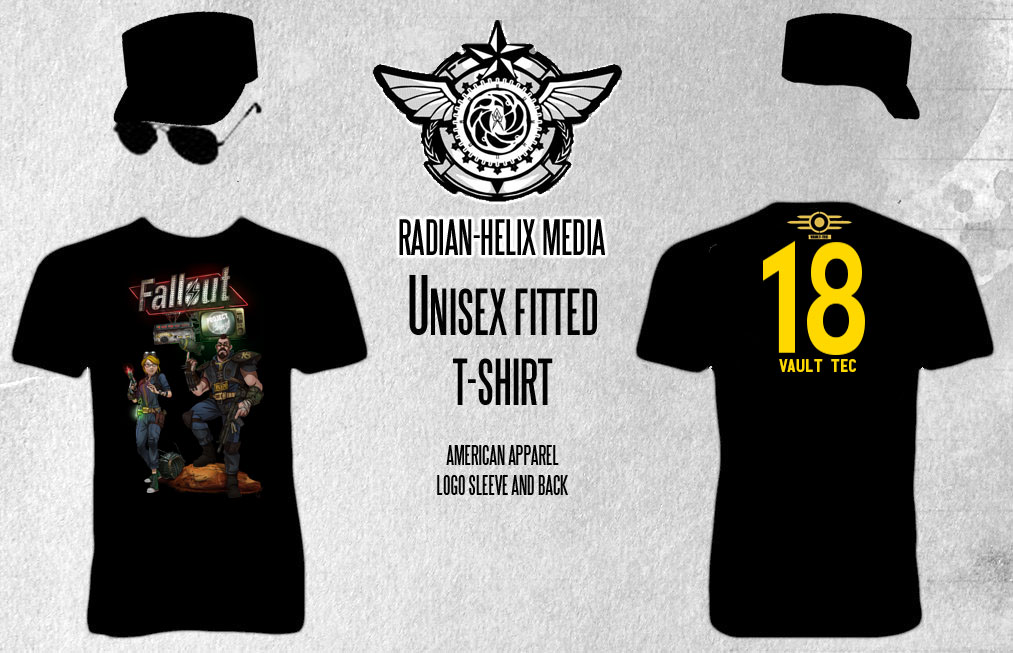 To celebrate being done, I'm going to spend some money printing out some Project Brazil team T-Shirts and DVD Boxes. :) We cant offer those for financial contributions for obvious IP reasons. Although, if you drop by our booth at Phoenix / Tucson ComiCon / TusCon one might just happen to fall off the table. You never know.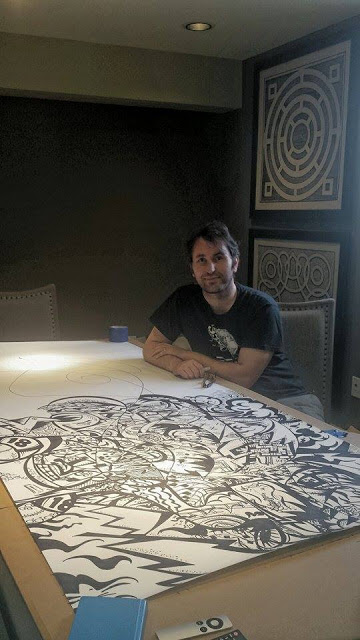 Also, we have some fan art turned featured Vault Art. :D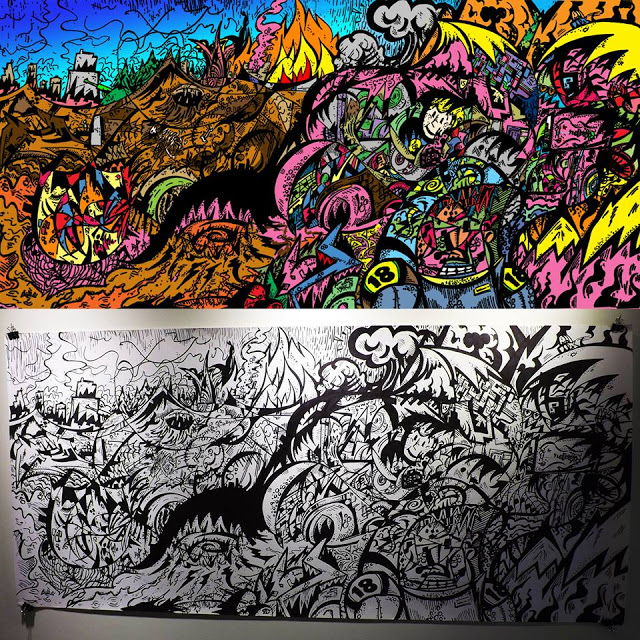 Frank Louis Allen, one of Project Brazil's fans and a really cool abstract artist was inspired to do some works based on Project Brazil, and ended up doing all the graffiti and murals you can find now in Vault 18 and the wasteland. In game these are super huge, as if a Vault dweller spent weeks painting them. They're awesome.
Art By Jess Lackey & Brandan Lee
Finally, don't forget to check out Shadow Star! This summer we're launching an IndeGoGo for that.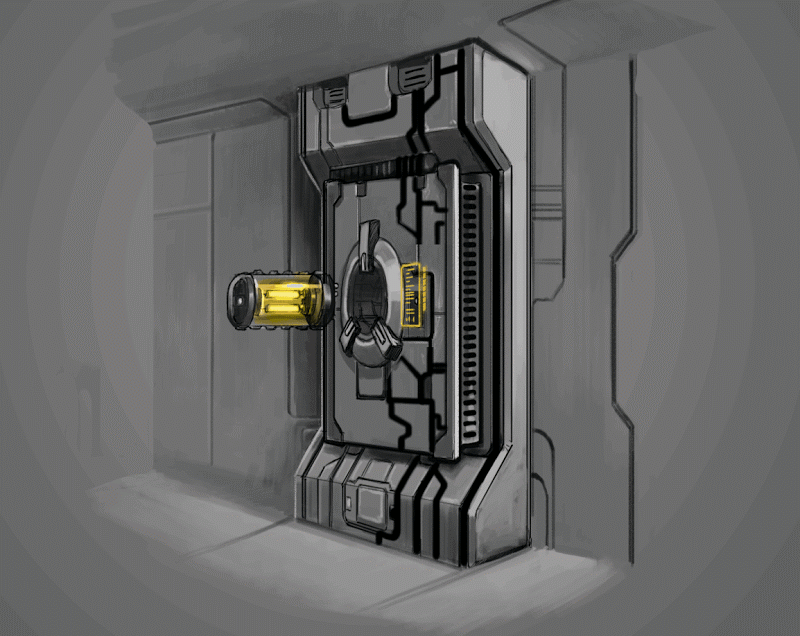 Shadow Star will be everything you like about Fallout; Project Brazil, but in SPACE, and in an open star cluster of exploration. Kind of like if Fallout 4 made a baby with Knight of the Old Republic and FTL.
You can read more about our progress on the Design Documents Found Here. In the mean time, you can keep track of us on ModDB, Fallout Nexus, or Facebook. We've got a thriving online community centred around each one.
Cheers
Brandan Lee
Project Leader