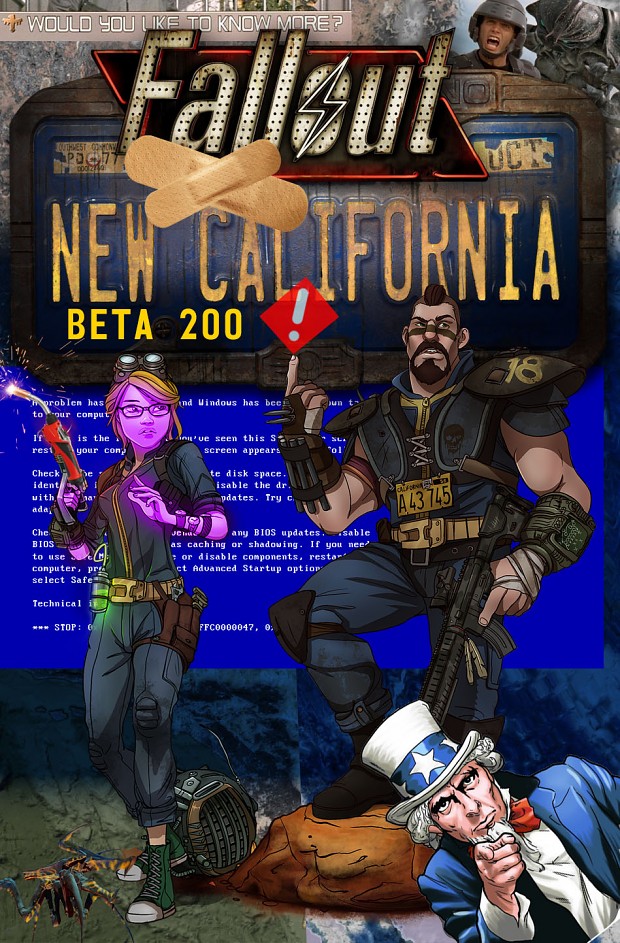 On the 31st, we will be setting our public release date.
Some of you have probably noticed the timer ticking down on the top of the ModDB Page, it reads October 23rd, 2077 at 6:45AM Pacific Standard Time -- roughly the time indicated as the day the bombs fell in Fallout Lore. On the 31st sometime in the evening my time I'll be switching it to our official release date for Public BETA 2.0.0.
This has been a month of ups and downs like you wouldn't imagine. I'm not even going to get into the roller-coaster we've been on, from weird licensing issues with a key part of our mod that apparently isn't under EULA for modding although its tools are issued for free on their website and New Vegas uses the same tools, to people who made us a promise failing to deliver and then a friend from another team swooping in to save the day.
All on a backdrop of anxiety and crunch time exhaustion.
We entered the Unity-Universal GameDev Challenge, and we think our pitch is the best. According to contest rules we can't actually tell you what we entered with or show you our pitch, but it was amazing. If we did not win I'd be very surprised, if not disappointed. I'd play our game. I'd make our game.
May 31st has been our tentative day for a long time, but here we are 3 days from it, and we have a lot of vital new voice acting to implement that fixed a lot of problems with quality and plot holes, some brand new bugs on the list that gotta get polished out before release, and there is some release day preparations to make in real life too so we can insure a smooth release.
The work left on the mod is not insurmountable. It's just Rick and I performing our own QA, etc etc -- in a mod the size of a large indie game.
It's just a mountain of frustration.
The last big tasks left on FNC:
Missing Audio Files: Docs.google.com

Known Bug List: Docs.google.com
New California Credits List: Docs.google.com
Recommended Mods List: Docs.google.com

Rick and I are still not getting a lot of help on this, but we're just about done enough where we can say, "Okay, this is our definite public release day."
And then we get to do this:
We will have two versions of BETA 2.0.0:
#1 - Weighing in at ~5.6GB, the low res, 1024 max texture size copy, with an optional plugin that removes some meshes from the world for really poor performing PCs.
#2 - Weighing in at ~8.3GB, the high res 2k-4k max textures that you see in all our screenshots, ready for the Rudy ENB and/or any other graphics enhancements you prefer.
Otherwise the files are going to be identical.
Patches will be issued like so:
2.0.1 will be on day one or three, and hotfix any major issues and quality of life fixes day one players find and report. -- just 133MB, just 1 file.
2.0.2 will be another 133MB and just fix more advanced problems that take us more time to fix, like quest bugs that may require more hefty patches, a week or so after release.
2.0.X will continue like that until we release a major update a few months later.
2.1.0 will release the BSAs, all 2.4 and 4.3 GB of them, requiring re-downloading and overwriting them in your DATA folder. This update will uncut a branch path in Vault 18 for Wild Card players who during the prequel try to attack innocent civilians and get thrown in jail. It may or may not also restore some cut content like the former Brotherhood of Steel Doc Marius (who was never voiced or implemented,) and some other minor side quests.
2.2.0 will again replace BSA files and be a re-release, and this will add in some major branch paths for wild card players, re-implementing the cut Super Mutant ending and the opportunity for an Enclave player to just assassinate their enemies rather than play politics, and then take a back door to the end of the game and get the same Enclave ending available in 2.0.0, but by an alternate route. No real point in giving that to players who just plan to shoot everyone like idiots, because the kind of player who impulsively becomes a mass shooter doesn't care about plot progression or character development anyway. :p So that very hard task took a back seat.
2.2.0 will be our last update to the BSAs unless something goes tragically wrong, and that we plan to be out by December 2018. We'll update once or twice after that and implement the ability to go from the ending of our mod to the startup quest of New Vegas. At that point we call New California done forever, and pass the ball to the community to make any future updates.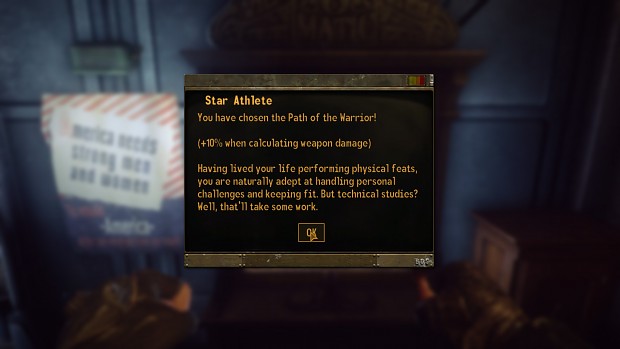 If you played Part 1 anytime between 2013 and Today, you'll notice right away that FNC is a much different mod than FPB. The level system is now closer to vanilla, the binary choice at the beginning is still a set path, but it's no longer a set character build, letting you min-max at your pleasure and the hard presets are removed totally.
You can still rebuild your character after the prequel to be whoever you want if you realize that our conversation system values SPECIAL over skills, where SKILLS are used in gameplay or side events rather than when chatting face to face with another character (unless they ask if you can fix a pipe or give a speech.) Which is new. So we give you a save game at the bed and let you reconnoiter your stats how you want after getting a chance to play the prequel and maybe make different choices later in the game.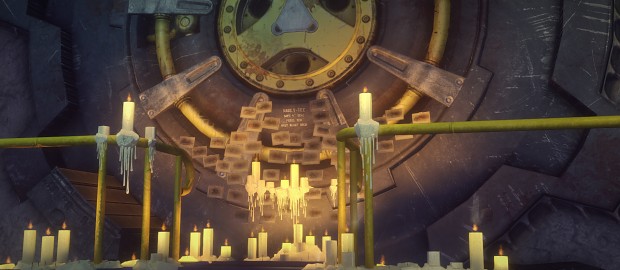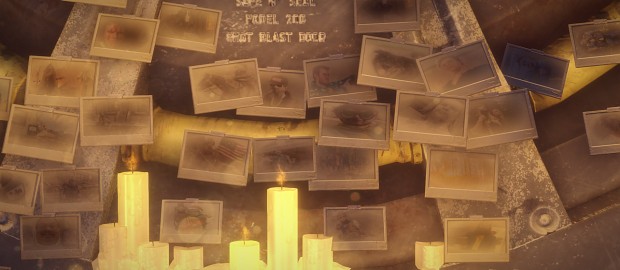 I finally locked all of Vault 18's art, which is now almost totally new. Some of the connecting kit pieces are Vanilla, but the whole start of the mod is virtually all original assets now.
The Vault door, animated by Jamilla, audio and fx by Jack Wong, 3D and texture art by me, is a fitting tribute to the Dev Team and some Fallout cosplayers who are FNC fans. The Vault 18 residents had a little memorial there full of pictures you can collect. Post Cards are now collectible items in game, and if your player character has a role where one of these old world mementos or fallen wasteland scouts is special to them, you can carry it with you the rest of the game. It's for role players, and decorative atmosphere.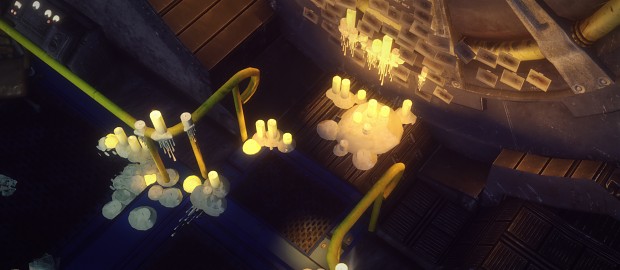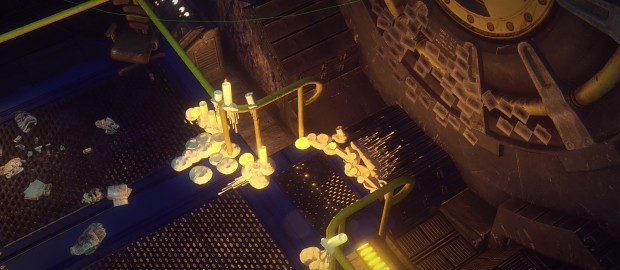 The candles even get crushed as the door moves, and the postcards fall off. :p Little touches.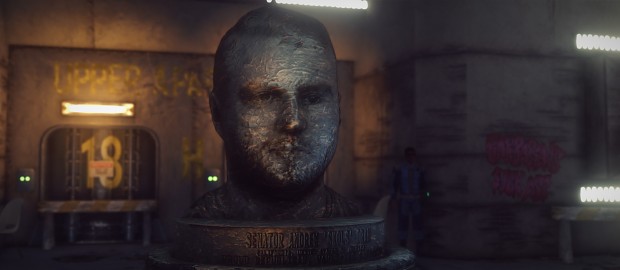 Our resident Vocal & Acoustic Musician and sometimes coder / side quest designer Martin Purvis donated his head to the cause, and is now playing the role of Senator Andrew Skolls, the commissioner and top doner to Vault 18's construction, and the reason it differs so much from other Vaults around America.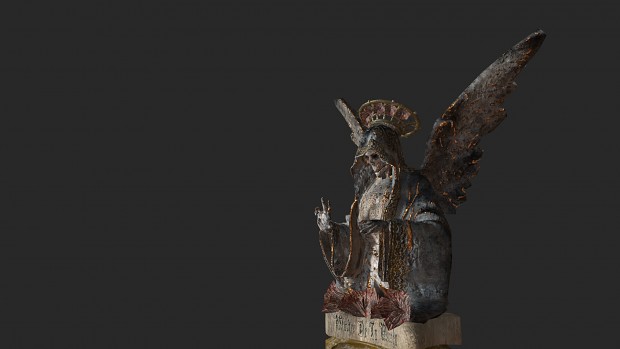 I also made a large statue of Santa Muerta for the Black Vulture Tribe's water vendor and sometimes spiritual leader, the prophet Atl Irepani.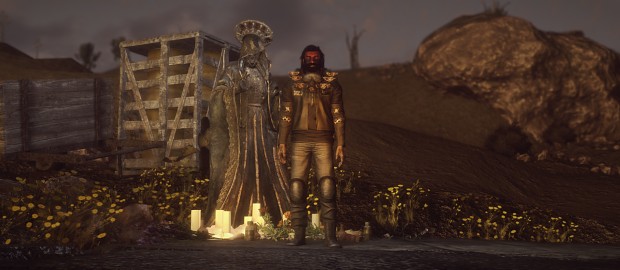 Here is a preview of that!
We actually recorded all the extra side quests that never got implemented in the last week, as well as revising old Part 1 characters we left as they were from 2012. They needed new audio desperately and better performances to match the new tone of the completed mod, and close blatant plot-holes that emerged between Part 1 and Part 2. 2012 was a long time ago.
I also matured a lot between 2012 and 2018 (and not just because i turned 30 on the 21st. :p) So it was important that I give more respect to the characters that were kinda campy or hammy by comparison to the developments of Part 2. That touch up really helped a lot and made for a more honest and believable voice in the project, something that was occasionally interrupted by characters that had their dialogue phoned in due to a lack of experience on my part, or when I was just overwhelmed by the scale of the mod.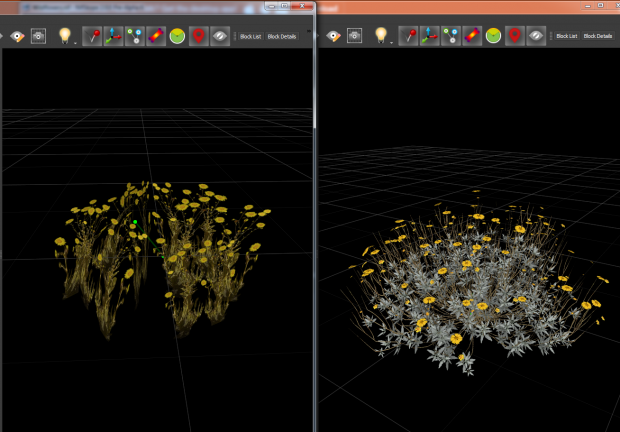 Some other finishing touches are fixing ugly or simply broken meshes and textures in the world. I made more adjustments to the flora to make them look better and tie our wasteland together.
I still wish there was a way to animate our trees and flora. That would help them look less static and boring by A LOT. Unfortunately we have exactly no volunteers to do so, and the costs to performance would be too high anyway.
I had some more animated gifs to show off, but apparently ModDB decided enough was enough.
So on the 31st, I'm assembling a very short Release Trailer with our launch date. Rick and I need to go strategize on how to meet it with the goals we have left.
As always,
You can read more about our progress on the Design Documents Found Here. In the mean time, you can keep track of us on ModDB, Fallout Nexus, (which I took offline for now) or Facebook. We've got a thriving online community centered around each one.

You can also throw dollars at me on Pay-Pal so I don't starve to death at my desk: Nexusmods.com
Cheers
Brandan Lee
Project Leader