Edain Mod 4.5: The Spellbook of Angmar

Greetings, companions of Edain,
A chill wind is blowing... after we introduced you to a submod that makes the Angmar campaign playable in Edain, we now want to show you the Angmar spellbook!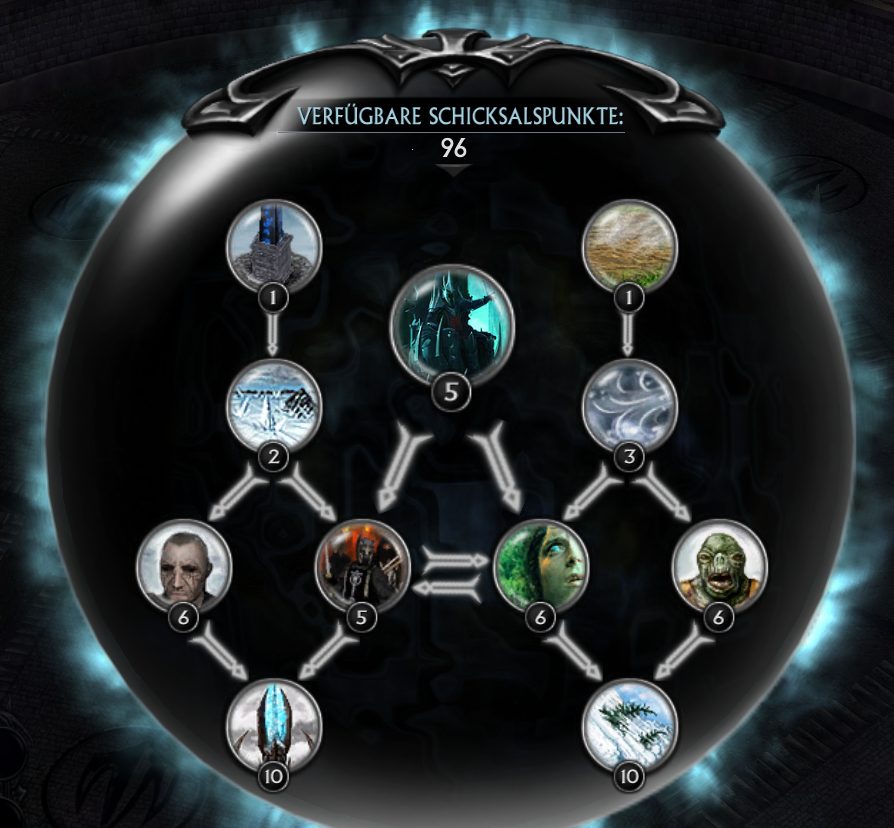 As you can see, many of Angmar's old spells fit very neatly into our new structure as part of the offensive tree on the right. However, there were a few cuts we had to make:
Horns of Angmar was a generic buff, so we chose the much more unique Blight as the starting spell for the offensive tree. The Obelisk slotted perfectly into the defensive tree as a stationary debuff.
Hordes of Mount Gram was almost as generic, simply summoning a few Orcs. We decided to use the more interesting Fell Wind as the second row spell in the offensive tree and utilize the Mount Gram Orcs for a new spell instead, detailed below.
For the second row of the defensive tree, the choice was more difficult, as both Snowblind and Frozen Land were thematic and unique. We ultimately settled on Frozend Land and folded a different version of Snowblind into the Stronghold of the Iron Crown.
Driving Snow, like all weather spells, should have slotted into the third row of the offensive tree, where it competed with the trolls and the plague. It was clear the trolls needed to remain as they're a favorite among Angmar players. Ultimately, we decided the Plague was more unique than Driving Snow, acting differently from all other damage spells in the game and representing a different aspect of Angmar's theme, while ice and snow are already covered by Frozen Land and the Avalanche. Driving Snow was ultimately just another weather spell, and as part of our bid for more unique spellbooks, we had already decided that not every faction needs one anymore.
In place of these cuts, we added several new spells and changed others:
Officers of the Shadow Guard
Thrallmaster hit points are tripled and they now summon an additional horde of Orcs with every thrall horde.
This passive spell replaces your ordinary thrallmasters with Shadow Guard lieutenant who are much more durable and wield greater authority. Whenever a thrallmaster summons a horde of vassals, an additional horde of weaker Orcs appears next to him. Their increased armor also makes it much harder for the enemy to oneshot the entire horde by killing the master, thus offsetting one of the unit's biggest weaknesses. If you want to focus your strategy around large armies of cheap units, this is the spell for you!
However, if you prefer hardened elite instead, you do have a different option as well:
Turncoats of Arnor
Summon three battalions of Turncoats from Arnor to the battlefield. The Turncoats must prove their loyalty to permanently serve the Witch-king. If they don't reach rank 2 in time, they are executed.
The Turncoats are the vilest of traitors, deserting their post in Arnor to throw in their lot with the Witch-king. They're a ragtag group made up of different former Arnor units, from regular soldiers to rangers all the way up to the Palantir Guard. In battle, they can switch between blades and pikes, making them effective against a large variety of enemies.
However, there is a catch: The Witch-king doesn't simply accept anyone. To prove that they have truly forsaken their former countrymen, the Turncoats must shed blood in Angmar's name. When you summon them, you have a limited time to get them to rank 2. If you don't manage that in time, they are deemed worthless and executed on the spot.
Those who do reach rank 2 are accepted into Angmar's army, adding a battle-hardened group of elite units to your force permanently. The Turncoats can now equip forged blades and heavy armor as well. This changes their style and shows their new allegiance. When they arrive, they look largely like Arnor units, though they hide their faces behind masks and wear tattered cloaks from their arduous journey across the border. Once you upgrade them, however, they don forged plate from the forges of Carn Dûm, visibly becoming closer to their new brethren.

However, the Turncoats are never fully accepted and earn mistrust from all sides of the war. This is reflected in their passive ability:
Despised by All: The honorless Turncoats steal resources with every attack against enemy structures and loot resources when they kill enemies in battle. Allied and enemy units alike gain -25% armor around the Turncoats. Only other Turncoats gain +10% armor for every other battalion of Turncoats in the vicinity instead, up to a maximum of +50%.
The Turncoats are thus best used as a self-sufficient force. Their weapon toggle lets them fight most enemies without additional support, especially because they weaken their foes as well. The larger your Turncoat army grows, the more powerful they become, feeling emboldened by the presence of their fellow traitors. In the long term, this spell allows you to build up a more powerful army than many other summoning spells and keep it permanently - however, there is always a risk involved. If your Turncoats don't manage to prove themselves in sufficient numbers, the spell is much weaker than other options. We feel this not only adds interesting new gameplay, but also represents another vital aspect of Angmar in the spellbook: The lure of treachery that led many Dunedain to forsake their noble cause.
Stronghold of the Iron Crown
Upgrades a chosen fortress to a stronghold of the Iron Crown. All structures are upgraded to rank 3 and gain a reinforced garrison. Wall catapults gain ice munition. Enemies near the gate are poisoned. The citadel gains the abilities Sortie, Bastion of Winter and Unleash the Black Knights.
This spell may not be new, but is has gotten several new effects. The stronghold of the Iron Crown now has three active abilities:
Unleash the Black Knights: Permanently summons a bataillon of Black Knights. You now get your knights for free, but the ability has a cooldown, so it takes a while to muster a larger force.
Sortie: Allied units within the fortress gain +50% damage and movement speed for a brief duration. Persists when they leave the fortress. Tired of waiting around in your castle while enemy catapults slowly wreck your defenses? Take the battle to the enemy!
Bastion of Winter: Conjures a snow storm around the castle that makes all buildings and fortifications invulnerable for 30 seconds. The old Snowblind spell lives on in this ability, though slightly changed. You can no longer disable enemy buildings with it, but it has become much better at protecting your own.
Might of the Iron Crown
Lowers the cooldown of all hero abilities by 20%.
This is Angmar's central spell, emphasizing the large number of heroes this faction can field and allowing them to wield their sorcery more frequently.
Originally, we had a much more complex spell planned for this slot, but this would have gone hand in hand with a complete rework of the Witch-king. While that is still something we absolutely want to do, we felt it would have been to much for version 4.5 and would have delayed the release even further. That is why in this instance, we opted for a simpler spell that still fit the faction - but stay tuned for the all-new Witch-king in a future patch!
We hoped you enjoyed this insight into the new Angmar spellbook and look forward to your feedback!
Your Edain Team