Greetings, companions of Edain!


In our previous update, we introduced you to the heroes of Thorin and Company as you will see them in the next Edain version, all modelled after their movie selves. However, besides the twelve Dwarves and Bilbo Baggins, there was one other who travelled on the road to Erebor: Gandalf the Grey, one of Middle-Earth's greatest wizards. Until now, he was only recruitable by Gondor, but in the next version he will be available at the Dwarven Inn as well so he can accompany Thorin Oakenshield on the Quest for Erebor. For this occasion, his model has received an extensive update to incorporate as many details from the movies as possible. Among other things, he finally wields a realistic rendition of his blade Glamdring: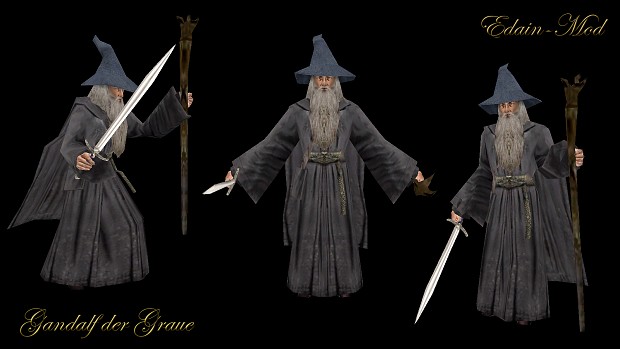 Gandalf the White has also received a host of improvements, though of course he will not be available to the Dwarves. Apart from the new Glamdring, his cloak and robes have been updated to look a lot more realistic and detailed.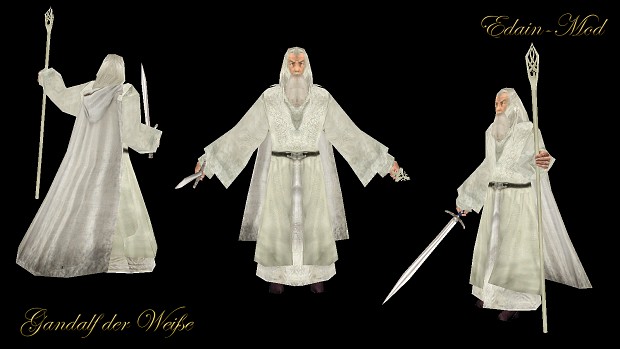 To properly represent Gandalf's important role in the events of The Hobbit, he will have an entirely new set of abilities when recruited for the Dwarves. For Gondor, his spells are based on his actions during the War of the Ring, but while he travels with Thorin he will use new fire-based spells designed after various quotes and scenes from The Hobbit. These are:
Burst of Sparks: Gandalf sends forth a burst of sparks and magic from his staff, blasting nearby enemies.
Burning Pine Cones: Gandalf lights pine cones on fire and throws them at his foes, each causing explosive damage upon impact.
Blinding Light: Gandalf emits bright rays of light, stunning nearby enemies and turning trolls to stone.
Fireworks: Gandalf creates a massive fiery beast in the shape of a dragon which flies towards his enemies and explodes. This is the only ability which is not based on The Hobbit, but instead on the gigantic dragon rocket accidentally fired by Merry and Pippin during the opening of The Fellowship Ring.
Word of Fire: Enemies around Gandalf are incinerated in a ring of fire.
You can see all abilities in action below:
We hope Hobbit fans will enjoy playing Gandalf as he appeared during the Quest of Erebor, and look forward to your feedback!