Greetings, companions of Edain!
Today we would like to present a new map for the upcoming patch 4.5. We've already showcased four of those in the Road to Edain 4.5: New Maps) update, but there's quite a few more new and overhauled battlefields you haven't seen yet! We start today with a map for two players.
Andrast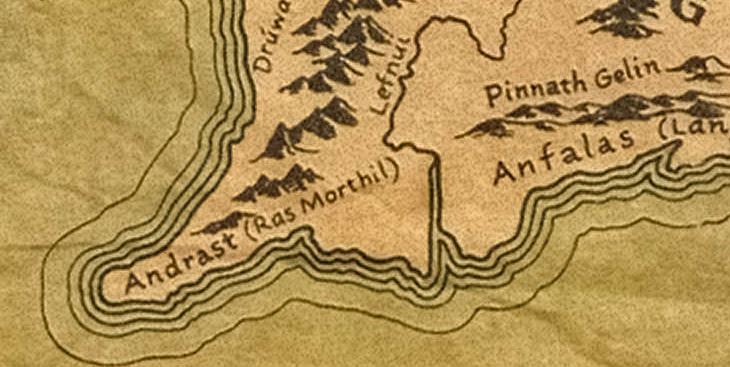 Andrast is an area located in the south-west of Gondor which consists of a long headland. Here end the White Mountains, whose foothills almost reach the coast. North of this area lies the forest of Drúwaith laur, which is inhabited by Drúedain, while the same territory extends up to the east of the long coastal strip of Anfalas.
Lore:
Andrast, also known as Ras Morthil, has always represented a natural barrier against Gondor's numerous enemies thanks to its particular geographical position, as the foothills of the mountains prove immensely difficult to pass through. Although the area belongs to Gondor, it was never the dwelling of Númenóreans, mainly due to its poor accessibility. This made it possible for the local Púkel-men to use the land and the northern Drúwaith laur forest as a safe shelter in order to protect themselves from the persecution that had been going on since the Second Age. Other peaceful settlers have also taken residence here. Even during the troublesome events of the War of the Ring, the area remained relatively quiet.
About the map:

It is a 1vs1 map with 17 settlements, two outposts and camps as initial bases. A special feature is that the camps of each player are quite close to each other. This allows you to torment opponents with spontaneous attacks against which one must be prepared.
Moreover, all outposts are placed so that the player has access to them at any time. Once the Warg creeps are cleansed and destroyed, nothing prevents one from taking possession of an outpost very early.
By the crossing of a mountain pass you can plan to besiege your opponent from behind and experiment with different tactics, like diversion manoeuvres. Skilled players know how to take advantage of the height factor and turn it to their favour.
Even though the players' camps are very close to each other, much of the action takes place on the coast. There are many creeps that should be cleansed as early as possible, most notably a troll cave located exactly between the two camps. You have to judge how far you want to move the battle southward, without making yourself vulnerable to a surprise attack from the northern heights.
---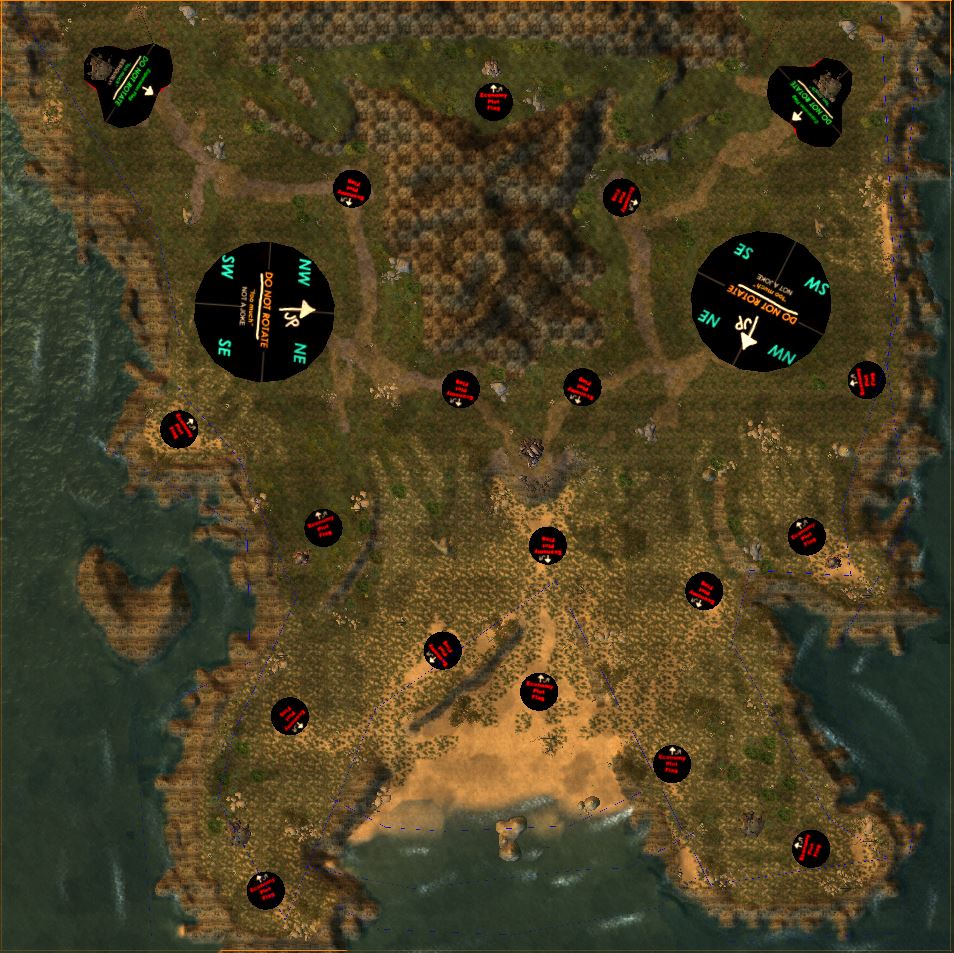 ---
---
For those wondering what those black shapes on the map are: they're obviously the exact locations where settlements and outposts are to be placed.
---
We hope you enjoyed this brief map update and look forward to your opinions. Stay tuned for more map updates in the future!
Your Edain Team